Inspiration of the Week: lavish details not far from the river in London
This ravishingly refurbished flat in Fulham is a reminder of how little decorative details can go a long way. We pick our favourites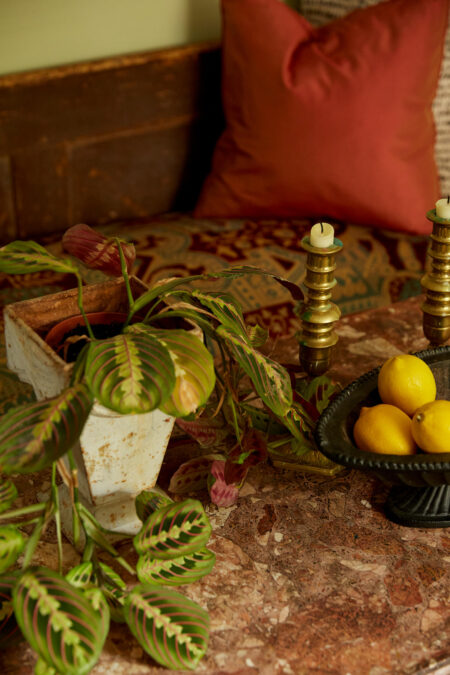 We all know small gestures can have a big impact, just as maximalism can be done in a relatively minimal way. Look at this garden flat in Fulham, south-west London, which is just a 10-minute walk from the banks of the Thames and currently for sale. While the overall effect is one of supreme lavishness, its decoration is a clever exercise is spending – both cash and energy – in the right areas.
We love, for instance, how the kitchen's splashback – normally only brought up to half-height – reaches all the way to the ceiling. Such a liberal amount of tiling is, of course, luxurious, but ceramic surfaces are durable and unlikely to need replacing for years to come. (Plus, shiny white zelliges such as these bounce the light around in ways that paint never could.)
In other rooms, the power of pattern has been harnessed elegantly. Note how, in the sitting room, an oversized Persian-style rug fills almost the entire width of the space. Red, riotous and rhythmic, it totally transforms the tranquil taupe room, without ever shouting louder than its other elements, thanks to its being underfoot.
Never letting the eye settle is another savvy way to bring interest and depth – something the owners of this apartment clearly recognise. We love how they've jumbled framed pictures to fill entire walls, their mix-and-match cushions and seat pads, and their commitment to texture. While here there's linen wallpaper, velvet and ikat (in the master room, for instance), there's no limit to the decorative opportunities this approach presents.
And just as this house is filled with antiques and personal treasures, all of which play off happily against this opulent backdrop, so too will a new occupant's squishy sofa or handsome headboard. The only question that remains, then, is: whose?