A Room of One's Own: Abigail Schama on cultivating an artistic community
The ceramicist discusses repurposing, mudlarking and how her studio, in north-west London's Kensal Rise, enriches her practice
Words

Nicole Douglas-Morris

Photography

Lesley Lau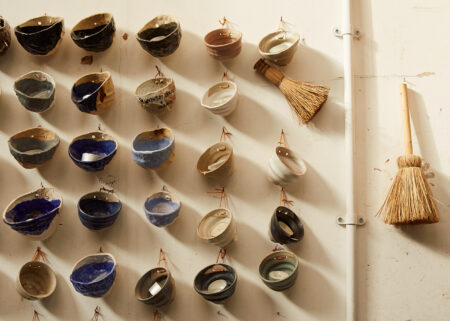 "I wanted to build an interdisciplinary community of artists, so that people could nourish each other by the noises of their industry – perhaps causing some kind of cross-pollination," says Abigail Schama, a ceramicist based in Kensal Rise. Originally trained as a painter, Abigail found ceramics after becoming a mother of three sons, and now her pieces are stocked by Imprint and Maud & Mabel, among others. Her vessels are refined, distinct; their surfaces "wear the experience" of her painting and are re-fired in the kiln until they reach her vision.
When we meet her at the Mews Coachworks, the studio she co-founded in 2018 with Sarah Jameson, she is – unusually – alone. Two writers, a creative seamstress and six other ceramicists work here, along with a coterie of night students. How did they find such a space? Miraculously, Abigail spotted the studio on Gumtree and "sat outside until someone appeared". Enamoured by the building's "light, sense of history and patina", she was chosen by the owner, a metal sculptor, to take it on after he saw her process of making.
The style and mood of the space can be captured in one word: repurposed. Abigail and Sarah spent barely any money on decoration, so pieces that have gathered here have done so over time. A wooden cocktail cabinet now housing Abigail's pots was found on the street, bookshelves were cut from old scaffolding and ladders were left by Antanas, the previous owner. Traces from his time here can be found everywhere: phone numbers written in marker on the wall, used post-its, his son's name carved into one of the wooden beams.
The kitchen is a vintage find from Ardingly antiques fair, with a copper ship's basin that "barely fit through the doorway", while the old front door has been removed and turned into a coat rack. Like Abigail's work, which is always in evolution, the studio transforms, gathering detritus from events held here. Fairy lights still hang from a Christmas dinner, blossoms remain from Abigail's birthday party, and one of her pots is suspended above our heads from her show for London Craft Week last year.
There is a subtle interplay between the space and Abigail's vessels. One of the first pieces she created here was a plate she made by pressing a porcelain slab into the floorboards, taking its impression along with flecks of metal from the previous occupant's work. She shows me the plate, rubbing the iron grains embedded into the clay, submerged beneath the milky glaze.
The studio's "natural palette", too, is that of her ceramics: "flaking white brickwork, an earthy brown ladder and an occasional fleck of something bright, like a book spine or flower". Glass skylights give the space a "romantic, biblical light", as bold shafts come through and illuminate Abigail's vessels. She often uses recycled clay – that is, leftovers from other pieces or whatever ends up in the trap below the sink. The resulting clay composition is unrepeatable, somewhat like this studio's interiors, where nearly every item has a history.
How does the studio influence and facilitate her practice? "The space gives me freedom physically. My only restriction is the kiln size." The room also establishes a "separate sphere to the domestic space", which is "not the place for a let-go", as she calls it. Abigail works experimentally, using materials such as seaweed, oyster shells or wood ash in her glazing. This eclecticism is reflected in her surroundings, which hold a number of sentimental objects: an unusually shaped stone Abigail found when mudlarking under London Bridge, for instance. "My foreshore finds have been an influence in shape and form," she adds.
Practical items, such as a captain's chair, the spotlight lamps that perch on the wheels and a rattan stool, have been sourced from Stirling & Sons. There are Japanese straw brushes on the wall from nearby Retrouvius, and a great sum of books to peruse from Abigail's painting years, bought from charity shops and the bookshop her son Ethan worked at. A writer's desk on the mezzanine was made from another huge repurposed door; "this is where the clean people live", Abigail says with a smile as we stand up there. We ask about some ochre metal shelves holding pots against the brick wall. "Oh those! Chloe was chucking them out downstairs." The result of this spontaneous approach to interiors is surprisingly cohesive – it may be diverse but it is also finely considered.
There is a rare vitality here, expressed through Abigail's elegant but joyous pieces, as well as through the space itself. The studio's position by a railroad means the light is unobstructed, so "anything that grows outside the studio door is giant, triffid-like". It seems that people, objects and plants thrive here. As we chat, we listen to the patter of her rescue dog, Bonjella, her son's radio show, which is playing saxophonist Pharaoh Sanders' and the rumble of passing trains. "I draw tremendous energy from the trains going by. It's like a hum or heartbeat that informs my work," she says.
We ask about the terracotta necklace strung around her neck, glinting from behind her navy boilersuit. "When I went to Scotland with my husband, I brought some clay back in a Tupperware and made these tiny beads. I don't usually like doing fiddly things, but after a while I always miss the touch of clay."
Further reading
Abigail Schama on Instagram