A Night Away: cultivated comfort at Batty Langley's in Spitalfields
Sequestered in the City, Batty Langley's is a confection of Georgian gorgeousness, inspired by one of the great Gothick gardeners. Who knew you could hunker down in such splendour just seconds from skyscrapers?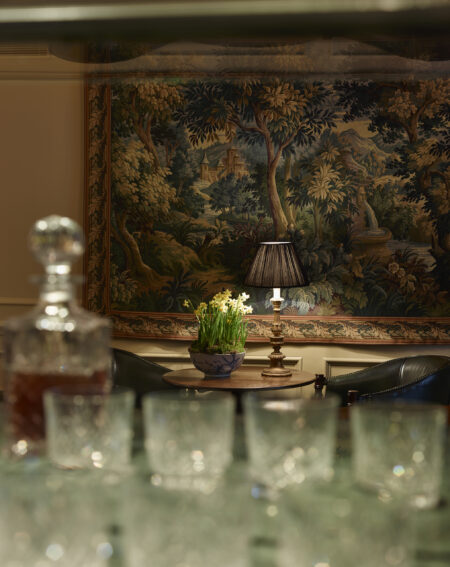 London has always been a city of two tales. A jungle of concrete and greenery, a melting pot of different means and manners, where ancient and modern exist cheek by jowl. Nowhere is this better illustrated than in Spitalfields, where the brick façades of tall townhouses are reflected in the scintillating glass of the high-rises of the City. This portion of land just outside the Roman London Wall was fields and nursery gardens until the 17th century, when flocks of Huguenot refugees seeking shelter in the capital drove its development.
The buildings that sprung up are among London's most celebrated standing reminders of its architectural past: beauties of perfect proportion that have graced the Almanac time and again. Among them is the brick-fronted building on Folgate Street that today houses Batty Langley's. Spitalfields specialists will recognise the address for being the site of Dennis Severs' "still-life drama" of a house a few doors down – a historical reimagination of a Huguenot home.
As Batty Langley's website admits, it's an unusual name for a hotel. But then Batty's, which forms a group with Hazlitt's in Soho and The Rookery in Clerkenwell, is a hotel quite out of the ordinary. It's named after the 18th-century gardener, designer and writer known for his sinuous and idiosyncratic landscaping and confident treatises on how to improve Gothic architecture. The hotel is similarly irregular – simultaneously grand and unstuffy, a warren of intimate communal areas and large, opulent bedrooms, where antiques and handsome oils lend a lavish air.
Quirks abound – in Inigo's silk-trussed room, a mirror concealed the television; in turn, Gothic-traced doors concealed a mirror. In the bathroom, a Carrara-marble marvel, the seat of a carved armchair could be lifted to reveal the loo hidden within. We admire the wit and, having seen his twinkling portrait among the collection downstairs, we can't help but think the ever offbeat Batty would have too.
Folly aside, however, for the business of comfort is taken seriously here. While the hotel has no restaurant, staff can rustle up a snack at the press of a phone button. If a cocktail is called for, the Tapestry Room houses a handsomely stocked honesty bar – a mark of Batty's pleasant unpretentiousness. Breakfast can either be served to your bedroom – what luxury! – or in one of the rooms downstairs. We took ours in the library, a sky-lit space decorated – like the other communal areas – in semi-formal Georgian style (earthy paints; corner cabinets displaying glinting rummers; polished hardwood furniture), while leafing through one of the hundreds of books to be found lying around this peaceful bolthole, many of which take Spitalfields itself as their subject.
Here, fires are forever aflicker and there's always time for tea. Urbane rather than urban – and sandwiched somewhere between Huguenot history and the crystalline modernity of city skyscrapers – Batty Langley's is a picture of the past, a place to pause amid the pell-mell.