A Home with a History: Leah Lane talks settled style, feathered friends and forgoing fads in her Georgian farmhouse
Forget trends – Leah Lane knows that when it comes to style, classic is key. The thousands that follow her Mulberry House account on Instagram would surely agree – when they're not cooing over her clucking fantastic ducks and chickens…
Words

Celia Lyttelton

Photography

Chris Horwood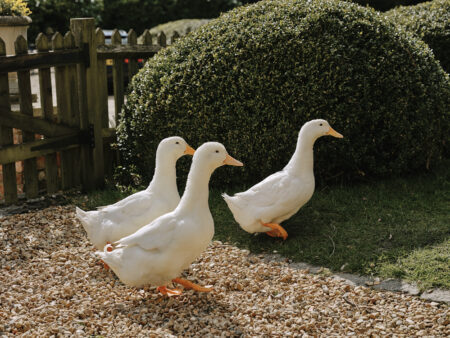 While Surrey is well known for its 'Stockbroker's Tudor', as coined by cartoonist and architectural historian Osbert Lancaster, there's nothing Metroland about the Grade II-listed Mulberry House. It is a fine early Georgian dwelling, formerly a home farm of Farnham Castle, which belonged to the bishopric of Winchester. Now it's lived in by Leah and Rupert Lane and their two small children, Raef and India. Also resident are a flock of ducks, some Suffolk hens and two Russian blue cats, coo-fodder for the 37,900 followers Leah has amassed as @mymulberryhouse on Instagram.
When they were looking to move seven years ago, Leah and Rupert's remit was strict: their new home had to be Georgian and needed to be close to London (Leah works in London half the week, in tech recruitment). Today, the house is unrecognisable from the old estate agent's brochure – the rotten wooden lean-to porch now replaced with a Tuscan columned portico, the Virginia creeper stripped away to reveal a wisteria-tangled façade.
Rupert, who was awarded the Military Cross for bravery after serving in Iraq and Afghanistan and now works for a sustainable building start-up, has lately been tending to the garden, which has begun to look a little snarled – not least since a pergola came down in the recent storms. "Mulberry House is a 20-year project," he explains. "I had a military childhood, which meant we were always moving around, whereas I want to give India and Raef stability. And space!" He has plans for the garden to be overhauled and rewilded, while the lawn will become wildflower meadows. "We'll have beehives and beekeepers here," he goes one. "We have planted a mulberry sapling and the plan is to have hawthorn, hazel, crab-apple and cherry trees along the drive."
Within the house is an expression of Leah's astute style: eBay buys, thrift finds and a careful choice of colourways complement the chintz armchairs and the sofas covered in ticking and throws. She boldly mixes the classic with the more adventurous and modern – reproductions of Mark Rothko's canvases, for instance. Every corner of every room has been artfully arranged: look at the collection of jelly moulds in the pantry; the garlands of hops festooning the rafters; the paper chains of birds that fly above the Aga. She admits, however, that it has taken time to get things right. But, as she explains here, that's just the way it should be.
"I like things to be elegantly knackered – especially in old houses. That's why we left the bare brick and timber in the hall. There's even some ancient graffiti on the beams. I love a mix of the old and the new; it feels quite ethereal, I think. Hanging pictures of all different sorts is a good way of doing that – I'd like more.
"Rupert and I met at university – we both read military history at King's College, London. It might surprise people to learn that Ru loves interior design as much as I do. I cannot do anything without his approval!
"I'm not good at art, but I like being creative. While my job is fantastic, I find I still need a creative outlet. It became particularly necessary during the lockdowns – especially the first, when I was on maternity leave. I wasn't social-media savvy at that point, but Instagram really opened a door for me in that sense. It's such a brilliant platform for inspiration – and all for free! That said, I do find it a shame that print offerings suffer as a result. Is there anything better than flicking through a magazine with a glass of wine? I still love to do that.
"We were living in a flat in south London when I first got pregnant and decided that we wanted to move to the countryside. When we viewed Mulberry House it had been empty for years. As we walked through the hall, we saw a deer appear in the long grass outside and that was it. We were sold. It helped that it ticked all our boxes too. We can cycle to the railway station and it's then only 50 minutes into London; I was cycling down to the station when I was 40 weeks pregnant!
"I love pottering outside and flower arranging, but I don't think we quite realised how much of a task gardening three acres would be. We're learning! When I'm not in the garden, I'm cooking. There was an Aga here when we moved in, which I love. One of my favourite things to make is tagliatelle alla carbonara, using smoked salmon and caviar.
"I love a bargain. Apart from a campaign chair that Rupert's parents gave us, and our Feather and Black bed, all the furniture here is from Facebook Marketplace or eBay. I'm particularly fond of the Georgian turned-wood sofa in the drawing room, which I got for £60 from eBay.
"Happiness, to me, is a shell. I have a collection of pink shells, which I love, and I chose a similar colour from Papers and Paints in the library to match. I wanted the television to be hidden in here; it's concealed above the mantelpiece behind a screen of framed botanical prints. When the garden's ready, I plan to replace these with our own pressed wildflowers.
"Our children love their attic room. I hung French tricolor flags as curtains around their cabin beds and I did all the stencilling on the woodwork. Our bedroom, meanwhile, has a clawfoot bergère sofa and chairs and an embroidered suzani, which is Uzbek. Ru bought me the triptych of blossoms, which is a detail of one of Monet painting's of his garden at Giverny. I like having a mix of things.
"Something I've learned over the years is the importance of taking time to decorate. After all, your tastes can change. I think my style is only just settling. I used to follow fads, but now I realise that classic will never go out of fashion."
Further reading
Leah Lane on Instagram