A Growing Concern: the magic of McBean's Orchids – and how to grow your own
The historic Lewes-based nursery spoke to Inigo about the fabulous and fascinating plants – and shared tips for the budding orchidophile
Words

Rosily Roberts

Photography

Ellen Hancock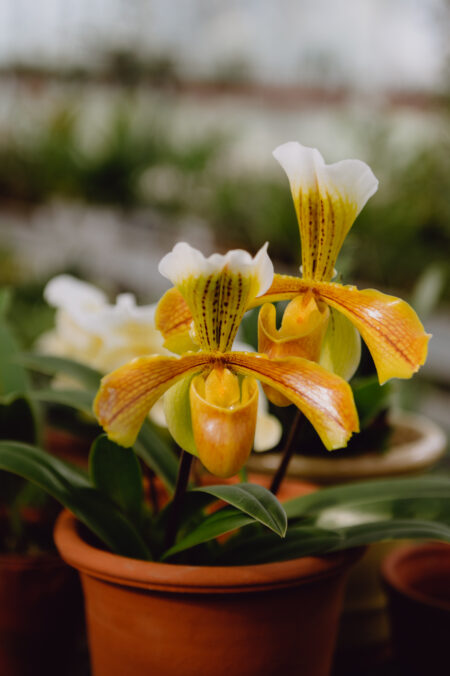 McBean's Orchids, a rambling collection of greenhouses and barns overlooking the South Downs, is the oldest orchid nursery in the UK. It started off growing ferns in 1879, when owner James McBean, a passionate horticulturalist, built the original glasshouse to cultivate a variety of imported plants. When orchids were discovered peeking out from among the fronds, James and his son Albert, the real orchid enthusiast of the family, developed a way to reproduce the bizarre blooms en masse. The nursery's propagations were sent to the royal family with orchids for their homes and weddings and have appeared at every Chelsea Flower Show since its inception in 1913, where they've won more than 70 of its prestigious gold medals.
Rose Armstrong's grandparents and mother had formerly been McBean's customers, so when Rose and her family moved to Lewes, she frequented McBean's every time she needed to buy a present. "On a rainy Saturday it was just heaven," she says. In 2014, Rose stopped by, only to learn it was closing down that very day. Faced with the loss of an institution that was of both historical and personal importance, she decided there was only one solution. After a brief conversation with the owners and her husband, Rose found herself the proprietor of an orchid nursery, despite having very little experience of growing them. "I thought that the history and pedigree was incredibly important. It couldn't just disappear," she says. "I couldn't bear the idea that 140 years could just be lost."
Today, along with head of the nursery Valeria Valkova and a team of volunteers, Rose still tends to her prize-winning flowers. McBean's, however, has become so much more than just a growing spot. It's now a destination for makers and creatives too, like Nicole Chrysikou, an artist working at McBean's who has developed a way of making ceramics out of clay and bacteria that don't require the use of a kiln. The nursery hosts a Christmas "rave in a greenhouse", as well as various open days, where hundreds of people come purely to admire the orchids. Last summer, one of the structures was transformed into a restaurant, led by chef Richard Blackwell. "There are a lot of people to whom McBean's – and this tiny piece of the country – is so important. We are just caretakers," Rose says modestly.
There is something undeniably special about the passion people feel for these flowers. It's not new, however; when James and Albert McBean began growing, Victorian Britain was in the throes of what became known as 'orchidelirium', a fever of flower fanaticism that swept the nation. Obsessive collectors would travel the world to discover and collect new varieties. By 1917, Britain's native orchids were all but extinct, thanks to the amateur botanists hell-bent on digging them up.
Today, the number of known orchid species in the world is about four times that of mammals. They come in all manner of sizes, shapes and degrees of showiness, from the pretty and the peculiar (Orchis simia) to the almost pornographic (Orchis italics). The ones too often spotted shriveling in the corners of conference rooms give the plants a bit of a bad rep, though. There is, Rose argues, an orchid for everyone – every home, every taste. It's something she said when we visited McBean's to speak to her, Valeria and Brian, who has been volunteering at the nursery for 10 years and has his own collection at home. Here, the trio talked to us about the secrets behind growing prize-worthy orchids at home.
Rain is your friend
"Rainwater is the number one tip – for all of your houseplants! Wherever possible, collect rainwater – and don't water your indoor plants with stuff from the tap. There are loads of chemicals in tap water, like chlorine, and it is very harsh, which will stop your orchid from flowering. Rain is water as it should be. If you can't get any, use either filtered or boiled."
Over-watering can be as damaging – if not worse – than under watering
"Do not water your orchids too frequently. Do it regularly, but not too often. The soil should not be constantly wet. Orchids store their own water, so can survive for up to six months in fairly dry soil."
Humidity helps
"Orchids generally like humidity – they come from a jungle environment, whereas our homes tend to be more like deserts. An easy way to generate a humid environment is by lining your orchid's pot with damp gravel."
Temperature is key
"All orchids require different temperatures, so make sure you know what your orchid needs. Many need low nighttime temperatures, which are hard to achieve in a centrally heated home, so keeping them in a bathroom or conservatory, where the temperature will drop at night, is a good idea. As for light – most generally like good light, but not direct sunlight."
Be patient!
"Many orchids, particularly the more tropical ones, can be fairly slow growing. If you buy an orchid and it stops flowering once you get it home, don't worry. It will just be acclimatising to its new environment. In some cases, this can take up to three years, so don't panic if it doesn't seem to be doing anything. Just give it a little time!"
Further reading
McBean's Orchids on Instagram