A Home with a History: Scotland's glorious Gesamkunstwerk, Jupiter Artland
Collectors Nicky and Robert Wilson talk turning their Jacobean hunting lodge into a sanctuary of contemporary sculpture in the Scottish countryside
Words

Rosily Roberts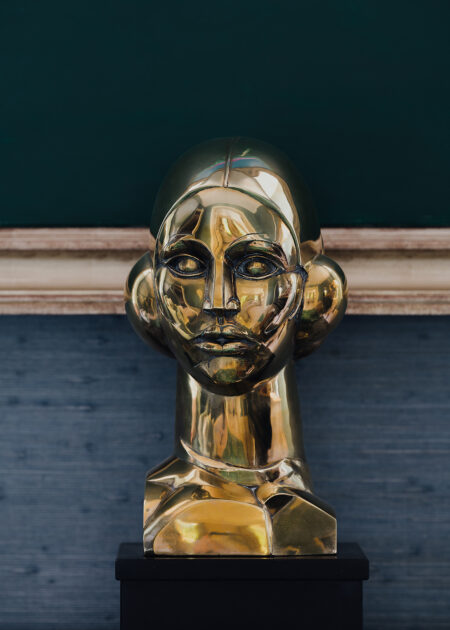 "The house almost looks like it's come from a child's imagination, with towers and spires, eagles and roses climbing up to the roof." Nicky and Robert Wilson are sitting in one of the wings of Bonnington House, a Jacobean manor that now forms the heart of Jupiter Artland, a contemporary sculpture garden in Scotland's Pentland Hills, not far from Edinburgh. Imagination runs in rich seams here, where sculptures by the likes of Anish Kapoor and Antony Gormley come face to face with miniature donkeys in the garden. Striped floors and intricate plaster ceilings are just some of the treasures that await inside.
The pair have lived here for 21 years with their five children and five dogs. In that time, it has grown from near-dereliction into an internationally recognised art institution that prides itself on pushing boundaries and prioritising education. Jupiter has the incredible ambition of engaging with every child in Scotland. On display at the time of our visit is an exhibition of new work, taking its title and theme from Tracey Emin's permanent large-scale bronze figure, I Lay Here For You, which the artist sited in a woodland clearing here. For six months of the year – allowing time for nature to heal over the winter – Jupiter Artland welcomes a 1,000 visitors a day and, in August, plays host to music festival Jupiter Rising. It is, say Robert and Nicky, their life's work.
Nicky: "The moment you drive through the gates of Jupiter Artland, you know you're in a creative place. The grounds are full of sheep and donkeys, so it's quite bucolic, but then there are also installations by world-class artists. The things we show are quite often British and very often by female artists. I'm not interested in pretty sculptures. At the moment we have a sculpture by Tracey Emin, which is a six-metre-tall woman. She's beautiful – and she is masturbating! It has the visceral drama of all of Tracey's work and the rawness of the language of the body."
Robert: "Everything we have in the sculpture park is commissioned, which means that all the artists stay here and we get to know them incredibly well. It's one of the great privileges of running Jupiter."
Nicky: "We live right in the middle of the sculpture park. Our house is sort of like the hazelnut in the centre of the chocolate that is Jupiter. The building is pale tangerine, almost tutti-frutti in colour. It's a bit mad, but very jolly. It's in many ways a mirror of what is happening in the sculpture garden outside."
Robert: "The original house was built in 1622 as a hunting lodge and was improved in 1720. When we bought it, only the central block remained, which was only one room deep. We then discovered a drawing from 1750, called General Roy's Map, which is incredibly detailed. It showed that, at one time, Bonnington had wings on the sides. Because of that, we were able to get permission from Historic Scotland to reinstate them."
Nicky: "The wings now house a kitchen, guest rooms and a ballroom. The ballroom is sometimes used to show art and we have parties in there too. Its floor is reclaimed from Perth Town Hall; I probably danced on it in its former life."
Robert: "The house was almost derelict when we bought it in 1999 and it was more than two years until it was ready to be lived in. There were no bathrooms and no kitchen – it was a complete renovation.
"We have art everywhere. The house is full of our personal art collection, which has both paintings and sculptures. Being collectors sort of informs everything we do."
Nicky: "In the ballroom, we have a plaster ceiling that was handmade for the space; it's really beautiful. In my study, I have a striped floor by Jim Lambie, which is an artwork in itself. It's made out of vinyl tape stuck to the floor. If we ever moved, I'd have to ask permission to take it up and relay it somewhere else. It gives me immense pleasure. I also have a light piece by Joana Vasconcelos, an Andy Goldsworthy and a variety of other works that reflect the outside collection. It's wonderful to work in a study full of art.
"I'm a sculptor myself. I spent my younger years wanting to make work, but when I had children, that desire was diverted towards wanting to commission, to create a landscape that would hold sculptures. We also wanted to create a foundation for learning."
Robert: "My family were collectors of Irish art, so collecting was part of my youth. When Nicky and I got married, we realised we had this common interest. When we arrived at Bonnington, we didn't necessarily plan to do the sculpture park. There were some old stables at the back and we started using them for an artists' residence programme, which has grown into Jupiter."
Nicky: "We hadn't even been looking for a place in Scotland. In fact, we wanted to buy a cottage in the Cotswolds – and it clearly went a bit wrong! We wouldn't have had as many dogs if we'd done that – or as many sculptures…"
Robert: "Life would have been very different."
Nicky: "We grow vegetables in our garden and we farm our own meat. The stream around the house supplies our water and is now used to make the Scottish barley vodka that Robert has just launched, X Muse (pronounced 'tenth muse'). Everything flows back into itself.
"To me it makes perfect sense that if Jupiter is going to surround us, then Jupiter should give us what we need to live – water as well the means for us to make a living. I like things to have proper connections."
Further Reading
Jupiter Artland on Instagram