A Home with a History: how Felix Conran's playful personality shaped his peppy polychrome apartment
Colour, customised furniture and touches of the non-traditional – a wardrobe in the kitchen, for instance – are all in abundance in the young designer's London apartment. Interiors, Felix says, are a true reflection of their inhabitants, which is why this particular place is bursting with vim and vigour – and so very, very fun
Words

Cat Sarsfield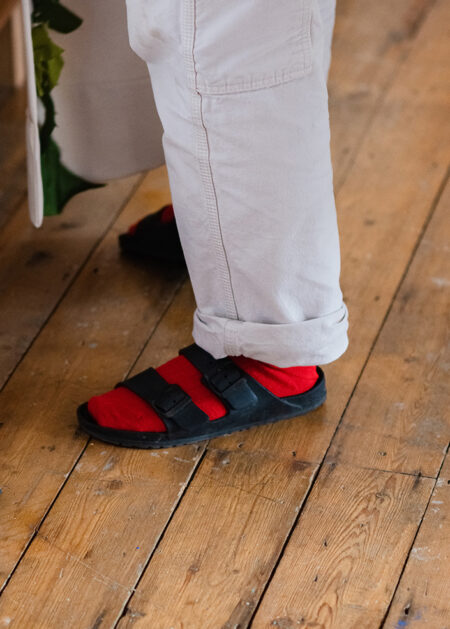 Felix Conran's east London apartment is in a constant state of play. Primary colours collide with giant paper cut-outs and pieces of modern art. Works created by friends line the walls, alongside those painted by Felix himself. "I'm most comfortable in creative spaces," he says. "At school, lots of people would find solace in the library, whereas I always felt much more at home in the art block."
It's refreshing to see a home more catered towards creativity than pure comfort – though perhaps it's natural in this former textile factory. Felix's flat is light and lofty, with a subtle nod to the blank-canvas utilitarian spaces you might find in New York, where he lived for two years. The apartment belongs to the designer's friend Angus, who previously used it as a photography studio. That was until, late one night, Felix came round and, on entering, announced: "I'm going to live here."
While you might spot a sofa by Maker & Son – the company Felix co-founded with his father, Alex Willcock – this flat is a far cry from the more muted, classical style of Alex's house in West Sussex, where Felix stayed during lockdown. "It's important to know that Maker & Son and Felix Conran are not the same thing," he points out. "We're very different."
Eyes are drawn to the majestic marble slab at the back of the room, visible as soon as you step inside, surrounded by brightly painted chairs that don't match but aren't at odds with any of the pieces in the space. It's impossible to uncouple the flat's playful, bold design with Felix's own personality. When asked what this space might say about him, he smiles and answers: "Initially overwhelming – but actually makes quite a lot of sense. And very fun."
"I've never really occupied traditional spaces. This is an old factory building, my previous home was a converted garage, and in New York I pretty much lived in the Maker & Son showroom. I always wanted to make those places homely – but it's not necessarily everyone's idea of homely. I really like tall ceilings, lots of light and good flooring. To me, those are the most important aspects of where I live.
"My mum has always been quite bold with colour. When I was a child, she painted the kitchen bright yellow, and then bright pink. It looked amazing. I suppose some people were somewhat shocked by it, but to us it was just normal. Our family homes have always been incredibly stylish places and I've picked up on that myself, by collecting similar objects and colour-blocking specific areas. I guess it's just about pushing those elements much further, so it becomes something new.
"Almost everything in here has been made by me or by someone I know – or it's been heavily customised, like the Eames rocking chair that now has static legs. The kitchen island, for example, is actually an old Conran Shop coffee table I bought from eBay. I then made the pedestal from painted wooden panels. It really works, but it's not traditional. I made the paper light above the kitchen island as an experiment after seeing something similar in an Isamu Noguchi exhibition.
"When you move into a space, you end up moulding it around yourself, so having an understanding of yourself and the way you work means that you can really be in charge of the process. Where you live inevitably reflects your own personality and lifestyle, whether you like it or not, so I think it's best to embrace that.
"I knew that I didn't want anything in the bedroom. It's an idea I got from my uncle Jasper's friend Patrick Kinmonth: get everything that you possibly can out of the bedroom. Minimise flat surfaces and remove the wardrobes. Bedrooms should be for sleeping and decompressing, so they need to be uncluttered. As a consequence, my clothes are kept in the kitchen, squirrelled away behind a giant paper egg – of course.
"The first piece of art I brought to the flat was a painting I'd commissioned for my first fashion show, about six years ago. It was painted by three artists: Finlay Abbott Ellwood, Jonas Pequeno and Lewis Brander, who are absolute superstars. It was painted while they were still at college. I had acquired a 3,000sq ft warehouse in London Fields for 100 days, because it was about to get knocked down; we would hang out there in the evenings and at weekends while they were making this work. It's got so much amazing energy in it that I think it really informs whatever space it occupies.
"I commissioned a silk tapestry from two artists – Faye Wei Wei, who's a friend of mine, and Lowena Hearn. The brief was that it should act like a mirror of the windows that look on to the outdoor space at the end of the room. I wanted to bring the outside in. It's a great backdrop to people eating at the dining table.
"I'm always trying to think about the use of space in here. I'm not really trying to achieve a 'look'. I just want this to be an incredibly fun and creative environment, but really it's my interpretation of that, it's me trying to distil joyous moments. On the cupboard there's a paper cut-out of a fried egg and a knife and fork that I made and regularly swap out with different shapes. I mean, it's silly, but how great?"
Further reading
Felix Conran on Instagram
Felix also runs a food Instagram account, as well as one for his artwork