A Home with a History: getting comfortable at the family seat of Alex Willcock and Felix Conran, co-founders of sofa-craft company Maker & Son
Inigo takes a seat with the father-son design duo to learn about their craft and distinctly hands-on approach to interior design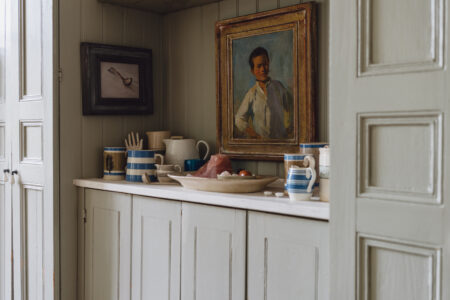 "Comfort is a real priority," says Alex Willcock, 57. "A great way to motivate teenagers to spend time with you is by making them feel comfortable – it's one of the reasons we started designing sofas in the first place! You've got to make sure it's a house that you all enjoy being in."
Alex is speaking from Kemp's House, just outside the village of Balcombe in West Sussex, where he moved with his family 16 years ago. It's here that he and his son, Felix Conran, 26, co-founded Maker & Son – a fact that suggests Alex succeeded in his mission to create a home his children would enjoy spending time in.
First built in the 1660s, the house has had many lives. It was initially clad in wood, with its distinctive checkerboard façade of alternating black and red bricks added at a later date, when a local brickworks opened and wanted an impressive canvas on which to showcase their work. Even during the 16 years the Willcock-Conran family have inhabited it, the spaces have proved remarkably flexible. Not only has almost every room served as a bedroom at some point, but many of the rooms have also been used as office spaces during the three-and-a-half-year history of Maker & Son.
While the desks have now moved into buildings separate from the main house, the decor in all of the rooms serves as a backdrop to the company's philosophy; the spaces are filled with warmth, friendliness and pieces that speak to the pair's appreciation of hand-honed craft.
Throughout the house, you'll find furniture that has not only been sourced by Alex on his travels (such as an Australian "settler" chair in the upstairs bathroom that he brought back from his time living in Melbourne – the city in which he met Felix's mother), but also items he's made himself: a green kitchen unit made from old shutters, a bowl formed using a slice of trunk from a fallen tree, an end-of-bed console constructed from old wooden sea defences. Look up and you can't help but notice Felix's bentwood light features dancing on the ceiling or peeking up from behind a sofa, all made in his onsite studio. And, of course, there are plenty of wonderfully squishy sofas.
Alex: "It's called Kemp's House after the architect – he designed and built the place for himself. For me, a really important part of the story and the legacy of the house is that it's always been a working house in that way. We thought of the idea for Maker & Son here together about five years ago, and this place literally became the home of the family and the business at the same time. The end room had 12 people working in it at one point and at its peak, I think we had 22 people working out of the house; we were fitting them in everywhere, building special desks to go around corners or in corridors."
Felix: "It's got quite grand proportions for what is actually not a particularly big house. The number of windows and 3-metre-high ceilings would have been unusual for a house like this at the time it was built, taking into account the cost of glass and heating. Whoever designed this house really cared about light and space – the rooms are so wonderfully bright."
Alex: "We really made a point of making the interiors feel friendly and people who come to the house confirm we've succeeded. I wanted it to feel approachable. There are very few things here that are fancy or fussy, or even particularly precious in the conventional way. All of the colours we've used are quite neutral and warm. They have a sense that they could have evolved as a part of the house over the years."
Felix: "The living room is quite unusual as there are five ways to enter it. Having all of these different channels opened up, allowing you to pass through, creates an amazing flow of energy. I can't think of any other living room I've seen like it; it's more like a medieval hall. My light at the centre is inspired by this feeling of movement through the room. It's created from thin wood whirling around in multiple directions. It's there as this cloud of collected chaos."
Alex: "You see that log in the living room by the fire? That's from a tree that fell during an incredibly stormy night and blocked the main access road to the village, not to mention destroying our power and phone lines for about four weeks. Lots of people in the village have chainsaws (because, you know, country life) and they came out to help chop it up and clear it. There was an amazing feeling of community, it was really special. I dragged this particular piece back to the house with my Land Rover and hollowed it out. Now it gets used for kindling! I was very unhappy with that tree."
Felix: "I was at boarding school from when I was 10, about the time my family was moving here. Coming back to Kemp's House every other weekend was like an event – there was always a project on, whether that was building bits in the garden, making a small fountain, painting the kitchen or someone wanting to work on their bedroom. Almost all my memories of the house are creative."
Alex: "I built the roundhouse in the woods as a little retreat for myself about seven or eight years ago. It started with no plan, I just knew I wanted it to be round. I went up there with a stick and a ball of string and mapped it out. I put in the verticals, then the floor, then the wooden straps around the verticals and started attaching the cedar shingles – but suddenly realised I'd made a silo with no access or light! I went to our local reclaim yard and found three curved windows and one larger curved window that could easily be a door and they almost clicked into position with this structure. It was magical and ridiculous. The radius of the curve is identical to that of the windows."
Felix: "As a family, we've always been really big on flowers and fruit; the house is full of them. We always have bowls full of citruses everywhere – I now do it at my house too. I have some old, rusty, gold-panning pans that I fill with oranges."
Alex: "I started out as a cabinetmaker. I've collected woodworking tools for a long while. I love them because the beauty and form of the tool are determined by its function. I think that the way I've decorated the house is predominantly the same – function leads. There's a very practical element to everything, and 'decoration' as such only really comes through in the placement of things we love, rather than them being styled in a certain way. So for me, the living room should be the most comfortable place everyone can be, with function leading form.
"I think the fact that I've made a lot of the things in the house means that there's a friendly spirit to a lot of what lies within. There was an intention behind their creation and I think a room can embody the spirit of those intentions in a way that's quite difficult to define.
"At night the house is almost exclusively candlelit. There's a place I jointly own in Wales where I've been going to for about 40 years, a tiny little place that has no electricity and no mains water – it's more isolated than the cottage in Withnail & I! It's always lit by candles and oil lamps. Having that as a foundation to my understanding of what an interior can be, when non-electric light reigns – that's stayed with me throughout my life."
FURTHER READING
Maker & Son on Instagram