The Antiquarian: Jamb's guide to Regency fireplaces
Will Fisher, the founder of Jamb and an expert on antique fireplaces, gives Inigo the inside track on Regency chimneypieces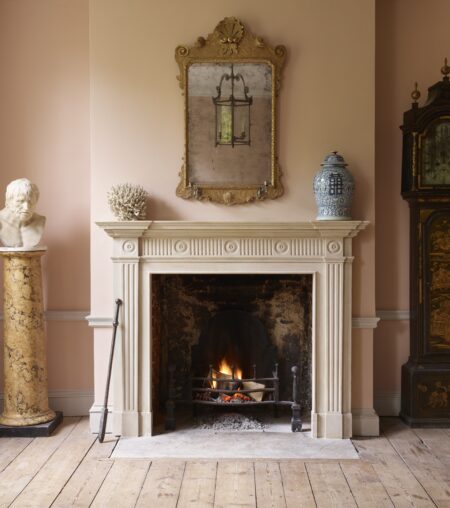 Will Fisher's career in antiques began when he was still at primary school. Encouraged by the legendary collector Warner Dailey, the stepfather of Will's friend, he would rifle through skips, street markets and jumble sales for pieces that the boys would sell at Greenwich market. After cutting his teeth at Christie's – and a particularly brief stint at university – Will founded Jamb, a dealership specialising in antique fireplaces, or chimneypieces to use the correct architectural term. His collection has grown to be one of the most extensive in the country and forms a unique archive that Jamb's workshop draws on for bespoke reproduction chimneypieces that are sold alongside the antique originals.
As Will explains when Inigo pays Jamb a visit, chimneypieces have historically been the most important, and expensive, part of a home's decoration. In some cases, the artistry and materials required to produce fireplaces could cost more than all other ornamentation in the house put together. By the Regency period – which spans roughly the years between 1811, when George IV was made Regent, and 1820, when he became King – they had become an exciting focus of architectural experimentation. "Some of the greatest sculptors of the day worked on chimneypieces," Will says, pointing out examples designed by Sir John Soane, William Pocock and George Dance the Younger. "There are some that, to this day, remain breathtakingly modern."
Below, Will gives Inigo a crash course in the craftsmanship, technological innovation and radical design that defines Regency fireplaces, sharing his expertise on what to look out for, and what to avoid.
The look
"Before the Regency period, chimneypieces were around 58 inches high and in portrait format; that changed suddenly at the beginning of the 19th century. There was an increasing interest in making fireplaces more efficient and, as coal was being used more, the size of the grate and the aperture became smaller. Generally, Regency chimneypieces will be around 48 inches high and landscape, and instead of the heavily embellished, carved designs that came before, are much more restrained and refined."
The materials
"Regency chimneypieces are always made from stone or marble. As a rule of thumb, if the chimneypiece is more elevated, then it will be in Statuary marble, which is the highest quality white marble; it has less veining and holds detail incredibly well. Carrara marble, from the same region in Italy, would also be used, as well as beautiful indigenous stones like Portland, Ancaster and Bath. Only very occasionally will you find Porphyry, which was one of the most highly prized stones at the time, and which in ancient Rome could only be used by the Emperors."
The details
"Apart from being defined by the exquisite execution of the carving, Regency chimneypieces typically have beautifully tapering jambs (the upright sections) which are often reeded – they have these linear convex mouldings. They will also often have very thin mantle shelves; however, if there is anything that absolutely defines the period, it is the circular carved bullseyes.
"Soane in particular really played with the design. He looked back to Italian chimneypieces in the 15th and 16th centuries and removed the foot block, extending the jamb to the floor and so completely changing the nature of the chimneypiece. To our eyes, it looks incredibly modern, even if he's actually harking back to the Renaissance."
What to look for
"There are not as many Regency chimneypieces in circulation as you'd imagine. Because they are protected, once they go into a listed building they cannot be removed. This was also the last period when the quality of execution was without compromise, before wealth became more widespread in the 19th century and chimneypieces became more accessible. Look out for the refinement in the detail and a jewel-like execution of carving."
What to avoid
"There are more bad copies out there than you can shake a stick at. Usually, you can see it from a mile away but be on your guard for poor execution and poor materials. A chimneypiece is the most important part of any decorative scheme and it's absolutely imperative you get it right!"
Images courtesy of Jamb & Simon Upton
Further Reading
Jamb on Instagram