A Growing Concern: Katherine Holland designs the perfect reading garden for smaller city spaces
Based on her design for the RHS Chelsea Flower Show in collaboration with The Folio Society, Katherine shares her top tips for creating a bookworm's paradise, no matter the size of your plot
Words

Rosily Roberts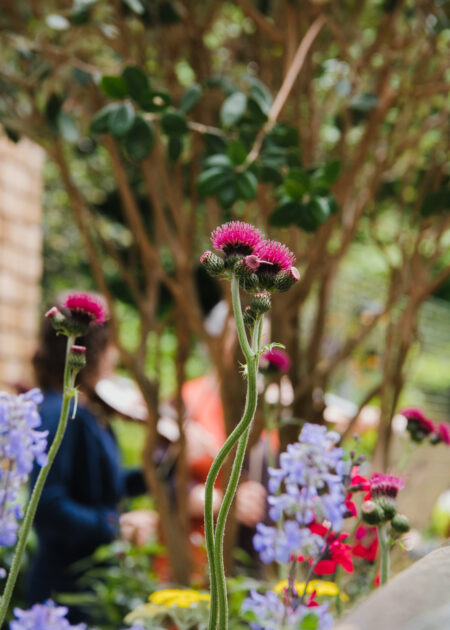 An outside space, replete with overflowing greenery and space enough to sit, read and escape the flurry of city life is something many of us dream of. And at RHS Chelsea Flower Show this week, garden designer Katherine Holland gave that dream a physical manifestation with her Reading Room Garden, designed in collaboration with The Folio Society and awarded a Silver Gilt medal.
Katherine's garden – created with balconies in mind – aims to create a peaceful sanctuary in a small city-centre space and features foliage of different heights to create a sheltered area for introspection, as well as a water bubbler, producing soothing white noise to stave out the sounds of urban life. "The idea is to celebrate reading in nature," she says. There's a poetic nod to the physicality of books in Katherine's garden too; the feature wall at the back is made up of handcrafted oak cobbles. These robust wedge-shaped pieces, reminiscent of book ends, are inspired by the galls on oak trees, commonly used in ink production until the 20th century.
Katherine's route into gardening was perhaps a little unusual. "I'd always enjoyed it as a child," she says, "and both my mum and dad were very keen. As a teenager, though, I fell out of love with it." Going on to study maths at university, she worked for 10 years in financial risk management before swapping her desk job for digging in the dirt. "I rediscovered the joy of it when my husband and I bought our house and redid the – very overgrown – garden. I started helping my friends and neighbours with bits of garden design, and it grew from there." Having retrained at the London College of Garden Design, she now runs her own studio.
Those with smallholdings on the slighter side, rejoice. Katherine's Chelsea garden was designed to be easily replicated and adapted for any balcony or compact area, and every installation feature is portable enough to be carried through a house, if needs be. If you missed the Flower Show, don't despair: here she shares her tips for creating an outdoor reading room of your own.
Decide on your design
"I conceived this garden with an imaginary client in mind – but since I used to live in a flat in Victoria with zero outside space, it wasn't difficult to imagine! This garden is based on the outside space I would have loved to have in that flat.
"Whenever I design, I start by thinking about exactly what I want from the space. Then, I look at the area I have and play around with how the layout can work. I like to try to divide it up if I can, so that it isn't just one big open area, but is instead made up of different sections that have different qualities, so the garden can be more multifunctional. I'm very visual, so I really need to see my design as it develops. I use CAD software, but the same could easily be done with pencil and paper."
Do things by the book
"To design an outdoor space conducive to reading, first and foremost think about creating a comfortable seat – somewhere to curl up in or recline on that you'll feel comfortable in for hours as you get lost in your book. I would also recommend incorporating some foliage of different heights – this will make the garden feel introspective and sheltered, creating a perfect refuge. That said, reading can also be a wonderful shared experience, so don't rule out the idea of a more open area, with wider views and an oak bench – perfect for having your mini book club over.
"For city-centre or urban spaces, as this balcony garden is, I would include a water feature or bubbler, which will help drown out intrusive city noises, so you can focus on the words on the page."
Prioritise function as well as form
"The main thing to consider is how the space will function. Do you need to be able to walk around? Or is having more seating a priority? It can be difficult to make a diminutive space feel replete and vibrant without it becoming cramped or causing you to trip over things. The trick is to have enough to make it feel full, but not too much that it starts to feel bitty and tiny again. Something that can help make a small space feel larger is having a few big planters, rather than many little ones, which is what I've done in this garden.
"Crucially, if you want to use the garden as a place to read, ensuring that you have some shade is important."
Don't mix up your roses and your rosemary
"The next thing to consider is what plants you'll choose. If most of them will be in pots, or your space gets a lot of sun, it's important to pick those that are drought-resistant. Roses, for example, are very thirsty and tend not to fare well in a sunny spot. Meanwhile, Mediterranean plants, like lavender or rosemary, need a lot less water and won't die if they're left for a couple of days in the baking sun.
"If your area is less sunny, things that like shade such as ferns work well. Perennials tend to be a bit hardier than annuals and also require less work to get going, so are a good option for low-maintenance garden spaces. In this garden, I've used a mixture of perennials, like salvia and artemisia, and annuals to create different layers of texture and colour."
Consider colour
"Colour can completely change the atmosphere of your space. I try to use colour theory in my designs when I can and I like playing with the ways complementary hues offset each other – if you want a particularly vibrant garden, pairing oranges with purples or blues, as I've done here, can really help make small space sing."
Further reading
Katherine Holland Garden Design