Inspiration of the Week: a heavenly prospect in Hardy country
Deep in Dorset, this former bakery is a picture of West Country winsomeness – and it's for sale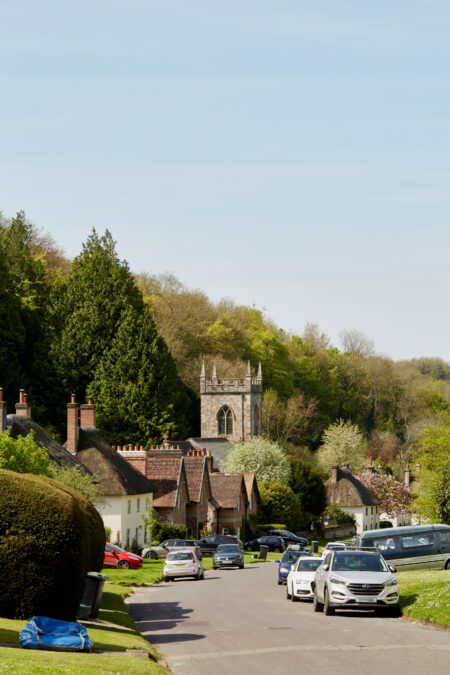 Written between 1886 and 1887, The Woodlanders is perhaps not Thomas Hardy's best-known title. It might be his most poetic, however, containing as it does some of the author's finest and most romantic descriptions of the natural landscape in his semi-fictional south-western region. As with Hardy's other Wessex novels, The Woodlanders reimagines several real places, among them Cerne Abbas (Abbot's-Cernel), Exeter (Exonbury) and Milton Abbas, near Blandford. Dubbed Middleton in the book, and briefly home to the marvellously titled Felice Charmond, it's also the site of this decidedly non-fiction thatched cottage, currently on the market.
Hardy didn't pluck the village's name out the air, for there once was a Middleton nearby. Forming part of the Earl of Dorchester's domain, the settlement was, until the late 18th century, visible from the estate's seat, Milton Abbey. Then, in 1780 the first earl, Joseph Damer, decided the bustling market town was marring his countryside views. Commissioning architect William Chambers and gardener Capability Brown, he ordered the demolition of what he deemed an urban eyesore and landscaped the site instead, building a new settlement out of sight: Milton Abbas.
This enchanting cottage was one of 36 in Milton Abbas built to house Middleton's residents. Painted yellow and constructed traditionally from cob and thatch, each was designed to hold two families, had a lawn and was separated from its neighbours by a horse chestnut tree. With a church and almshouses, Milton Abbas was perhaps the very model of a modern Georgian village – and went some way to placating those displaced.
In the middle of it all, this house, formerly the village bakery, is spacious, symmetrical and, despite its age, well designed for life today. This is thanks in large part to the sensitive updates its current owners have made. Now, new oak floorboards underfoot stand in clever contrast to centuries-old limed beams overhead, while cream-coloured walls make the most of the light brought in through leaded windows. Particular points go to the cedar cladding in the gym – a neat contemporary counterpoint to the house's more ancient features.
Outside, however, very little has changed. While the cottages' yellow has been swapped for whitewash and the trees sadly haven't survived, there's now a pub, a post office, a farm shop and tea rooms here – all which make local life rather lovely. It seems that, 250 years after it was built, Milton Abbas remains a pretty perfect place to live.