A Home with a History: how Jonny Williamson brought a touch of grandeur to a converted Georgian stable in Gloucestershire
The Noble & Thane owner invites Inigo inside his charming antique-filled home in Tetbury, which rises above its humble origins with an interior fit for a manor house
Words

George Upton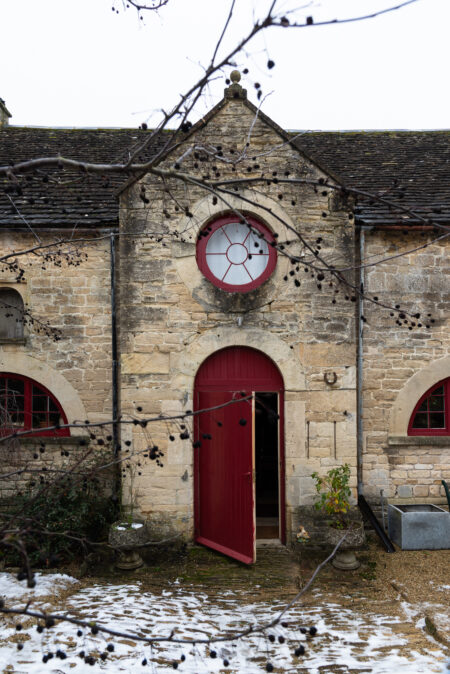 Jonny Williamson first visited the Cotswolds by accident. The antiques and furniture dealer, designer and shop owner had been making the lengthy journey from London to his then-home in Scotland when, in what now seems like a fortunate twist of fate, he found himself going through a bucolic corner of central England. "I just fell in love with it," he reveals over the phone, the sound of a horse passing in the distant background. "I decided then and there that this was where I wanted to live."
He eventually laid down roots in Tetbury, an idyllic Gloucestershire town known for its quaint markets and abundance of historic architecture, some of which can be traced back to the 16th and 17th centuries. It also has a thriving antiques and interiors scene, which Williamson has firmly been a part of since he established Noble & Thane – a dealership which offers unique objects for the home, as well as bespoke furnishings that draw on classic designs of the past. Conscious of his environmental footprint, Williamson has ensured that almost everything he sells, from ornate lamps to plump armchairs, is produced within a 30-mile radius of Tetbury, where since December he has also been running his own shop, Noble. This sustainable approach has, over the years, led him to foster close ties with the town's local community, and it was through them that Williamson discovered his current home: an intimate and elegantly proportioned one-bed inside a converted Georgian stable. It's filled with an ever-rotating collection of period pieces and, of course, his own designs. Below he explains to Inigo how he went about fashioning an artful and authentic, yet seemingly effortless interior.
"The vision was there but it needed a bit of love."
"I was chatting to my friends who own the local manor house one day and they asked me if I would be interested in one of the properties on their land. They kept calling it a barn, so that's what I was expecting. When we went to look at it, and I saw it was in such good shape, I knew straight away I had to have it. It was so charming the way it was hidden from the road, surrounded by all this open land.
"The previous owner had done a lot of work to the house, excavating and refilling the floor, putting in underfloor heating. The electrics and plumbing were sound, and the main structure was in good shape but it was just an empty box with unpleasant lighting. The vision was there but it needed a bit of love.
"So I was very conscious of being careful with things like paint colour to preserve the natural character of the house. I didn't want to go straight in and whitewash it. In the end I chose 'Gladstone' by Edward Bulmer: a soft grey-green – not too bold, not too pale. That works well with the strange half-light you get in the house and the furniture I was bringing in.
"I found it quite fun, decorating the house to feel like a stately home when the building had really been designed to hold horses. I wanted to create a focal point for the living room, because it really was just an empty space, so I made the chimney breast out of MDF and set it against the wall. It can just be slid back out if it upsets building control.
"If you overdress a room you can't relax in it."
"The decoration follows a sort of Georgian aesthetic but it wasn't necessarily contrived as such. I spent a lot of time doing research and looking at those people who have the best eye for these spaces, like Will Fisher of Jamb and Robert Kime, but I wasn't going out and buying furniture specifically for the house. It was more that the house became the perfect showcase for the pieces I already owned: the furniture; objects like the plaster busts and Roman artefacts. It was easy, in that respect; the place lent itself so well to the style.
"If you overdress a room you can't relax in it. It's a mistake I've made in the past and I was very conscious of that here. As a collector I'm always moving things around but the key to a good interior is in creating somewhere that's comfortable, and that's the same whether you're into minimal mid-century style or you're a maximalist like me. I don't like clutter – everything has to be in its right place – but I'm much more about stacks of books and interesting objects.
"There's really only four rooms in the whole house – the living room and kitchen downstairs and the bedroom and bathroom upstairs. It was clearly originally just one large room that's been divided up fairly simply, but it flows really well. I was fortunate to have enough space in the living room to split it in two with a large Robert Kime sofa, a dining area with a big table on one side and a sitting area on the other. And I liked the idea of having this comfortable, high-end drawing room with a quaint working kitchen behind it. It feels like something from a little historic National Trust house, with the copper saucepans hanging up; the small table by the fireplace.
"It's great to have the opportunity to see my house go from being a very utilitarian working building to a home."

"Ultimately the appeal of somewhere like this is in being able to breathe new life into a building when it would have otherwise fallen into disrepair. I'll pass half a dozen buildings on a walk which you know would make lovely living spaces, but they don't have a roof, or they're sitting in the middle of a field by themselves. It's great to have the opportunity to see my house go from being a very utilitarian working building to a home, and to know that it will continue to be used for hundreds of years to come.
"Of course there's disadvantages to living in historic buildings. You have to get used to a bit of dust, to it being a bit colder than a new build, but if you do it cleverly and sympathetically you don't have to compromise that much. And anyway, I certainly wouldn't trade it for a modern home.
"I hope more buildings like this are saved. There's plenty out there that aren't as daunting as you might think, in terms of getting services to them, putting a roof on. As soon as they're watertight, you can start restoring them to their former glory."
Further Reading
Noble & Thane on Instagram
The Georgian Country House, Dana Arnold, 2003