A Home with a History: the improvised charm of Lucinda Chambers' colourful Edwardian "work-in-progress"
The stylist, designer and expert pattern-mixer explains the accidental inspirations of her ebullient home in Shepherd's Bush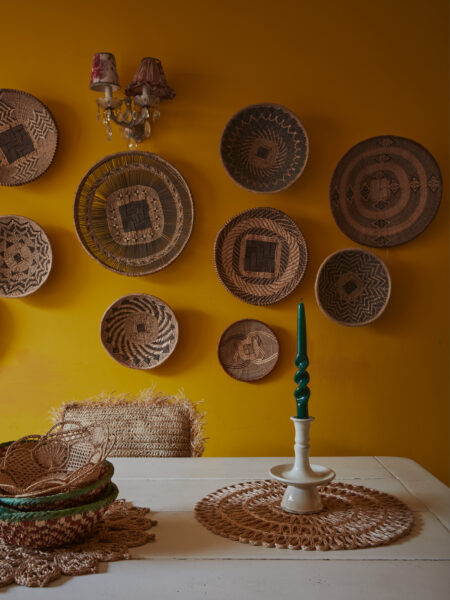 Lucinda Chambers has, over the course of her illustrious career, developed such an intrinsic sense of style that she is able to pull off with enviable ease what may be deemed daring by others. Mixing colour, pattern and contrasting aesthetic elements comes naturally to her, and has been a signature of her work from her time at British Vogue, where she was fashion director from 1992-2017, to the present moment, at which she is a designer for womenswear label Colville, the co-founder of e-commerce platform Collagerie and a member of Inigo's very own Guild.
Naturally, then, when it comes to curating the interiors of her family home in Shepherd's Bush, Lucinda lets herself be led by instinct. Her decision to purchase the house in the early 1990s was itself somewhat spur-of-the-moment, triggered by her instant attraction to its lofty Edwardian proportions, abundance of natural light and seemingly endless back garden. Since then, while neighbours have gutted and extended their homes, Lucinda has contrastingly decided to firmly hold onto the "higgledy-piggledy" layout of her own.  Her loyalty to its form, she says, is perhaps in a knee-jerk reaction to her childhood, during which her mother – who made her living renovating, then selling homes – relocated the family every 18 months, meaning that they were in "James Bond-y" pads one minute and heavily gilded Rococco-style flats the next.
Any decorative or structural tweaks that Lucinda has made to her home have, been in response to the ever-changing lifestyles of her three now grown-up sons – or, she admits when a room has got "really, really shabby". But that's not to say there's a lack of vision here. Rather, Lucinda has taken each change within the life of her home to feed her "thorough obsession" with colour and pattern,  embellishing its interiors with everything from patterned plates, to beloved paintings handed down from her mother. Below she takes Inigo through her intuitive design process.
"Colours jump out and start to chatter around your head"
"Even though I love interior decoration, I don't decorate for the sake of it. I decorate when it gets slightly unliveable, actually. When the plaster is kind of slightly falling down on your head. So it's much more of a work-in-progress, the house. It's never been done all in one go. The kitchen I did probably now 18 years ago – I haven't painted it since, and it's lasted really well.
"It doesn't start with a plan, I have to say, although I kind of wish it did. It tends to be very organic – it can start with a lampshade or a cushion and then… I don't know. Colours jump out and start to chatter around your head a bit. Plates are kind of a no-brainer – I probably started with two plates, popped them up, and then another two and another two and another two. They didn't go up all in one go. I think that's how I tend to decorate.
"In the bathroom there were so many patches of paint samples, they all kind of joined up. I actually rather liked it and it stayed like that for a couple of years, but then I did eventually decide on one colour.
"The hall is kind of a bluey-gray and the nursery is a firefly red. They look really nice: cool and hot working with each other, as if I've thought it out. I wish I could say I had, but I absolutely didn't. It's more like I do one room at a time as and when I can afford it."
"It evolves as we evolve as people"
"The house changes as the purpose of it changes – so the nursery used to be just full of toys, and we used to have a huge trampoline in the garden…. [But then] we got rid of the trampoline and we made a more beautiful garden for ourselves to have lunch in. Now the nursery's a TV room and it's a bit of a home office, but mostly where we watch Schitt's Creek. It evolves as we evolve as people, rather than for the sake of decorating the house.
"The only thing we've really done to the house was to make a big kitchen, because [when we moved in] the kitchen was tiny in comparison to the house – you couldn't really fit a table in. Then much later on, when the boys were teenagers, I built a very big veranda with a glass roof so that they could all sit and smoke and do what they do out there without getting rained on. We also built a shed at the bottom of the garden for my husband to work in. To me, it's really important to be comfortable, and that's as true of clothes as it is with the home."
"To be able to step out from the kitchen into an outdoor space is amazing"
"What I really like about the house is that when it's sunny, you can throw open the back doors and you can see all the way through. People come in the summertime and spring and go, 'oh my God, it's like living in the country', it's got that feel. I think just to be able to step out from the kitchen into an outdoor space is amazing. I would never, ever have a kitchen in a basement. Ever. That's the only rule I've ever had.
"What I also love is that people have their favourite rooms to stay in. So when Molly and Kristin come – my business partners from Colville – Molly goes, 'I'm going into my room', which is the pink room, and Kris knows hers is the yellow room. I've missed that actually in lockdown, I have to say; I've missed people coming and staying."
"I like colour and pattern and texture too much"
"As I've got older, I think I have got much, much less afraid of change…I think definitely if we moved, it would be for something completely different, but I like colour and pattern and texture too much, probably to go in an all-white space.
"I think it's really interesting when you make these huge decisions, like who you're going to marry and what house you're going to live in for 30 years. But it's quite impulsive, in a way. You just kind of hold your nose and hope that it's the right thing."
Further reading