Inspiration of the Week: splendid circularity at a former watch shop in south-east London
This thoughtfully revamped house in East Dulwich was the subject of one of our favourite articles from 2022 – and now it's on the market.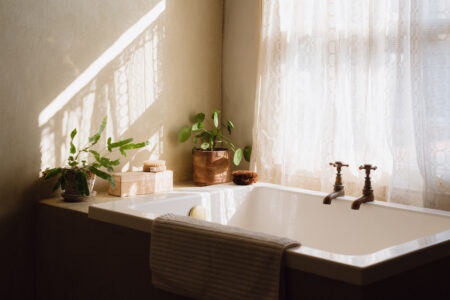 We love it when things come full circle. And in this beautiful three-bedroom home in south-east London, which came on the market this week, that's the case with just about everything. Not only has it been painstakingly restored using non-toxic and reclaimed materials, it's also been featured on the Almanac before. One of our 'A Home with a History' features, it was much loved by our readers – and for good reason.
When it came to renovating, its current owners, Natalie and Luke Morrison, were committed to doing things the old-fashioned way – free from harmful chemicals and with as little waste as possible, that is. Their resulting creation ­does justice to the history of the place, a former watch-repair shop that had been in the same family for nearly a century. Traditional limewash forms a textured leitmotif throughout the rooms and is entirely free from any nasty compounds; in fact, Luke told us, there is no noxious paint, plaster or glue in the entire house.
Doing things the regenerative way isn't easy, though, making the couple's feats here all the more remarkable. "We had to just be imaginative with our solutions," Natalie explained on our visit. "It actually ended up driving a lot of our design decisions." Among our favourites of these are the cosy cabin-like sitting room at the back of the house, clad entirely in second-hand timber found on Gumtree and eBay, and the tadelakt bathroom; unable to find a professional to work with the lime-based material, the couple went on a course and did it themselves.
The attention to detail that went into this extraordinary project is tangible, from the kitchen's glass-fronted display cabinets – reminders of the house's former life – to its calm and considered decoration. If it's time for a change, look no further. But tick-tock; this one surely won't hang around.