A Home with a History: Deborah Brett on her viridescent revamp – and finding fronds for life in the process
When renovating 10 years ago, the writer, fashion editor and now ceramicist came across a fern-printed dress by Clements Ribeiro. Its beautiful bracken pattern kick-started the vibrant "green revolution" in her 1930s house in west London, creating a comfortable family home she loves, makes in and uses every inch of
Words

Eve Delaney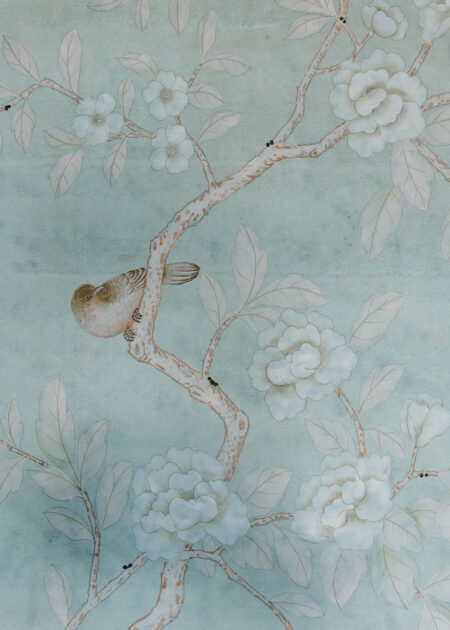 "It's like a picture-book house," says Deborah Brett of her 1930s Holland Park-side home. "If you were seven and drawing a picture of your favourite house, this is what you'd draw."
The idyllic majesty of the exterior is just the start of this double-basement dreamhouse, which comes complete with a gym, a cinema worthy of a scene in Mad Men and a serene studio. "After walking in and closing front door, it's like you've shut the world out." Yes: the triple-glazed Italian windows do block out the west London buzz, but Deborah's space is far from quietly designed.
When we arrive, the smell of freshly baked sourdough greets us first. Next, it's the art: the house is alive with it – Lee Miller photographs, De Gournay wallpaper (a masterpiece in itself), Deborah's mother's glassware and her own bubble-glazed ceramics join a huge portrait of a staring face ("Oh, that's Lydia, isn't she lovely?").
"Some people nest when they're pregnant," Deborah explains as we admire a six-foot papier-mâché tree that bursts out from her daughter's bedroom wall, scattering the ceiling with vines, orange leaves and fairy lights. "I just became very creative!" Admiring the fruits of her labours, we take a tour.
"This house has always been a family home. It was very loved when we moved in 20 years ago. Initially I tried to keep the feel of it as it stood, because I felt an attachment to its history. The colours I chose were very Deco – Christian Dior grey, eau de Nil, puce and lavender – as were the mirrored furniture and French antiques I picked up on Lillie Road.
"But then, 10 years ago, we decided to renovate: flip the layout so we could look out at the garden and really enjoy the space. Now, there's lots of ironmongery, dark timber, scorched wood on the island and zinc for the tabletop. It's got a more industrial feel. The dark-green tiles are so fashionable now, but a decade ago nobody was buying them. We slowly gained the confidence to say: "Yes! We like these things." The bones of the house are 1930s, but it doesn't mean we have to live in a museum; we can add contemporary pieces. Those decisions only came with time.
"We worked with a fantastic interior designer called Hubert Zandburg. Hubert's style is very varied: thanks to him there's a Parisian streetlamp in this house, and the kitchen, which we integrated into the living room, is sourced from many different makers. He loves working with artisans. As a creative myself, I feel there's something special about having one-off pieces in your home.
"Nature is a big part of the design here. When I was at art college, all I did was lino cuts of trees, and blockprints of leaves and foliage; I love their texture. Incorporating that into my home was something I was keen to do. I remember that, when we began decorating, Fermoie had just launched and sold some wonderful organic prints. They were my first port of call.
"Some friends of mine, the founders of Clements Ribeiro, had also just started in textiles at the time of our renovation, working with Schumacher to produce their fabrics. They had designed a collection of fern-printed dresses that I thought were brilliant, so I asked them to print me some extra meterage to cover a chair. That inspired and instigated the green revolution in our living room. I carried it on elsewhere, in my bathroom, for instance. I loved the idea of having a bath amid the garden; I wanted it to feel like you were outside, surrounded by fronds and foliage. There are nods to the outside in the downstairs cloakroom too, with its green Pierre Frey wallpaper, and of course in fairy forest I built for my daughter.
"As a girl, I would go to the art room at school to use the huge table there to print 10-colour fabric designs. I used to do it at home as well; I've always used my home for creative endeavours. My childhood bedroom was a very feminine Jane Churchill-designed space – 1980s puffball heaven with bows on the walls – that I then decked out with criss-crosses of string from wall to wall that I would hang my designs on, fastening them with washing pegs. My mother was very tolerant, as they would drip all over the floor. I never saw my bedroom as just my bedroom, it was also my studio; wherever I could create, I would. That's carried on into adulthood.
"Just before the pandemic, I was contacted by Thyme to do a collaboration. Thyme is a hotel, but it also has a lifestyle brand that does the most beautiful linens. I was asked to translate those prints into my ceramics to make a collection that could work together. Then lockdown happened and, unable to go to my wonderful studio, I ended up setting up on my kitchen floor. I mean, the mess that surrounded me…! Even if you're really fastidious, that kind of chaos can't be contained.
"In the third lockdown, my husband and I were in the garden and he suggested we build a studio there. We started thinking about what I would need in it and where it could go. We wanted to open up the back of the house too, so we decided to install some Crittall doors in the living room to create some flow between the inside and out. When we built the studio, we redesigned the garden with some beautiful Mosaic Factory tiles in green terrazzo, creating a lush courtyard that then leads directly to the pink-terrazzo studio. I love those two colours together.
"My studio is very peaceful. I have always collected a lot of stuff; I love the history of those things and I treasure the memories they hold. But at the same time, I do find that I need a little bit of calm now, a bit of space from my stuff, and my studio gives me that."
Further reading
DB Ceramic on Instagram