Inspiration of the Week: colour and art combine in sheer magnificence in South Kensington
Using bright walls as a foil for a fabulous collection, the owners of this London flat know how to make the most of its impressive proportions. Now it's your turn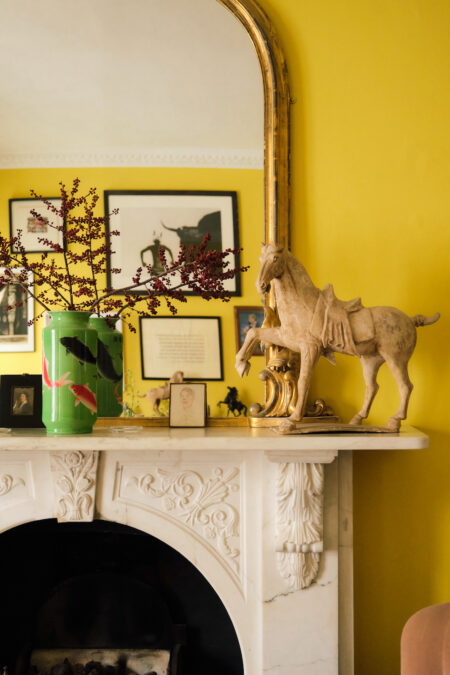 Go to any major gallery and you'll note that great care has been paid to the paint colour behind the pictures. Those silky shades of aubergine, mouse or teal haven't just been happened on, or chosen because that was what was left over. No – as any curator worth their salt knows, the colour of the walls is as important as the frame, wielding the power to make you pictures shine all the brighter (or, indeed, not). Want to see what we mean? Let's take a tour of this apartment on Queensberry Place, now on the market.
Let's start with the dining room, its walls a striking shade of azure. While a smaller space might struggle to carry such a colour, here it gives you a blissful sense of being bathed in blue. It's a clever choice that works as well for the cluster of prints beside the doorway as it does the huge contemporary photographs and small ceramic pieces – proof that mixing and matching your masterpieces is no bad thing.
In the sitting room, the current owners have taken cues from an expert in their selection of sunny yellow – a paint colour researched and specially recreated for the drawing room of the Sir John Soane Museum, that temple to collectables. Made radiant by the two vast windows and French doors (leading to a balcony), the heavenly hue has the ability to make all that touches it turn to gold, from modern prints to classic bronzes, by way of Fornasetti plates and fringed lampshades. It's also rather regal – as befits a room with such high ceilings.
In other rooms, a punch-packing scarlet only makes the turquoise of Iznik tiles sing all the more purely, while the master bedroom – a far calmer space – uses grey to bring the subtle shifts in tone of a series of black-and-white photographs to the fore. White walls? Who needs 'em. Now all that's left is for you to decide what's going to hang where.