Inspiration of the Week: monochrome magic in a Notting Hill townhouse
You heard us right: this week, our maximalist tendencies take a back seat as we celebrate a simply decorated home with a pared-back palette in west London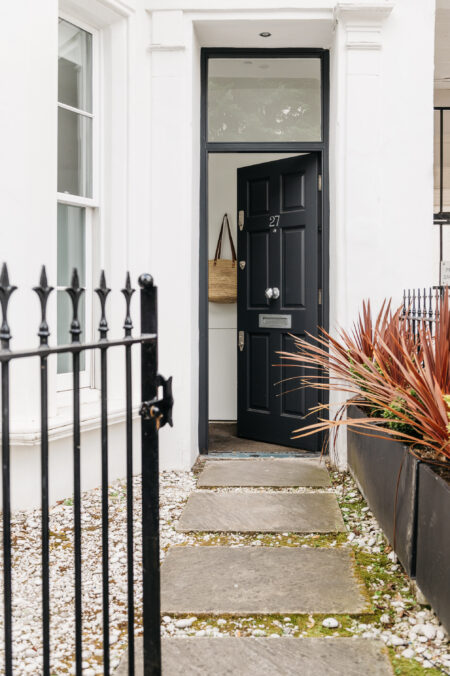 Good style isn't as simple as black and white. Or is it? Take a look round Pembridge Villas – currently on the market – and you might change your tune. For this tall Victorian number, built in 1850, offers a masterclass in two-tone tastefulness.
The façade sets the mood. Situated back from the street, every house on Pembridge Villas is fronted in smooth stucco, bright and white. Texture comes courtesy of moulding: decorative corbels, for instance, or box cornicing for the sash windows, both of which have a faint Italianate flavour. Expanses of glazing work as a quiet counterpoint: dark against the white, glossy against the smooth.
Set between two Doric pilasters, the front door to this place – painted black – leads into a house painted cool white throughout. Yet for every lighter slice, there's a deft dash of dark. Spot the white sofa dotted with cushions of charcoal velvet; see how the stairs, painted pale, are lined with a runner of the inkiest hue. Even white candles sit in black sticks, such is the owners' commitment to the monochrome cause.
Tonal variation finds expression on a macro level – a large white wall is punctuated by a contrastingly hued old fireplace, for instance, or dark floors underfoot, as in the dining room. But it's also seen on a micro scale, for every accessory has been devised to sit within the scheme. We particularly like the marching stripes of the sitting-room rug, lending welcome rhythm to the space.
It may be quiet on the colour front, but this home's paleness only allows for its personality to shine all the brighter. We particularly enjoy the attention that has been paid to materials here, from a dining-room table in the prettiest pale oak, to the scrunch of jute rugs underfoot. Rattan and bentwood details – from furniture to lighting – bring warmthness along with with their retro vibes, while in an upstairs bedroom, black details have been subbed for neutrals. The effect is softer, more natural and undeniably classy. And everywhere, plants of varying viridescence bring the spaces to life.
Monochrome decorating in its very essence is a balancing act. It's clear the owners of this house have pulled this one off without a wobble.