A Room of One's Own: Helen Parker, creative director of deVOL, on designing her dream kitchen
As creative director of deVOL, Helen Parker knows a thing or two about kitchens. So how did she go about designing her own? And why, when so many people opt for bright, white and light, did she go back to black?
Photography

Paul Whitbread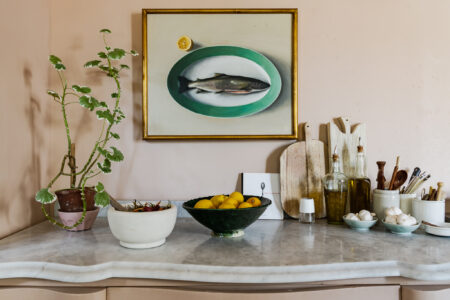 There are surely few house moves as seamless as Helen Parker's. Helen, who has lived in Woodhouse Eaves, in Leicestershire, for many years, had always admired another house in the village. When it came up for sale, she jumped at the chance to buy it – and offered the vendor her own, in part-exchange. Next thing she knew, she was wheeling her clothes across the street on a rail. She hardly needed a box.
Happily, she hardly needed to do anything to the house itself, either. But Helen, who is creative director at deVOL, the company known for its beautiful bespoke kitchens, understandably couldn't quite resist switching things up in that department. "Given my work, it did seem the obvious place to spend on renovation," she laughs, "and it was also the one room in the house that did really need doing." The existing modern kitchen was knackered and, despite being a big room, was laid out like a galley.
Ripping out the old one and starting afresh was liberating, Helen says. But how did it feel to be a client? "Interesting!" she adds. "Enjoyable – and eye-opening. It was a valuable experience, from a professional perspective." It didn't help stress levels, however, that the whole project was being filmed for an American TV show, For the Love of Kitchens. "We were shooting during the pandemic. That was challenging – but, really, the only bad bit was having to see myself on screen."
It seems the extra pressure has paid off, for the finished article is wonderful. Everything, from the sleek marble floor to the stylish mix of vintage and new pieces, has been thoroughly thought-out. Or, almost everything, for there were a few happy accidents along the way. Now, two years in to living – and cooking – in her custom kitchen, Helen reflects on the process.
"It all started with the floor. Having realised that the kitchen needed to come out, it became clear that the floor, an old laminate, did too. In the end, I chose black and white marble, like a chessboard. Around that time, I remember noticing that a lot of the houses I liked had fancy checked floors. They're quite Victorian, in a way, as this house is, so it felt like it would fit authentically. Because it's marble and quite speckly, I don't have to be too fussy about spilling anything on it, which is great – though everything I drop smashes instantly.
"The furniture followed quite naturally after that. Because I had this quite traditional-feeling floor, I chose deVOL's 'Classic English' range of bespoke cabinets. They're made to order and to size, which meant I could get them to fit around the pieces of vintage furniture I'd decided I'd wanted.
"I went to a lot of antique fairs, which was brilliant. I found my pink curved cupboard at one – it was a real discovery, but it needed renovating. I rather sneakily asked the deVOL workshop team to put some new feet on it for me – very handy! I added some hand-cast handles and painted it, too. Soon, what was once a rather tatty pine cupboard looked completely transformed. I think it only cost me £120, while the plate rack – which I'm very fond of – was even less. I bought it years ago. I love having a mix of deVOL stuff, which of course I adore, and vintage bits. I wouldn't want everything to be brand spanking new.
"I knew by this point that I wanted to pick the black out from the floor and use it elsewhere in the room. But it needed something to balance it, something softer. I've always loved Farrow & Ball's 'Setting Plaster' and had decided that it would be perfect on the walls. Then, when the floor was installed, it transpired that the 'white' marble actually had lots of pale, salmony-pink veining – virtually the same colour as the paint. It was the perfect happy accident.
"I love vintage tiles, but the problem is that you can rarely get hold of enough good ones to do a whole room. It's why I love the ones in here. They're actually new – they're a deVOL design too – but they've a gorgeous old-fashioned feel. We make them by imprinting lace into clay. We designed them using some fragments that one of our ceramicists brought into the studio; her grandmother had been a lacemaker in Nottingham, so it was proper stuff. I love the texture it gives them – and the fact that, because of their vintage air, it helps the room not feel too new or shop-like.
"There's definitely a bit of Victoriana about this room, but it's colourful too. I have a soft spot for Continental cafés, so that plays into the scheme – not least in the sheer half curtains on brass poles. Most people put them on the lower half of windows, but I didn't want to block my view into the garden, so they're on the top. It's perhaps a bit unusual, but I like it.
"It's funny – there's quite a lot of pink in here, and lace and other soft, gauzy materials – traditionally quite 'girly' things, I suppose. But it doesn't feel particularly feminine. The black has a big role in that. I don't want things just to be pretty; I want them to be interesting too, teetering on gritty, but still glamorous. I hope that's what I've achieved here.
"I'm very used to creating kitchens and showrooms for other people, but it was so different doing it for myself. Firstly, things in a showroom can change, whereas I knew I was going to have to live with my decisions. Working with clients, which I used to do as a designer, is great because you can express different sides of yourself: one day you can be dark and moody, one day quite glitzy. I found having to settle on a look quite scary! But because I was doing it during the pandemic, I had time to deliberate over everything. Also, luckily, I didn't have to compromise. My partner, who also works for deVOL, lives up the road, so this is my kitchen and mine alone. That was lovely.
"I spend all my time in here. Firstly, I love cooking – and it's a great kitchen to cook in. But I've also made it a fabulous space to hang out in. By changing it from a galley kitchen into an open area, I made a room that's very conducive to hanging out in. That's why I've got such a big table in here, as well as such a comfy sofa. People can sit and chat while I chop, or we can stay here and chat after dinner. I like nothing more than the idea of someone coming in here for 10 minutes and staying for two hours, without even noticing where the time's gone."
Further reading
deVOL on Instagram
Helen Parker on Instagram