Inspiration of the Week: barnstorming brilliance in the Lincolnshire countryside
This clutch of historic agricultural buildings, cleverly adapted with contemporary living in mind, make a convincing case for farm conversions (as if you needed persuading)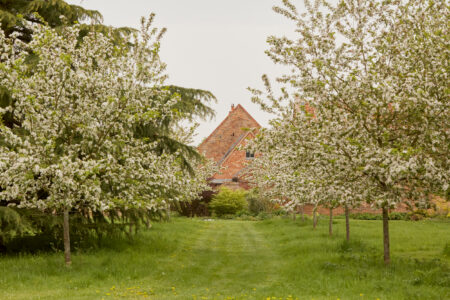 We at Inigo love a good conversion. Seeing an old building given new purpose and a longer-lasting legacy brings us great joy. Beyond that, it makes sense too (as anyone who's read our piece on adaptive reuse will know). And while a factory-turned-city apartment is a fine thing indeed, we must admit to having a soft spot for more rural reimaginings of heritage architecture, such as this collection of barns a short distance from the Lincolnshire village of Norton Disney, now on the market.
Constructed of robust red brick in the 18th century, the barns – which would have once served nearby Norton Disney Hall – now make up a spacious three-bedroom house. Their conversion is honest – exposed A-frames and other handsome heavy beams make no bones about the buildings' original construction, while their double roof heights, left as such, are clearly those of former agricultural spaces.
But where creatures have been, comfort can now be found. Largely arranged around a central courtyard – heaven in the summer months – the enfilade of rooms has been considered with contemporary living in mind. Doors, floors and fittings in handsome honey-coloured oak manage to reference the historic fabric of the building while feeling entirely appropriate for the 21st century, and walls have been painted in tasteful, timeless shades: sunny yellow, cream and green.
Outside, meanwhile, the neat beds of the enclosed garden give way to lawns and then to dappled woodland where, in spring, bluebells and anemones carpet the floor. Yet, in spite of all this bucolic bliss, you're still only an hour and 20 minutes from London on the train. We told you it was brilliant.