A Private View: Patrick and Neri Williams on the value of listening to buildings
"The building is the client," says the couple behind Bath-based interiors studio Berdoulat. As their lovingly restored house and shop come on the market, and pastures new (though nearby) beckon, they reflect on the secrets shared with them by their own home
Photography

Paul Whitbread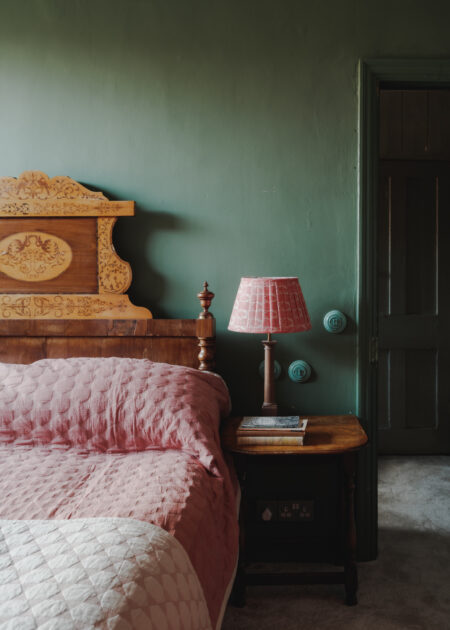 Many of you will know the name Berdoulat. The period interiors studio was founded by Patrick Williams in 2006 and has since opened a bricks-and-mortar shop in its hometown of Bath, under the auspices of Patrick's wife, Neri. With its quilts and cushions, terracotta bowls and hand-hewn wooden furniture, the shop – like the studio it sprang from – has become synonymous with everything that's good and right in design: beautiful, useful things, made properly and with longevity as a lodestar, standing as a convincing counterpoint to throwaway consumerism.
This desire to prize quality over all runs through the business as a whole, acting as a backbone to its entire portfolio of projects, whether that's a flat above a former pub in east London or a farmhouse in the country. Naturally, Patrick and Neri live the Berdoulat dream – literally. As others among you will remember, we once paid a visit to the live/work space the couple tenderly teased from three buildings from different periods into a fully working family home with a superb shopfront. And it's now for sale.
Patrick and Neri could no doubt have stayed here happily but, as she explains, "it's time for a new challenge." Of course, "this isn't the first time we've transformed a building and moved on," Patrick continues. Such is the process of loving and living in historic buildings: "You have your time as custodians, you look after them and then it's someone else's turn."
Pertinently, the couple are keen to stress that Bath is very much their – and the business' – home; both feel strongly that the city is a fundamental part of Berdoulat's DNA and that 'moving on' doesn't mean moving far – after all, Bath itself is a place of all that's good and right too, one of great beauty, made properly and with longevity as its lodestar. Berdoulat's local friends can breathe a sigh of relief, then – and wait with as much excitement as Patrick and Neri to see who the next custodians of this extraordinary home might be.
Patrick: "This house has worked so well for us. As anyone who has read the first piece Inigo did on the place will know, it was a complicated thing to bring to fruition. It was originally three separate buildings: a shop from 1777, some stabling from the 1840s and a structure at the back that started out as a pub in 1800. In 1890, the three were amalgamated into one. Turning that into something that worked for us while remaining true to the historic architectural fabric became our focus. What we've created now is a jam-packed shop at the front, our domestic quarters in the middle, which unfold around a central well, and a separate annexe-like home at the back.
"At work, we constantly return to the words: 'the building is the client'. That's how we approach every job: the building should dictate what's done to it. That means being incredibly strict about where we introduce new fabric – and always ensuring that when we do, it references the existing. In the kitchen here, for instance, which is in a space created when the three buildings were conjoined, that meant reusing as much of the 19th-century matchboard cladding as possible. When we couldn't, we copied it faithfully to keep things harmonious.
"When we moved here, the flow wasn't great. The only way of accessing the upstairs rooms was along a strange corridor that reminded me of the tunnels you walk along to get on to the plane. Submitting a huge heritage report to the planning office, we made the case for opening up the floors in the space that's now our living quarters to echo the arrangement of the shopfront. In doing so, we created a double-height space lit from above, with the bedrooms leading off from mezzanine corridors that wrap around the central well. It's open-plan but vertical – if you can imagine such a thing!
"We really enjoy how it works now. Not only does the extension tip its hat to the style and format of the shop, but there's a sense of cohesion that you just can't get in, say, a terraced house, where the floors are very distinct from one another."
Neri: "And, if you make a cake, the smell of baking floats around the house wonderfully…
"The whole building is so flexible. The commercial enterprise at the front could in theory be used for all sorts of things. And though we have plans for Berdoulat, we wouldn't be averse to keeping our shop there, short-term, while a new owner worked out what they wanted to do with the space."
Patrick: "It really is a special shop – and I don't mean because of what we sell, but because of the people around us. The store has been an important part of this area for a long time; it pre-dates us considerably. We still have customers – now rather old – who remember being sent in as children by their parents to buy bacon off the bone, and the meat racks still hang from the ceiling…
"In many ways, we've tried to emulate that community feeling. We don't just sell beautiful objects; you can come for a cup of coffee, a loaf of bread, a bottle of wine or even just a chat. I feel enormously proud that we've not just restored the fabric of the place, but its spirit too. We've proven that this kind of thing can exist in a local community and, in that rather old-fashioned way, you can run a shop and live in the same place. As a commercial venture it works, and as a place to live it's lovely."
Neri: "Running a little shop was always a childhood dream of Patrick's, but it came into being after we ran a B&B in our old house in Bath. People were constantly asking me where this teapot or that bowl came from, so we decided to start sourcing things and designing our own with the help of brilliant craftspeople. I remember going to see some friends in France who lived above their antiques shop and feeling so inspired by their way of life. It just seemed balanced – living and working and talking to people. And it is exactly like that."
Patrick: "The idea at first was that we would just sell beautiful, locally made things. But when we found out that the shop had sold wine in the 18th century, we thought it made sense to stock wine again. When we discovered some ferns in the vaults, we started selling them too. And so, as with the house, so with the shop: we've tried to listen to the building, to respond rather than impose.
"There seems to be an appetite for what we're doing. People are increasingly aware of the false economy of buying cheap things that don't last and are instead returning to the handmade. It's so reassuring to me, as someone who feels like that about the craft of building too. Having something that's well made, that lasts longer and can be passed from person to person is what it should be about, whether you're talking about a terracotta bowl or a handsome old building.
"It's why we feel happy about moving on, having breathed new life into the place and proven it works both commercially and as a family home. Now it's set up and ready for someone else to enjoy. Our wish is that it will be loved and cherished by others for many years to come. We look forward to seeing whose names will be added to the list of custodians after ours."
Neri: "I feel very proud of what we've done here. Giving old buildings a new lease of life motivates everything we do with Berdoulat. I really think it's what we're best at and we can't wait to give it a go somewhere else."
Further reading
A Home with a History: Berdoulat's Patrick and Neri Williams on their artfully reclaimed live-work space
Berdoulat on Instagram