Inspiration of the Week: a shore winner on the Suffolk seaside
Life's a beach in this beautifully revamped villa in the buzzing coastal town of Aldeburgh, now on the market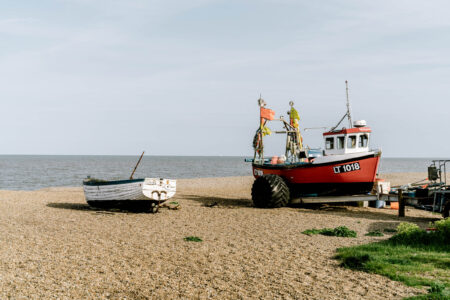 Oh, we do like to be beside the seaside! And especially that of Aldeburgh. In fact, Almanac aficionados will remember it's not long since we paid a visit, stopping over at the Suffolk for A Night Away. And now, with the appearance of this five-bedroom Grade II-listed house on Market Cross Place in our listings, we're finding it very hard to keep away.
What is it about this seaside town? It's hard to pinpoint exactly, but to us it lies somewhere in the balance of bucket-and-spade retroness with 21st-century bustle you'll find here. Aldeburgh's as much newspaper-wrapped fish and chips as it is scallops with beurre noisette, if you catch our driftwood… And, of course, there's the wonderful music festival, founded by Benjamin Britten in 1948, that runs every June and sees the town transformed into a thrumming cultural hotspot.
It helps that the houses here are extraordinarily pretty – not least those on Market Cross Place, a stretch of Victorian beauties with canted bay windows, curvilinear brick gables and ridiculously romantic sea-facing balconies, with wrought-iron railings and canopies for the odd drizzly day. Inside, this one's particularly pretty, having been recently restored by the current owners.
You'll be hard pushed to pick a favourite from its bounty of period features. Is it the original cornicing or the old service bells that still hang in the hall? The floorboards underfoot or the handsome fire surrounds? Happily, you don't have to – they're all here, paired elegantly with quiet contemporary interventions (smart cabinetry, tactile surfaces, muted palette) and well-chosen antiques. And all within sight of the roaring shore that so bewitched Britten many years ago and continues to charm us all. Pack your bags.