A Private View: the irresistible charm of Emma Milne-Watson's Georgian rectory in West Sussex
The interior designer wasn't set on leaving London – until she fell for an 18th-century house on the edge of the South Downs. As it comes on the market, she reflects on its compelling character
Words

Grace McCloud

Photography

Dan Glasser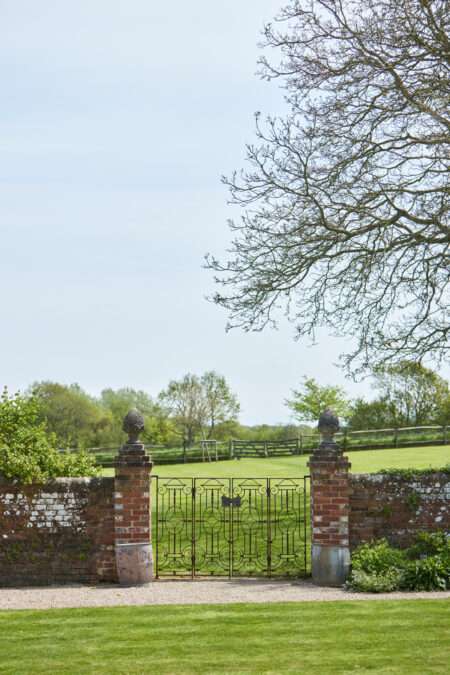 In 2011, Emma Milne-Watson and her husband were considering moving with their two small children from London to the countryside. The only problem was, they weren't sure if they wanted to. "We drew up a wish list of everything a house would need to be or have if we were going to leave the city," she explains. Was deciding they would settle for nothing less than a Georgian rectory with huge windows, high ceilings, a panoply of period details, a walled garden and an orchard perhaps – just a little bit – pie in the sky? "Yes!" Emma laughs. "Entirely purposefully. I knew that if we could make the impossible possible, the move would be right for us."
Emma remembers visiting what would become her home – now on the market – for the first time and realising what the future had in store for her. "We were met by a man walking through a field of wildflowers with three dogs," she recalls dreamily. "He opened the door for us and I just thought: 'Oh my God. This is it.'" The impossible, it transpired, had arrived.
The house hadn't been renovated for 40 years and had been on the market for a little while before the couple saw it. "It needed a lot of work and I think people were daunted by that. I don't think they could find a vision for it." Emma, however, who used to be a fashion editor and now works as an interior consultant and designer while running a jewellery brand she set up in lockdown, bristled with excitement at the prospect. The next thing she knew, she was on site every day, project-managing the whole thing. Given this woman's ability to make a castle in the air land firmly on the floor in West Sussex, the fact that it took just six months to complete comes as little surprise.
Neither does it shock that her elegant pared-back interiors, stylish but not trend-led, have barely changed in the 12 years since. Instead, Emma says, the house has just gently stretched and shifted with the vagaries of family life over time. Now, however, with her two children almost flown from the nest, it's time for a change and the house is now on the market. Emma hears Mallorca – where she spent much of her childhood – beckoning (though she admits this house in East Sussex has caught her eye). This time, however, there's no list of requirements – though it sounds like fate may have another part to play. "I don't know where we'll go next. But I'll know when I see it."
"We'd been looking for somewhere for about a year and a half by the time we saw this place. We'd sold our house in Highgate and were renting a flat in Belsize Park – and I still wasn't sure about leaving London. As a consequence, our conditions were really strict. I wasn't prepared to move out of town until we'd found somewhere I knew I could be happy. I'd seen this house online a few times before we visited but had always felt it wasn't quite right. Then, some friends who live nearby convinced us to come and have a look. That was it.
"We bought in May and, like everyone, wanted to be in by Christmas. And we actually did it! We had my family coming to stay, so we had to do it, but it was stressful. This house is quite quirky and made up of a patchwork of outbuildings, which is something I've aways liked about it, but the state it was in meant it was quite a challenge. But I like a challenge when it comes to interiors.
"Everything started with the floorboards. At first, I wanted big wide ones from Dinesen, inspired by the Belgian interiors I love. But, as the project progressed, I realised that those  engineered perfectly straight lines wouldn't work in a higgledy-piggledy house like this. I realised everything needed to be much more in keeping with that sensibility – everything needed to look like it had always been here. In the end, we found some floorboards from an old château through a French reclamation yard. There were enough to run through the whole house, so it feels very natural – almost as thought they might be part of the original building.
"At first, we decided to paint the walls in every room white and all the woodwork a dark grey, inspired by classic Swedish interiors, which I also have a soft spot for. I thought we'd keep it like that for a year, to see how the light played throughout the day and across the seasons. The idea was that we could then evaluate what, if any, colour and pattern we wanted to bring in. Twelve years later and very little has changed and that pale pared-back look has remained. We never even added any curtains downstairs, apart from the blinds in the kitchen to stop it getting too hot.
"Some things have developed over the years, of course. Over time we've renovated the coach house, which now sleeps four, and we put in a gym and a garage, while the garden has matured beautifully. I'm not an 'all in one go' kind of person, not least as I don't think it's very realistic. You evolve, life shifts and what you wanted a decade ago might not be what you want now. It's important your house can absorb that – and that you're able to change your mind about things. Like floorboards. Or living in the countryside!
"Something I've changed my mind about recently is colour. I've always been quite restrained in that sense, particularly when it comes to interiors. Some people go in for clashes, but that's never been my thing. Recently, however, I've started to explore it in my interior design projects – and I know that's entirely a consequence of my beaded jewellery. Beading has taught me to play with colour in a way I never did before and I've found myself injecting it into schemes in a new way since making jewellery. That said, I think my look will always be on the quiet side. I'm too methodical to mix a tartan with a stripe with a chintz ­– and I still think the best colours in interiors come from a beautiful bunch of flowers.
"The jewellery business began in lockdown. Because I don't like working remotely, I put my interiors consultancy on pause and, at a loose end, started making necklaces with my daughter. We set up a JustGiving page, with the money going to Refuge, and thought we would see what happened. Soon, we were inundated with requests and I'm still so busy with it. I never would have thought I'd wind up making jewellery. It just goes to show how challenges take all sorts of different, unexpected forms – and I love that. It's the same with our home. I don't quite know where we'll move next, but I'm open. I just want to take each day as it comes."
Further reading
Emma's jewellery is sold through various outlets, which you can find on her Instagram