Inspiration of the Week: the beauty of bijou living, in West Kensington
This one-bedroom flat on Beaumont Crescent – currently for sale – proves the old adage: the best things don't always come in big packages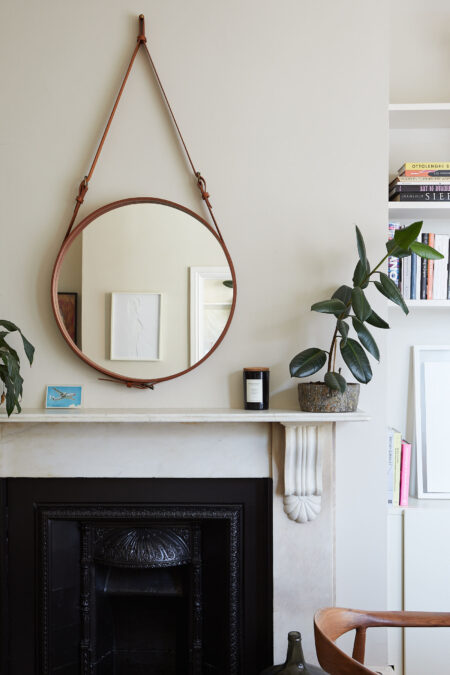 There is a book by Nigel Slater called 30-Minute Suppers, in which the cook writes the words "Serves one" more often than you might expect in a recipe book. There is a quiet, tender comfort in that phrase, a sense that solo dining is not to be shunned, but embraced. And this flat, in West Kensington's Beaumont Crescent, not far from North End Road, is the architectural equivalent of that little line. Bolthole-sized and begging for a solo sleeper (or maybe a self-contained couple), it's a built expression of less is more – and it's on the market.
The joy of this flat is its flexibility. The second-floor space has been cleverly designed, with ample storage – think tall fitted wardrobes in the bedroom, and extra cupboards in the bathroom – meaning that if a twosome was to call this place home, there'd be no quarrels over land grabs. Similarly, the large bay window – as well as illuminating the entire sitting room – houses a table that's as good for dinner à deux (or even un) as it is supper for six.
Not only does this apartment have everything you could need on a practical level, it also has all you could hope for aesthetically. As well as the stripped-back sash windows and bare floorboards, with their echoes of the building's Victorian past, we're particularly drawn to the dark-blue bedroom. Not only does this inky hue seem to have been chosen with deep and dreamless sleep in mind, but it makes a handsome backdrop to any picture you hang on it too. Meanwhile, the kitchen – newly renovated with smart Carrara marble surfaces and low-key cabinetry – is clever and compact, with enough space to cook for a dinner party. Or, in fact, not. What was that about serving one?