Home Comforts: talking dinner parties, dogs and décor with Daytona Williams
A generous host with great taste in art, 1980s pop and natural wine, the Paris-based editor of 'Neptune Papers' is the last word in chic. Mais bien sûr!
Illustrations

Grace Helmer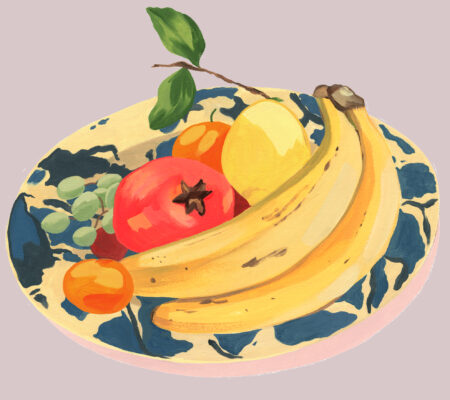 Of course Daytona Williams lives in Paris. Where else could someone of such consummate style be found? The creative consultant and art director, who left the fashion world to set up Neptune Papers, an independent lifestyle and interiors publication, in 2021, calls the city's 10th Arrondissement home, on the Right Bank of the Seine. It's here, an area known for its café culture and cosmopolitan boutiques, that Daytona likes to walk his beloved rescue dog, Neptune, after whom his magazine is named, or shop for bountiful bunches from his favourite florist – one of his greatest extravagances. When he's not out and about, however, this thoroughly modern man can be found reading or prepping for one of his delicious-sounding dinner parties in his classic Haussmannian apartment. Chicken kuku paka curry? Yes please.
Here, we quiz him on the domestic details that make up his Home Comforts.
My most recent home improvement…
I have recently moved into a new apartment by the Canal Saint-Martin, so I'm in full decorating mode. The first thing I did was to put up shelves in my living room to house my extensive book collection.
I have also sourced a vintage wooden farmhouse dining table that's big enough to seat eight people. Nothing makes me happier than cooking for friends and bringing people together around food… And wine!
The latest addition to my wardrobe…
I am a big fan of the New York-based menswear brand Bode and recently purchased a red jacket with the designer's dog hand-painted on the back. It's both classic and fun at the same time and I have been wearing it non-stop.
The most useful item in my kitchen…
I was given a wok for Christmas a few years ago and have since started cooking almost everything in it. My current cooking obsession is the chef Zaynab Issa's recipe for kuku paka, an East African-Indian traditional dish that consists of charcoal-grilled chicken in a spiced coconut-milk sauce, served over rice. It's a must-try!
Another item close to my heart is a hand-painted plate by the French artist and architect Jean-Philippe Sanfourche that I use as a centrepiece, piled high with fruit.
What's always in my fridge…
You can always find miniature cans of Coca-Cola (which I tell myself aren't as bad for me as the regular-sized cans), Oatly oat milk, and bottles of my favourites from Vivanterre winery. I am a big natural-wine guy and their orange skin-contact stuff is by far the best I have ever tried.
Hanging on my walls…
Prints by the photographers Colin Dodgson, Glen Luchford and Nan Goldin. I am an avid fan of the many charity-related photographic sales that have appeared online over the past couple of years. They are a great way of making art accessible to all.
The knick-knacks on my mantelpiece…
I have a small framed photograph of my dog, Neptune, that was taken on the day we rescued her from a shelter. This sits proudly between two antique gold wooden candle holders that originally lived in a Sicilian church. I found them at a flea market in Catania.
The books on my shelf right now…
I love historical non-fiction. If the book is set in Paris between 1910 and 1950, there is a 99 per cent I will have read it. I am currently finishing The Hotel on Place Vendôme by Tilar J. Mazzeo, which tells the story of World War II through that of the Hôtel Ritz. Next, I plan to read Chalk, a biography of Cy Twombly by Joshua Rivkin.
The music on my stereo…
I have been obsessed with the 1980's rock band The Go-Go's ever since hearing the song Vacation in the Rugrats in Paris movie when I was about five years old. I now listen to their music every single day, rotating it with The Smiths, Hall & Oates and The Look by Roxette.
Growing in my garden…
I adore fresh flowers and love to splurge on big bouquets from my favourite florist, Castor Fleuriste, with whom I have been very lucky to have worked with on both of our recent Neptune Papers launch events in Paris.
On my to-do list…
I have just began thinking about issue four of Neptune Papers. We are planning an event in New York for the holidays, as well as something very special to happen in the spring next year. Stay tuned!
Further reading
Daytona on Instagram
Neptune Papers on Instagram