Inspiration of the Week: more is more at this timber-framed house in Suffolk
In the pretty market village of Nayland, this higgledy-piggledy two-bedroom home is a maximalist's paradise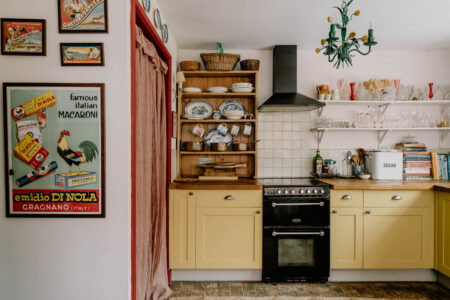 Mies van der Rohe, the master of modernism, famously wrote "Less is more." But it was Robert Venturi, the larger-than-life American post-modernist architect, who later retorted that "less is a bore". It would become the maxim for maximalists – among whom we count ourselves. Take a look at this house – now for sale – and you may find yourself sitting in the same camp.
Happily, the current owners have not done things by halves. Where there's colour, for instance, it's cleverly chosen and employed with pizzazz. Take the red of the dining room, a punchy colour that's hard to get right. Here, the choice of an earthier tone to sit alongside the warmth of the exposed timber frame and brick inglenook fireplace feels spot on. In the upstairs bathroom, however, the cabinetry has been painted a more vampish shade of lipstick that works beautifully with the off-white walls and gleaming chrome fittings. Both instances are a reminder – as if you needed it – that fortune favours the bold.
In terms of the finer details, we've great admiration for the way this house has been kitted out. Firstly, there's a clear commitment to comfort: think super squishy sofas and chairs and a generous amount of cushions (how many is too many?). Secondly, we love the mix-and-match approach to pattern and print – spot the suzani-meets-stripes situation in the summer house – lending the spaces a homely, relaxed air that never feels contrived. And in every room there's something to catch the eye – flowers drying by a window, little pictures filling the gaps between the wooden beams, copper jelly moulds gleaming on a lintel. Small touches such as these make a staggering difference.
How do you like it? There's only one answer, really. More, more, more.