A Home with a History: Berdoulat's Patrick and Neri Williams on their artfully reclaimed live-work space
The interior design duo invite Inigo into their current project, a former grocer's in which Georgian, Regency and Victorian architecture collide.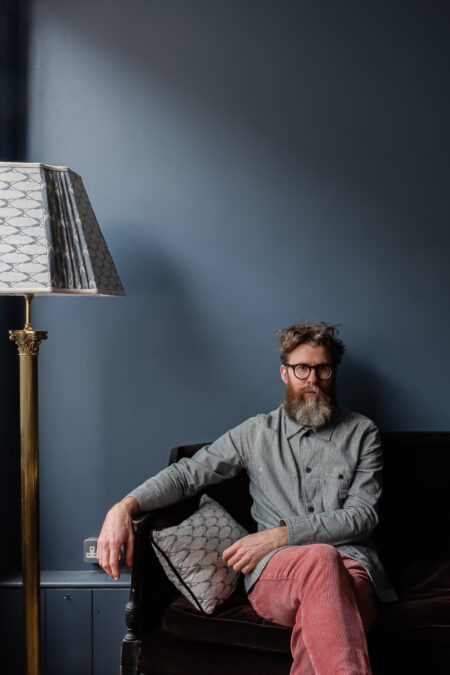 Patrick and Neri Williams are the tasteful couple behind Berdoulat, a Bath-based design shop and interiors firm known for its considered yet stylish restorations of period properties. Three and a half years ago they left their home – a Georgian townhouse they ran as a small B&B – to take on their current project, a wonderfully unusual mixed-period former retail building that now serves as both studio and living space.
Bringing it to its current state has been quite an undertaking, involving extensive research in the town archives, a novel-length planning permission application, a great deal of imagination and even a bit of guesswork when it came to dealing with the building's various peculiarities. But now, though still a work-in-progress it is almost ready for its next phase of life, as Berdoulat's first physical retail store, which, when it opens this spring, will sell a range of furniture pieces and homeware, produced in collaboration with local craftspeople and informed by the duo's simple, honest aesthetic. Below Patrick walks Inigo through his favourite details of this beautifully patinated home. 
"We fell in love with the shop first."
"What I love about this building is it is, in fact, a collection of three buildings. At the front it's from 1768, Georgian. There's another part from the 1840s. The space we're now using as a kitchen is from 1800. And then in 1890, the three buildings were conjoined by these three eccentric Victorians who set up a high-end grocers. They adapted the shop at the front, removed all the internal walls and the first floor to make it a double-height space and filled it with all the amazing mahogany, marble and mirror-backed counters that are still there today.
"We fell in love with the shop first and thought, 'What an amazing, beautifully preserved thing that is.' But then, when we discovered the other spaces, what we got really excited about was the fact that it was a combination of Georgian and Regency and Victorian, as well as domestic, commercial and retail. So as a designer, it meant that I could respond to different parts of the building in different ways. And because it's had such an interesting, eccentric history, we were able to add a chapter to it that was equally eccentric. For the planning application, we submitted a heritage statement that was 180 pages long. We looked into every single square inch of fabric and dated it and categorised it by its historical importance.
"We found out, from all this research we did, that the building at the back started out as a pub in the 1800s called The Rising Sun. And then in 1890, when the shop at the front came along and engulfed all three buildings, they used it as the licensed outlet for their wine and spirits. We found an archive photo that was taken the morning after the Blitz, with piles of rubble outside the building, but just the tiniest little glimpse of the facade when it had a Victorian shopfront. And we blew this up and zoomed in on it and found this spandrel window and evidence of the signage of Cater, Stoffell and Fortt, who were the greengrocers. And so we based our design for the facade on these fragments of information from that photo."
"I really enjoy those dark, rich, moody Victorian interiors." 
"We got permission to reinstate the shopfront to how it was in 1890. In terms of the actual moldings of the joinery, I thought that the closest example of a wine-and-spirits-type place nearby with a facade that could be dated to a similar period was Saint James Wine Vaults, which is just around the corner. So a lot of the moldings and the dentil frieze at the top, all that is just a direct copy of that building.
"We found this old counter elsewhere in the building and, using a drawing from 1890, we were able to reposition it exactly where it always used to be when it was a shop. We've incorporated a kitchen into that counter.
"I really enjoy those dark, rich, moody Victorian interiors, and because there's such a huge window on the front of this building, you can kind of get away with a really deep colour inside. The counter that forms the kitchen has a mahogany top, so that informed the choice of the dining table, which is just a cheapo mahogany table from eBay that I adapted to make it slightly narrower so it would fit in that little alcove space where the dining area is.
"This courtyard was here in 1890, but then it was covered over to make it all one building. We reinstated the courtyard and that delivered fresh air and light into the back of the building, which I think works really well. It's lovely to have a little bit of green going on." 
"I think any good house is never finished."
"With the mirrored door, I tried to bring light in and then bounce it around the space. And at the end of the kitchen counter is also a large mirror, which is something that we just found down in the basement. It was one of those fortuitous things – it just fitted perfectly as though it was meant to be.
"The plate rack and the pantry cupboard are both things that we had in our last place that we just brought with us. They're just lovely, simple Georgian pieces. The sinks were sourced from Norfolk Reclamation and above them is the prototype for the plate-drying rack that has become a Berdoulat product. 
"Living in this space has definitely informed my work. I've started using certain materials and they've then become these ideas that I've used for clients. For example, working a lot with lime plaster and just really enjoying the tone of the lime plaster that doesn't have anything else done to it. And it's the same with all the forays into large-scale joinery. I've really enjoyed the challenges of making that work and that's definitely made me feel more confident in tackling larger-scale things with clients. 
"I think any good house is never finished. When I've finished painting a house, that's the beginning, almost, because it needs to be lived in and acquire patina. I think patina's very, very beautiful – it's like lines in a face.Whenever I work on a building, it's about striking the balance and making sure you don't kind of Botox it, this face. The wrinkles are beautiful. Our company motto, the motto of our practice, I guess, is that the building is the client and the people that own it or live there are just kind of custodians, really. So you should let the building dictate what's done to it and how you approach it. So I don't think it's ever finished and I think there's a few nice little scratches and chips starting to develop and it's starting to feel lived in. I think in about 20 years it will be just right."
FURTHER READING
Bath Record Office Archives and Local Studies