A Private View: Cassandra Ellis on creating a tranquil and timeless home in a listed Georgian building in East Sussex
The founder of independent paint maker Atelier Ellis talks to Inigo about the process of restoring a historic home for contemporary living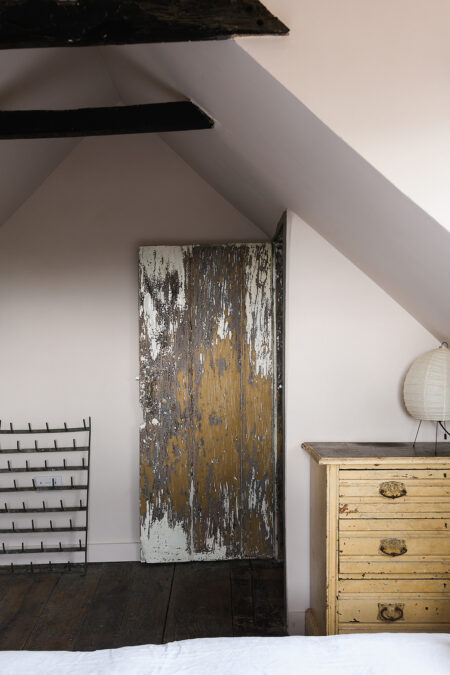 It comes as no surprise that Cassandra Ellis's home in the East Sussex town of Lewes is so calm and contemplative. Since 2019, Atelier Ellis – Cassandra's independent paint company – has quickly built a reputation for its range of calm and quiet colours, handmade at their studio in London. Her home, just like the warm whites and soft blues of her most recent collection, This Stilling That I Love, offers a respite from the noise of contemporary life.
To create the sense of grace and beauty that she says guides her work, Cassandra pared back centuries of interventions in the dilapidated Georgian building, sensitively restoring period details while leaving rooms open and light. Here, just ahead of the house's sale with Inigo, the designer reflected on the process of creating the soothing and atmospheric spaces she shares with her partner, Ed Prichard, and the inspiration she finds in the rich culture and landscape of East Sussex.
Cassandra: "I moved to England from New Zealand – for the second time – in 2008. It was right at the beginning of the recession and though I had worked in magazines and art direction for a long time, that wasn't an option anymore. I decided to apply the skills I'd acquired to property and began buying and selling in London and Sussex. That eventually allowed me to start my paint company in 2011.
"My partner, Ed, and I already had our apartment in London, which we love, but we realised we needed to be in Sussex – it had already been part of our lives for so long. We had renovated two houses here a couple of years before but they were either too big or too small.
"We ended up finding this house through an estate agent we had used before. It's on a beautiful street in Lewes and was pretty derelict. I knew from the moment I walked in that it would be the most difficult project I've worked on – it's Georgian (the basement is from the 15th century), it's listed and the street outside is narrow and pedestrianised.
"The previous owner had been here for 50 years and the house hadn't been touched for about 43 of those. It looked like a pub from the 1970s. We stripped it right back to its bones. The roof came off and was inspected for any structural issues, and we covered everything in eco insulation before putting back these beautiful clay peg tiles and new-old chimneys.
"Outside was completely repointed and we removed all the internal walls, rewired and replumbed, reboarded and replastered – which took six weeks because there's no a straight line in the house. We restored the windows at the front and those at the back, which were plastic, we took off and replaced with new-old windows. We also hand-sanded the Georgian floors with a wire brush and oiled them. We really did everything we needed to do to ensure the house is liveable for the next 50 or 100 years, including spraying everywhere for bugs and cleaning the chimneys.
"There something very comforting about living somewhere that's hundreds of years old. You feel very settled and it perhaps gives you more permission to make different creative choices. You can't wrestle with the house, you have to give in to it, but that also gives you freedom.
"I work with a lot of clients on colour choice and it is always informed half by the house and half by the person. I would never have decorated in a Georgian style, because that's not how people live now, but what we chose to focus on was very simple: the original floors, the colour on the walls, and a few handmade elements, like the taps or the hand-beaten brass sink in the kitchen, which was made in Morocco.
"My partner Ed and I don't like a lot of visual clutter – it's a very honest aesthetic. At the same time, I wanted there to not only be the ancientness of the house, but for there to be some life in it by using different materials. I've tended to use only one type of wood and here we chose a beautiful British sycamore: it's everywhere, from the worktops in the kitchen or desks in the bedrooms, to the shelves. It works really well with the house, quietly tying the old and new together.
"The lighting too, by a Belgian company called Zangra, is repeated through the house and there's are pieces by an antique dealer in the north of England called Jolly Folke. She takes English antiques and applies a technique called shou sugi ban – where you char the wood. So we have a beautiful Georgian dining table with this Japanese aesthetic. In everything I do, I always try to find grace and beauty. It's not just about it being expensively done and ticking boxes as you're walking through. You have to start by thinking about how you can make the house feel beautiful and nurture somebody, rather than worrying about what tiles you are going to use.
"I always remember the first time I came down to Sussex with Ed. I had just moved back from New Zealand to be with him, and our first outing was to go to Charleston House. There's this magic ribbon of creativity that runs from Ditchling, through Lewes and Firle, and down to Birling Gap and the sea. There's a sense of freedom here, an ability to be whoever you want to be that drew people like Virginia Woolf, Eric Ravilious, Eric Gill and Lee Miller to the area.
"And then you have the sea, and I'm a Kiwi, so I need to be near the water. You can see it from the house on a good day, and the vineyards and Brighton and Eastbourne are nearby. We're also close to Sussex university, so it's a lot more vibrant and dynamic here than in a lot of market towns.
"In lockdown we realised that in order to achieve what we wanted with the paint business we needed to set up our own factory. We found a new space overlooking Battersea Park and have been able to develop much better paints that we produce without waste. We've upped the quality and brought the price down.
"Our plan is to stay in London and continue to focus on the business. I've got to a place in life now where I feel we have enough at the moment, and I'm proud of what we've done here. The house had really been left behind, but it was something I could do carefully and make beautiful. Strangely, though, it's quite easy to give it up.
"I'm sure many people will see this house as a weekender but I hope it does become a permanent home. It's a wonderful place to live and it would be great if whoever we pass it on to really embraces life here."