Home Improvements: Camilla Perkins on the homespun joy of hand-painted furniture
The artist and illustrator talks to Inigo about bringing the spirit of Charleston to furniture, adding personality with paint and how mishaps and imperfection are all part of the process
Words

Nick Carvell

Photographs

Ellen Hancock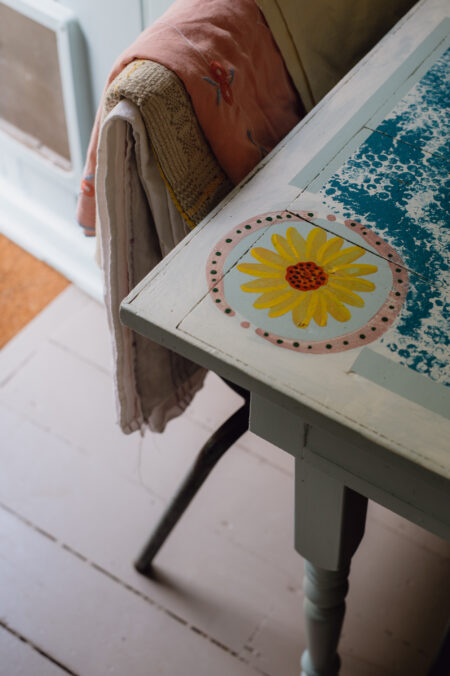 Charleston, the artfully bohemian home of studio painters Vanessa Bell and Duncan Grant (and the de facto country seat of the Bloomsbury Group), has always played an important part in Camilla Perkins' life. "I grew up in Sussex, close to Charleston, and used to visit regularly with my mum," says the artist and illustrator, who now lives in Lewes on the edge of the South Downs. "One of my first memories of painting furniture was when I was about 12 and my mum and I tried to make a copy of the kitchen table there. Our version was square, but it had very similar colours and detailing: a beautiful pattern with flowers in the middle, lots of peachy pinks, yellow and green, with gold edging. We had painted a few little bits and bobs together before, but I remember thinking that this was a really good one."
Since graduating from the University of Westminster in 2012, Camilla's love of bold colour and heavy patterning has not only won her artworks many loyal fans on Instagram, but has also made her a sought-after commercial designer; she has since worked with brands including Apple, Google and Coca-Cola. Her latest collaboration, with Partnership Editions, is a series of works inspired by Charleston, as well as a selection of painted stools.
Today, her home is filled with colour-burst furniture given new life with a lick of paint and added pattern – obsessions born out of those childhood visits to Grant and Bell's farmhouse. Here, Camilla shares her guide to customising tables, chairs and more with paint.
It doesn't have to cost the earth
All the furniture I paint is either a hand-me-down or from charity shops. The most important thing is to start with a piece in a shape you like. Try to steer clear of veneer if you're new to it and look out for real wood, like pine and oak, instead. Flat areas are good for designs – pieces with panels are especially useful. I like to use these spaces to frame my illustrations.
Colour scheme is very important, so start with your palette
I tend to pick three key colours for each of my pieces. If you're not confident with colour-matching, a really good cheat's way to do this is to choose one colour – let's say pink – and find a near match for your shade on a website like Little Greene – they have a couple of three-way schemes that will show you what other sort of colours it will go with, depending on what kind of feeling you're looking for.
Getting going is easy
Give the piece a good sand first, to remove any varnish. You don't have to be particularly precise but do as much as you can – there needs to be a bit of a tooth for the primer to cling on to. Then you need to prime. Be aware that you need lighter or darker primers depending on what colours you're going for; paint companies can always advise on what you need if you're in doubt. After that, I use three layers of water-based eggshell for my base colour – this will increase the durability of the paint. Personally, I like to use a finishing wax too because it gives more protection and more of a matte texture.
When it comes to designs, start simple
Remember: all you need to create those signature Charleston circle patterns is a dinner plate. Stencils are handy when you're starting out too, as are criss-cross patterns. Repeat shapes you like. If you're looking for pattern inspiration, start saving images that resonate with you on your camera roll or into folders on Instagram. However, if you are doing this, bear in mind that it's less about copying things exactly and more about how you can bring certain motifs you enjoy into your living space with the piece you're working on. My idea of perfection is imperfection.
Nothing is ever a disaster – there's always a way to fix it
I used to have this beautiful little blue dresser, which my mother had painted when I was a child. When I was 18, being a stroppy teenager, I wanted to turn it dark grey, but I used the wrong paint – a chalk emulsion rather than an eggshell – and didn't wax it. It looked absolutely awful. It would have been totally rectifiable had I not managed to break the whole thing before I could fix it. The moral of the story is that it's easy to correct your mistakes (as long as what you're painting doesn't break!). Just strip it down and start again.
FURTHER READING
Camilla Perkins on Instagram