A Private View: risk-taking and respectful decorating in a clever refurb of a Victorian flat
Brad King and Jake Burgess talk to Inigo about how their apartment in Sydenham manages to pay homage to history, while still nodding to the tastes of today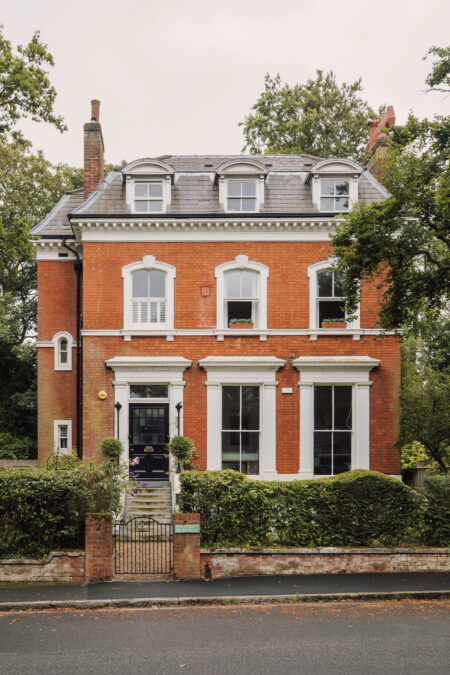 Early in 2021, on furlough from his job in the head office at Caffè Nero, Brad King needed a distraction. Happily, he and his fiancé, fine art underwriter Jake Burgess, would soon have plenty on their plate: in March they bought a flat in a chocolate-box Victorian villa in Sydenham, south London. While the setting, overlooking Peckarmans Wood, was exquisite, the apartment itself needed something of a facelift – or at least some kind of period-appropriate procedure. "There were spotlights everywhere," says Jake.
The couple were more than qualified for the task, having renovated various places of their own (and both having bought and sold through The Modern House in recent years). Brad had some experience having worked on other people's houses before lockdown and, on top of this, they were just beginning to think about launching their own interior design business. The jarringly modernised flat was to become the first project in Ronnie + King's burgeoning portfolio.
Quick they may be – it's taken them less than six months – but that's not to say the pair aren't thoughtful, working and reworking schemes repeatedly and settling on paint colours and fabrics before they even moved in. The result of their labours is a joy: totally in tune with the history of the building, but with honest nods to the couple's more contemporary tastes with the addition of a few more modern pieces. As their flat comes on the market, Brad and Jake sit down with Inigo to discuss how to toe the line between carefulness and confidence when it comes to period restorations. It's about sensitivity and sticking to your guns, they say – and it's a formula that seems to have paid off.
Brad: "We'd lived in the area for about three years before we bought this flat. We'd often walk down this road and stare at these two matching houses next to each other [the flat is on the first floor of one]. They just look so purposeful – it's hard not to be drawn by them. And then a flat came on the market…
"It wasn't a snap decision, though. I think after the second viewing we realised it could work, that we could put our stamp on it, but we knew it was going to be quite a big job."
Jake: "After viewing somewhere, we always draw about a hundred floorplans before we make a decision. I know some people just fall in love with a house, but we have to do a lot of work before we get to that point. We take our time with buying. People are shocked at how quickly we end up decorating, but that's because we've planned so much beforehand. We even knew what colour the curtains in here were going to be before we moved in.
"The interiors before really didn't do the flat any justice at all, so it was hard to get our heads around what we could do to make it feel like our own. The problem was that it had been too modernised for the building itself."
Brad: "The kitchen and sitting room were all open-plan, while the original doorway into what's now the music room been blocked off with MDF. We changed things around – we put up a glazed panel to semi-separate the kitchen so it wasn't entirely open-plan and we took down the MDF, so we could really enjoy the whole space. I love having different places to sit, different areas to move around in."
Jake: "Because of lockdown, we were really looking for somewhere with more than one space. We didn't just want one big living area that we spent all our time in. It was quite important that we could do something clever here.
"The kitchen is something we're particularly proud of. Blocking it off was considered a bold move by some. I think a lot of people think that going open-plan is what you should always do, but I'm so happy we stuck to our guns. It makes the room. The glazing doesn't make the space feel smaller, it just creates a great zonal situation. I think the decision to knock through into the music room paid off too – it's been integral to the way that light now travels round the flat."
Brad: "We decided to pick a colour for the whole living area and stick with it – Farrow & Ball's 'Dimity'. We even did the ceiling in it, to give you that sense of being enveloped. The music room is the same colour, but at one point it was blue, like the entrance hall. We hated it and had to change it back. It went from 'Dimity' to blue to 'Dimity' in the space of three days.
Jake: "We are suckers for playing around with paint. We do a lot of painting and repainting of things. It can transform a space and it's not too difficult to undo. That's why we love it so much.
"I think the hallway looks fantastic. It's 'Oval Room Blue', also Farrow & Ball. It's not the lightest of rooms, but the colour is brilliant – a bit greeny in the evening, luminous blue in the sunshine. It might sound odd, but I love it in there. It kind of feels like the heart of the home, in a sense, with arteries spilling out into the various rooms."
Brad: "We also used lighting to unify things. We picked one type of light – milk-glass pendants – for the whole flat (except for the sitting room, which has a chandelier). They give a really lovely moody glow and I like their period feel, which reflects the original style of the building."
Jake: "The place we moved from was quite modern and we have carried over a few pieces from there. We've been trying to manage that tension between the two different styles we're drawn to. We love period, but we do also really like modern interiors; we're constantly trying to get the balance right. It's very easy to tip things one way or another – the smallest thing can throw off the look. It's quite a fine line to dance along."
Brad: "Exactly. In the kitchen, we've replaced all the fittings, the doorknobs, the taps. All the tiling has changed. We repainted the cabinetry [rather than replacing it] and went to deVOL for the fittings. It's a great way to get the quality if you can't afford a whole new kitchen."
Jake: "We've gone a bit bolder in the spare room. I think we can get away with it in there. The idea was to create the feeling that you're staying at your granny's or an English country house. It's a room you can buy antiques for – you can pick something up at Sunbury Market and you've actually got a home for it. I really wanted that, because it's something we enjoy doing, but our sitting room isn't really made for that. It's fun having a space in which to fulfil a different interest."
Brad: "This project was a definite step up for us in terms of scale. But we're starting to do things together for other people now too and we're getting more and more confident. It started off with friends and family, then things picked up when I was furloughed and now the network is growing. My approach is really that, as a decorator, you can't make people do things – you just have to encourage them. People want ideas, designs and imagination."
Jake: "We do a lot of it together. Brad, who's incredibly creative, does all the detailed drawings and mood boards, but it's always a discussion. We get a lot of joy out of having a project; we've spent a lot of Friday nights discussing things over a glass of wine. We love it so much that it's actually a bit of a shame when something comes to an end."
Further reading
Ronnie + King on Instagram
0