For the Library: the boats and bathing boys of Henry Scott Tuke
A new title surveys the British painter's complex context and legacy by diving into his pictures of sun, sea and sailing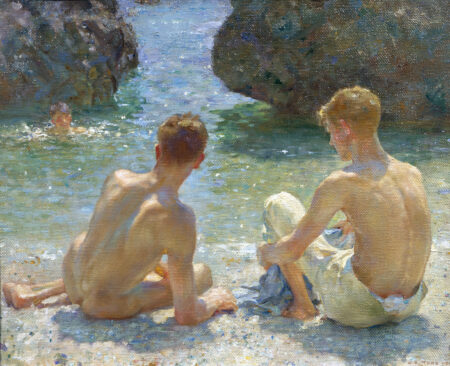 After he died in 1929, the celebrated painter Henry Scott Tuke disappeared into near obscurity. His acclaimed male nudes were relegated to niche status; it was only with the advent of emerging queer studies in the 1970s that his name regained esteem and, even then, he remained something of a cult figure.
This generously illustrated book, accompanying the Watts Gallery's summer show, aims to give him the recognition he deserves. It is not, says editor Cicely Robinson, a biography, nor does it seek to reframe Tuke through a contemporary lens. Instead, a more granular approach to the works themselves – and not only those of the bathing boys – allows readers to better evaluate his influences, practices and impact. It's a refreshing perspective and one which offers the chance to explore Tuke's other sides: portraitist, avant-gardist, sailor.
Six finely judged essays look at how Tuke, who moved to Cornwall in 1883 after studying at the Slade, fits into broader narratives on the maritime genre, for instance, or the influence of his psychotherapist father. As one would expect, there's ample space dedicated to queer identity, masculinity and sexuality, taking in Classical sculpture, the Victorian nude and the uncomfortable issue of 'boy-love'. Tuke's flotilla of prettily named boats – Lily, Ripple – looms large, as does his progression from painting en plein air beside the sea to working on the water itself, like Cornwall's Manet.
Tuke's relationship to the Newlyn School, often mentioned in the same breath, is re-evaluated and he comes up trumps – his focus on energy and spontaneity over narrative, and realism over nostalgia is what sets him apart – something Tuke himself was keen to do. But for all his aspiration to separate himself from the idea of 'Cornish' art that was so popular at the time, Tuke was bewitched by the county's southern stretches, having first lived there as a child. A sense of place is intrinsic to understanding his work. In fact, the book suggests, it's largely responsible for his success. But it seems it was as much the people of Cornwall as the landscape – both the fisherfolk and, later, the local boys that would become his models and his legacy – that must be understood in order to fully engage with Tuke's work.
It's for good reason that this is the case. For all the clarity of his portraits, it's the nudes that still wield the most power – and, given the youthfulness of his subjects, are the most controversial. (It's worth noting, however, that there's no record of Tuke having had sexual relationships with any of his models.) Never explicit, their dampened sexuality is homoerotic desire quietly coded into acceptability. Sensuality reigns supreme: Tuke used the Cornish sunlight as a tool, loading his brush with its luminous hues to caress them. His handling of its fickleness is remarkable: the different ways it will bounce off rippling shallows, the gleaming hull of a skiff, or the milky flanks and burnished shoulders of adolescents.
It is hard not to come away from this book without registering the poignancy that, today, pervades these later pictures. It is thought that every one of his regular models – young, strong, guileless, in peak physical condition as they were – was called up to fight in the First World War. Of course, not all returned. The golden days were over. Thanks to this thoughtful book, we now have another opportunity to glimpse what they may have been like.
Further reading
Henry Scott Tuke, edited by Cicely Robinson, is published by Yale University Press
Henry Scott Tuke is on display at the Watts Gallery until 12 September 2021 and then at Falmouth Art Gallery from 18 September to 20 November 2021
Image credits: Midsummer Morning, 1908. Private collection/© Christie's Images/Bridgeman Images; The Fisherman, 1888-9. Nottingham Castle Museum and Art Gallery/Nottingham City Museums and Galleries (Nottingham Castle)/Bridgeman Images; Portrait of a Young Man with Open Collar, c1885. Yale Center for British Art, New Haven, CT/Public Domain – Yale Center for British Art, New Haven, CT, Bequest of Joseph F. McCrindle Yale LLB 1948; The Critics, 1927. Leamington Spa Art Gallery & Museum/Leamington Spa Art Gallery & Museum/Bridgeman Images
0