A Room of One's Own: how interior designer Edward Bulmer reinvented the smallest room in his Queen Anne manor house
Inigo discovers a world of imaginative decorating and storied antiques in the unlikeliest room in Edward Bulmer's 18th-century home… his loo
Words

Nick Carvell

Photography

Paul Whitbread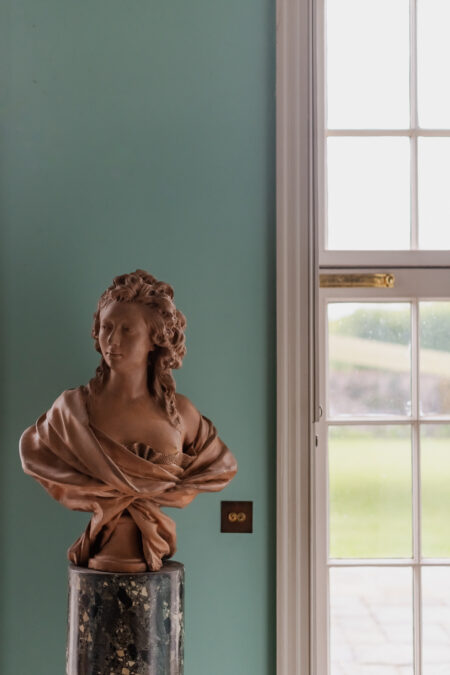 The Herefordshire home of interior designer and natural paint company founder Edward Bulmer has been through many transformations since it was first constructed. Nowhere is this clearer today – perhaps surprisingly – than in the current ground-floor WC.
When you open the former back door of the 1700s Queen Anne style home from the galleried hallway, you'll find a room filled with wall art that allows your eye to travel, books that will give you a new perspective on life (not to mention the local area) and, most notably, a dark wood Jacobean revival box that has always served as a receptacle of reinvention…
But it hasn't always been like this. Here, Edward plots a 300-year history of the space his loo now occupies and shares how he transformed the space, bringing colour and vibrancy to a room that is so often forgotten.
"It's interesting to me how people go about choosing colour. I work with historic buildings, and, when it comes to renovation work, that doesn't always mean that awful phrase 'putting it back'. However, it does always mean getting to know as much as I possibly can about a place on both a macro and a micro level. Most of what I do is a response to the building; it's always contextualised within a wider experience or informed by a familiarity with what was going on at the time the building was being constructed or modified.
"We've lived here since 1994 in body, but probably since about 1970 in spirit. I used to drive past the house as a child when my parents and I went for picnics on a stretch of river just upstream from where we are now. It's been in my mental store for a long time.
"The house itself probably dates from around 1700, but it's an old site and there's been a building here from around the 1400s or 1500s. Oddly, when it was built, it seems not to have been completed inside. Two notable features, a panelled room and a carved staircase, are probably from around 1750 – so that's when we think it was fitted out a bit more. The house became a tenanted farmhouse in the 1770s.
"Our WC has an unexpectedly grand door because it was once the back entrance to the house. When we came here the house was effectively U-shaped – the entrance hall was in the middle of the principal façade – but it started out as an L-shaped house. So this is a space that's been both outside and inside. We wanted to create a way at the back of the house to get from one side to the other without having to go through other rooms, so we created a garden hall. This was our attempt to rationalise the house.
"Formerly, the WC was a small farm office that had a window to the outside that looked onto a lean-to passageway. When we built the garden hall, that window became landlocked. It's a lovely mullion and transom window with leaded glass, so instead of bricking it up we put a mirror behind it, where daylight would have been coming in, and created a flat wall on the other side for the dining room. It sits there as a ghost of the former house. Now, the leaded window above the door into the garden hall is the only source of natural light.
"The old back door is a beautiful reminder of the house's past lives. It has good, hand-forged L-shaped hinges and a meaty old bolt. It's a six-panelled door; originally the upper two panels were glass to maximise daylight in the room, but when we made that into the WC it didn't do much for privacy – the girls used to get frightful giggles standing on a chair and looking at mummy or daddy sitting on the loo. So we took those glass panels out!
"We didn't use wallpaper on the walls, instead we chose a fabric by Rubelli, which is sadly now discontinued. My wife, Emma, and I saw it used in a chateau we stayed at in France. It was hung all the way down this big gallery on the first floor and looked stunning, so we asked them what it was. When we got the price, we decided that perhaps it would suit a small room best! The imagery is a paysage with a m'lordy travelling through the countryside on his carriage, with rustic types and little villages and bouquets of flowers. Originally we used off-white paint for the skirting boards, but we changed it to our 'Navy Blue'. I think an unusual skirting board colour is far more interesting in a small room like this, and it really picks up on the colour of the horses in the fabric pattern.
"When we were doing this room up 20 years ago I thought it was really important to do the whole 'old country house' thing and disguise the toilet bowl. The easiest way to do this was with one of those English commodes, but they tend to be kind of awkward. However, there was another option rather charmingly called an 'incontinence chair', which I installed instead. I bought this one in an old antiques place in Hereford.
"I like to have a selection of reading material in here on the little table by the sink. I don't think Emma reads on the loo much, but I do, and I notice that the piles do get jiggled around so other people who visit must too! Currently on the table we have The Little Book of Buddhism; an Italian-English dictionary; The Fifty Things by Peter Dunn; Matthew Parris' book on scorn (cruel but outrageously funny); John Harris' No Voice from the Hall: Early Memories of a Country House Snooper (a lovely, poignant book exploring old country houses that were being demolished in the fifties and sixties); The Herefordshire and Worcestershire Weather Book; The Wonderful Man by Edward Monkton; Ciderology: From History and Heritage to the Craft Cider Revolution; and, finally, a book of colour photographs taken by my cousin John Bulmer documenting the state of the country in the middle of the last century.
"There's a lot in here from our travels around the country: a miniaturised plaster figure of Michelangelo's Moses and a Staffordshire foot bath, which sadly got dropped and now has a hole in it; these days it gets used as a receptacle for all these ghastly paper towels we now need to use thanks to Covid. We have a really nice William and Mary cushion-mould mirror over the basin that I bought on my best-spent weekend when I was 18 nosing around antique shops. The stuff I bought is probably cheaper now than it was then!
"A lot of people have pictures of them in sports teams on their WC walls, but I'm afraid I don't have any of that, mostly because Emma and I aren't really very sporty. Instead, there are designs painted by me for our bed, some garden buildings and artwork for the memorial of Diana, Princess of Wales at Althorp in Northamptonshire that I designed.
"We don't tend to have fragrance-making things or diffusers in the WC (we just tend to leave the door open!), but outside there's a lovely brass fixture that we sometimes put a scented candle in if we have guests.
"That big, old oak coffer used to be my girls' dressing up box when they were little; where they used to store all their fairy costumes. Today it's filled with all sorts of bits and pieces. Even now, guests will sometimes go in to use the WC and come out as a completely different person."
FURTHER READING
Edward's Garden Hall is painted Turquoise which can be purchased via Edward Bulmer Natural Paint
Edward Bulmer on Instagram
No Voice from the Hall: Early Memories of a Country House Snooper by John Harris available via AbeBooks