An Inspiring Legacy: Inigo Jones, our namesake
The self-taught draughtsman, architect and painter who started a revolution in design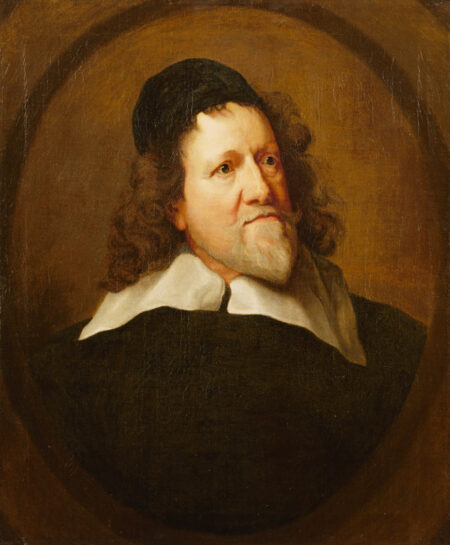 Inigo Jones is a hard man to pin down. Carry out a quick search of his name online and just a smattering of portrait paintings will surface; in each one the architect cuts an unassuming figure, sporting a flurry of curly hair and a pale, pensive countenance.
What's more, delving into his childhood, you'll notice that much of it is shrouded in ambiguity. Historians have deduced that the architect was born 1573 in London's Smithfield area to a Welsh-speaking family, and that his father was a cloth-maker, but there is otherwise very little information about his early life or education.
There are also no accounts of him spending time in well-known academic institutions or having close ties with famous architects. It seems that, instead, Jones took more of a meandering path into the world of architecture and draughtsmanship. His first work appointment was a joinery apprenticeship, which he took up at the turn of the 17th century. Later, with help of a moneyed patron, he was able to journey to Italy to study drawing and painting and it was there that he drew the admiration of Kristian IV of Denmark, who subsequently whisked him off to his own country.
Returning to England several years later, Jones landed employment in the court of King James I, producing exhuberant costumes and stage sets for dramatic court performances known as masques. He came to work closely alongside renowned English playwright Ben Johnson on over 500 different productions – though, such is the nature of genius – the two men were known to constantly bicker.
Success in the realm of theatre proved not enough and Jones began focusing more keenly on architecture, gaining experience by creating monuments for notable peers and putting forward ideas for the renovation of Old St Paul's Cathedral and the design of the New Exchange, a shopping arcade that once stood along London's The Strand.
Then, in 1610, Jones came to be named the surveyor of works for Henry Frederick, Prince of Wales – a stepping stone to his next job as the King's surveyor in 1615. Around this time he embarked on another trip to Italy, this time with the Earl of Arundel. The country proved, once more, to be a site of inspiration for Jones, who took particular pleasure in roaming amongst Roman ruins and observing the teachings of Italian neoclassical architect Andrea Palladio.
Jones took everything he learnt in Italy back to the streets of early Modern England, designing all of buildings with a distinct sense of classicism that offered his own, English spin on the principles of Palladio. Somewhat sadly, only a handful of Jones' works can still be seen today, but the most note-worthy examples are magnificent: the Queen's House in Greenwich, Banqueting House in Whitehall and the piazza-like enclosure of Covent Garden Square.
However, we at Inigo aren't solely inspired by the physical monuments that represent Jones' legacy, but also his unrelenting pursuit of his interests, his multifaceted approach to learning and his daring courage to mix the old with the new to produce buildings that were both unexpected and timelessly beautiful.
Further reading
Inigo Jones and the European Classicist Tradition, Giles Worsley, 2007
The Most Notable Antiquity of Great Britain Vulgarly Called Stone Henge on Salisbury Plain, Inigo Jones, first published 1655