A Talking Point: my old china – Angie Lewin on the wonders of Eric Ravilious' Wedgwood wares
When it comes to Eric Ravilious' mug and plate designs for the historic pottery, Angie Lewin's cup runneth over. Sharing works inspired by the ceramic creations of her artistic forebear, she explains how Ravilious has left a lasting impression upon her life and work
Words

Portrait photography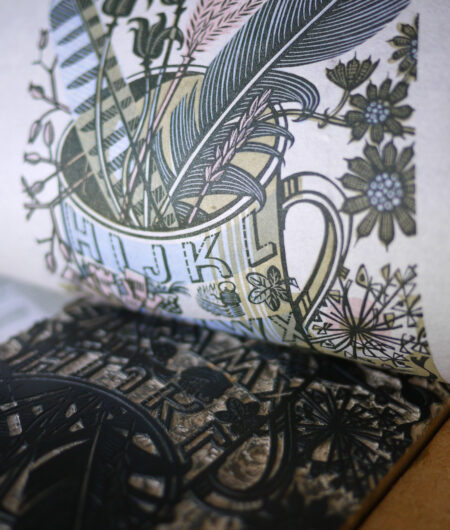 It was finding an Eric Ravilious 1937 coronation mug that started my collection of his designs for Wedgwood. Both he and Edward Bawden, whose work I discovered just days after leaving Central School of Art and Design, had become important influences on how I approached my own work. While studying fine-art printmaking at college, I took on my first illustration commission and enjoyed working on this collaborative project while creating my own prints and drawings. The work of Ravilious – currently on show at The Arc, in Winchester – and Bawden was an exciting revelation to me, as their personal and commercial pieces seemed so seamlessly intertwined, every illustration or design for ceramics or wallpaper so recognisably their own.
It was the inventive way they approached their illustration and design work that gave me such pleasure. I came to realise that a significant reason for this was that, as artist-printmakers in the pre-digital age, they also understood how commercial print worked. They physically cut lino blocks, engraved woodblocks and drew on to lithographic stones – and these skills were invaluable in creating artwork that exploited the potential of the print process with such imagination and assurance. Their ability to explore the possibilities of working in single or two colours by contrasting black line with areas of white line out of black, balancing different weights of line and creating interesting tones through a variety of engraved and drawn textures (an integral part of lino cutting and wood engraving), resulted in strong graphic work.
The designs that Ravilious created for Wedgwood are, for me, a perfect example of collaboration between artist and industry. His original artwork was subsequently engraved onto copperplate by skilled craftspeople at Wedgwood to create the paper transfers which would be fired onto the china. The vignettes and borders applied to plates, mugs and coffee pots retain the subtle tone and fine line of his wood-engraved vignettes and lithographs. The looping border of his 'Persephone' design and the twist motif created for 'Garden', each laid on a softly shaded band of colour, are unmistakably Ravilious. His original drawings for designs, sometimes incorporating collaged wood-engraved motifs and with areas cut away or patched over, are revealing of his thought processes.
The artist's 1937 coronation mug with its frieze of fireworks, which Ravilious loved, above his signature lively lettering and numerals, immediately caught my eye in a Norfolk shop. The textured treatment of the royal coat of arms laid across a clear band of blue with splashes of soft yellow behind the showers of fiery sparks creates a joyful object. I gradually added to my collection over the years: first a few 'Persephone' plates, followed by a shallow soup bowl and then the coffee pot and cups. One Christmas morning, I unwrapped his blue striped 'Alphabet' mug, the lettering associating perfectly with the illustrations. Each tiny vignette is eccentrically engaging and self-contained, including Y and Z (for yacht and zeppelin), waiting to be discovered inside the mug itself.
My Ravilious pieces sit in a collection of ceramics of all types and in varying conditions, some very chipped and cracked, at home and in my studio. Stuffed with seed heads and feathers, initially as a haphazard form of storage for those elements I've collected on walks and sketching trips, I began to include these ceramics in my still-life compositions. Often the surface-pattern decoration flows off the jug or cup into the background to mingle with the real seed heads and feathers contained within.
Their inclusion references how important Ravilious' work is to me, but also may reflect on how an early visit to Cambridge had a life-changing influence too. While still at school in the early 1980s I was wandering around the city with a friend and just happened to pass by Kettle's Yard. On a whim, we decided to ring the doorbell, with no idea what might be inside. To discover Jim Ede's home, where art, domestic objects, books, plants and natural objects were displayed together, was a revelation to us both. Everything was clearly chosen and placed with great care and consideration, but it also seemed so simply and instinctively right. Here, a seed head or pebble are given the same prominence as a Ben Nicholson relief or an Henri Gaudier-Brzeska sculpture.
Although many of my Ravilious ceramics are now safely placed out of harm's way, most were designed for daily use. Drinking from a beautifully crafted cup or mug adds to the enjoyment of the everyday – and I'll always be uplifted by a meal eaten from a 'Persephone' plate.
Further reading
'Extraordinary Everyday: The Art and Design of Eric Ravilious' is on display at The Arc until 15 May 2022
Angie Lewin is a painter, printmaker, designer and co-founder of St Jude's, which collaborates with artists on its fabrics and wallpapers
All artworks © Angie Lewin