A Private View: embracing shadows and sunbeams in a Georgian house in Oxfordshire
When she bought Raydon Hill House, Carla Jane Findlay-Dons was adamant she wanted to celebrate its darker corners as well as its brighter ones. As the house comes on the market, she explains how this approach influences her life and creative work too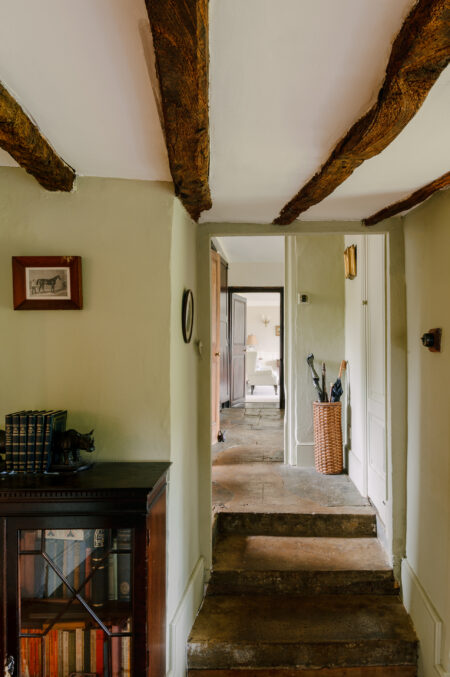 Zooming in from the converted barn of Raydon Hill House, in front of an ironstone wall the colour of a Crunchie bar, Carla Jane Findlay-Dons is waxing lyrical on the joys of her Oxfordshire home. "It's very liveable," she enthuses. And – unusually for a Georgian building – "it's very warm." She means that in all senses. As well as feeling incredibly cosy, even in winter, it seems to have a welcoming personality; it is, she says, perfect for parties. While gatherings of 25 people are no big deal for the finance director, writer and co-founder of snack company Sunmo, she and her husband, musician Alan, have been known to host gigs for 500 people in their exquisite gardens. "It's a house you really enjoy, rather than just exist in. I think it comes down to the fact that you really use it. My husband, children and I use the inglenook fireplace. We use the Aga, whether it's to hang our socks on when we come in from a country walk, or to warm croissants for weekend guests."
Perhaps what she treasures most about it is its Georgian-ness (the family are moving to another Georgian house nearby, but a neo-classical one – always a dream of hers). When living in New York, a homesick Carla Jane would read Jane Austen on the subway. "In my head I was in Oxfordshire, walking round the grounds of a stone house in muddy skirts." Looking at Raydon Hill House, all uneven plaster, dramatic shadows and heavy history, one can tell why she fell for its romance. With the house on the market, she takes Inigo on a virtual tour and explains how quiet experiences – writing, reading, gardening – have taught her how to properly live in a historic house.
"You can't talk about this house without mentioning the village first. Wroxton stands in the shadows of Wroxton Abbey, a 13th-century Augustine abbey rebuilt for William Pope in the 17th century. Our garden butts up to the curtilage. Pope's grandson Thomas founded Trinity College, Oxford, and until around the 1970s much of the village was owned by Trinity; it means the identity of the village has been fantastically preserved – we've still got a thatched duck house by the pond. It's idyllic, really. It's so unspoiled, and yet you're really near some great, cosmopolitan places like Soho Farmhouse and Daylesford, and London's almost on your doorstep; we're near Banbury, from which you can be at Marylebone in 55 minutes. You've got the best of three worlds here.
"The house itself was built in 1721 for Thomas Pope's mother-in-law, we think. It's quite big – it's got four staircases and six bedrooms – but it's an incredibly cosy family home. What's lovely is that, because so many of the walls are exposed stone, you actually touch the fabric of the house day-to-day. You're very conscious of its integrity, which is something we were quite keen to conserve when we moved in four years ago. We didn't want to bring too much in because the house speaks for itself.
"We've recently redecorated, but downstairs used to be completely green, which is one of my favourite colours. I mixed the paints myself, two and a half tones between one another. It meant that, standing in the dining room and looking through to the library and beyond to the drawing room, you were travelling through half-tones of green. I loved it – that progression through a house via colour.
"When we were looking to buy, I had a vision of what I wanted and I knew how I wanted to decorate it. I wasn't thinking: 'Does it have nice windows?', I was thinking: 'How would that look in the right green?'. When we looked round this place, I insisted we kept all the lights off. Because the house is an L shape, you get these bursts of light as you move around. It has a lot of shadows too, natural dark counterpoints to that bright light. I'm obsessed with Georgian architecture, so I really wanted to ensure that the colours we chose made the most of that light. I didn't want to paint everything in shades of white and cream with tons of spotlights, to turn it into something that it's not. I don't want to fight with the house. I like how it lights itself naturally.
"In the library, for instance, there's a point in the day when the window seats of the casement window are flooded with light. You get an hour and a half of the most gorgeous sunlight – that's my reading time; I know my time slot! Later on in the day, I move to the drawing room, which has its own moment.
"The staircase has no electric lights. I often go up with a candle and it creaks underfoot as you ascend. You get this amazing sense that you're having the exact experience that many people before you have had. I'm writing a book set in 1815 and I often think about this house for inspiration – and the staircase in particular. I walk up and down it in my mind. I grew up reading Jane Austen and I often try and channel her. In fact, I designed and landscaped the garden by trying to imagine how Austen would have seen it.
"I really think this house helps me enjoy certain things more. When I receive letters, for instance, I open them sitting in one of the windows with its original shutters and window seats, as that's how people have always done it. The house sort of forces you into thinking: 'OK – reading a letter is an experience. Take it slowly. Enjoy it.' It's the same with a book. By using the house properly, it allows us to enjoy things in a different way.
"What's fantastic about this place is how adaptable it is – you can use it in so many ways. There are five front doors. It's not a box of a house with a front door and a back one, it's much more flexible. It's true of the rooms too. We've changed the configuration often, even season to season. The library becomes a less formal drawing room in summer, for instance, as the boys are constantly running in and out of it. This house suits people who are attracted by different styles of living within one place.
"Another of the things that makes this house so special – and so rare, especially for Oxfordshire – is that it hasn't been modernised. In most Georgian houses they might have put in Victorian floorboards, or updated the plastering. Our plastering here is still horsehair and dung – it's still very bumpy. Many Georgian houses have Victorian doors. Ours may rattle, but they also have a patina: hundreds and hundreds of years' worth of people have opened those doors. It's amazing."
Further reading