A Private View: literary couple Lucy Hughes-Hallett and Dan Franklin on inheriting (and leaving) a legacy
When the writer and publisher moved into their home in Queen's Park 27 years ago, they barely altered a thing, such was their admiration for the place. In the intervening years, they've let the house quietly shape their life and work and, in doing so, have imbued it with a heritage all their own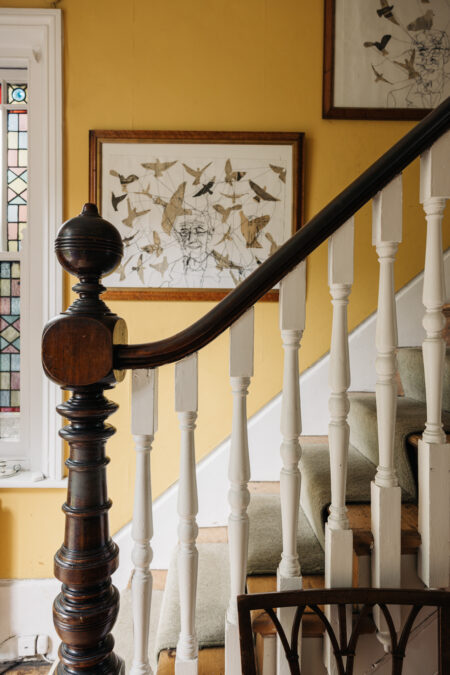 Most people, when they've lived in a house for 27 years, don't know where to start when they're asked what they've done to the place. Not Lucy Hughes-Hallett and Dan Franklin. "Nothing!" they cry in unison. "Well, almost nothing," adds Dan, a former publisher and erstwhile director of Jonathan Cape. "Some of it we literally couldn't change," chimes in Lucy, a historian, biographer and novelist. When the couple bought this voluminous Victorian townhouse on Brondesbury Road, north-west London, its drawing-room walls were covered in red lacquer, an inheritance from the previous owner, the photographer Christopher Simon Sykes. In typically 1990s fashion, Lucy and Dan decided to paint the walls magnolia. "I told the decorator what we wanted," Dan says, "and he replied: 'Dream on. You couldn't get this stuff off with a bulldozer.'"
In fact, Christopher had done some brilliant things to the house, "which was lucky, as we'd spent every penny on buying it," Lucy adds. "We could barely afford a pot of paint!" They have, of course, made small alterations over the intervening years. Having lived – and in Lucy's case worked – here for nearly three decades, there have been a few pots of paint here and there too. But, Lucy and Dan insist, change has been minimal. Instead, the house has simply relaxed into becoming the perfect backdrop to their life here, "for families, for parties, for working" – shaping its owners in the process. Now, with the house on the market, Lucy and Dan talk to Inigo about their lives here.
Lucy: "We knew this house before we bought it, as we were friends with Christopher Simon Sykes. We were living in Islington at the time and noticed that a few of our friends were moving to Queen's Park. I said to Dan that we ought to start looking around here, that it must be nice to live in, as Christopher had a lovely house here. I had no idea it was for sale!
"We've changed very little here. We didn't need to. When Christopher bought the house it had been used as bedsits, like so many in the area had been. He had knocked the rooms together, turned the top floor into his photography studio and added a conservatory."
Dan: "The red lacquer is his great bequest. Our decorator thought we were mad to try and cover it up. Not least as it would have been impossible."
Lucy: "Of course now we realise it would have been vandalism to get rid of it. We bought the house in summer, which meant we didn't see the red at its best. That room really comes into its own on winter evenings. With the lights on, it glows beautifully."
Dan: "It's genius. We were so lucky with this place. It hadn't been mucked about with. There wasn't a nasty new kitchen or any weird walls. All the original architectural details were in place too. When I walked around it for the first time, it made me feel like I was in the country. I remember walking up the stairs to the bathroom on the half-landing and thinking that it was just the kind of bathroom you'd find in a rectory in the Cotswolds. It was bliss."
Lucy: "It was the larder for me. How many London houses still have a larder?
"We didn't buy much stuff for the house when we moved in. My parents had an attic full of furniture that we were able to plunder and then, when Dan's parents sadly died, more came our way. Our interior shopping, as it were, has always been centred on buying pictures. On the whole, we've bought from people we know, which is lovely."
Dan: "My mother, Suzanne Cooper, was a painter in the 1930s, so we have lots of her things. In fact, some of her work is in an upcoming show at Towner Eastbourne."
Lucy: "And my father was an amateur painter, so we have a few of his too. They tend to be of views, framed as though by a window. I feel very lucky to have personal associations with so much of the stuff we have on the walls. We've a brilliant cowboy by Kate Boxer, who's a friend, and a monochrome print by another, Alexis Hunter. She asked me to write the words for her exhibition catalogue, which was a delight. She gave me a huge print as payment, which was just so generous."
Dan: "A few things have changed over the years. The kitchen cabinets are red now, but they've been green and yellow too. I think they've changed colour more than anything else. That room was a location for a Richard Curtis movie, so the film crew repainted it. They added some extra bookcases in the room with the mosaic floor beyond it too, which we were able to keep. No bad thing for a writer and a publisher!"
Lucy: "I wake up thinking about how many books we have. They're wonderful decoration – but I'm not looking forward to moving them out."
Dan: "I retired just before lockdown and did a huge cull because we'd reached saturation point. It didn't seem to make a single bit of difference. Books are all too easy to replace, I find."
Lucy: "We didn't spend lockdown here, though, but instead in our place in Suffolk, along with our twin daughters, who we brought up in this house. I think these last two years, which now feel like something of a transition period, will make leaving Brondesbury Road easier, as we haven't lived here full time since 2020. But I shall miss it.
"I'll particularly miss my study here. It's a proper writer's garret and very warm in the winter, with the heat rising to the top of the house. Because it was a photography studio, it had north-facing windows, but we added more. I like sunlight.
"Come summer, the garden becomes my office. The wifi signal just reaches, but not so well that you're tempted into distraction. There's a very nice natural arch made by two apple trees and a rambling rose that grows through them. That has always provided me with a flowery bower in which to sit and write.
"I shall particularly remember the parties here: the children's small ones, which gave way to raucous teenage ones, and our own too."
Dan: "I've held countless book launches here. The ground floor can hold 200 people easily, so a lot of London's literary scene know this house very well. Pre-Covid, we always held a Christmas party here too, which almost became part of our identity. We – and our friends – all looked forward to it. It was an institution."
Lucy: "Those parties were lovely. People would walk along the street and, when they saw the red radiating from the window, they knew they'd arrived. Dan's work parties were fantastic too. I've lost count of the times strangers have said: 'I've been to your house.' It's rather wonderful. I love knowing that people have enjoyed these rooms."