A Maker's Story: artist Katherine Lloyd's shelling power
She sells sea shells… though not on the seashore. Made at the bottom of her garden, Katherine Lloyd's fantastical creations range from mirror frames and table lamps to whole rooms of gorgeous grotto. They are, as we learn on our visit to her Wimbledon studio, a littoral delight
Photography

Chris Horwood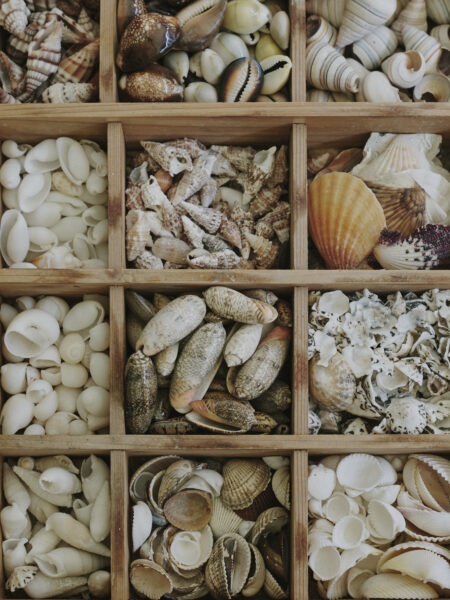 The wreath hanging on the front door of this red-brick house in Wimbledon is remarkable – and not just because it's nowhere near Christmas. It's striking in its very fabric, made of a hundred or so shells, huddled together like a string of mussels – only infinitely more beautiful. A grotto-like collation of subaquatic specimens that marks the spot: this is the home and studio of shell artist Katherine Lloyd.
Katherine's relationship with natural treasures started early. Her father was a mineral, fossil and crystal dealer. His shop in Fulham, Gregory, Bottley & Lloyd, played a large part in her childhood. "I grew up around natural objects. Our house was full of cabinets stuffed with rocks, minerals, fossils and shells. When my friends were going to Alton Towers, we were visiting grottos." One gets the sense that the young Katherine didn't mind too much, that the whorl of a wentletrap held more appeal than the twirl of a rollercoaster.
Talking to Katherine in her garden studio, as she rifles through box upon box of shells to find the perfect one, it's abundantly clear how her understanding of composition and colour is almost intuitive – mind over mussel, one might say. She can look at a design – either for a small mirror frame or a whole grottoed room – and know exactly what it needs, whether it's the showy pearlescence of the inside of an abalone shell, or its drab slate carapace. What's most apparent, though, is the deep love she has for her palette – those small, often unassuming shells that once rolled around on the bottom of the sea. Her ability to turn them into something greater than the sum of their parts is exceptional. We leave our visit buoyed by her enthusiasm, inspired. Happy as a clam, in fact.
"I didn't realise at the time, but my first proper job ­– for stone carver and grotto artist Belinda Eade – was key in my becoming a shell artist. At first, I wasn't sure about the role; drawing letters for gravestones wasn't in my career plan. But I decided to give it a go – and it was brilliant. I'm so glad I did.
"Because it was just the two of us, I was so involved with everything – not just the drawings. It was as much an apprenticeship as a job. Belinda's bread-and-butter work was the carving, but occasionally she would receive a big shellwork commission. I particularly remember doing the grotto at Cherkley Court in Leatherhead, which was so much fun. I fell in love with that side of the job.
"When Belinda moved to Somerset I needed to find a new job. I was in my twenties and not ready to branch out on my own. I'd learnt the skills of shellwork, but I had no clue how to find a client, for instance, so I found myself a job as an interior designer, working for Jane Ormsby Gore at JR Design. It was great – it was creative and I learned so much from Jane, but in the end I found the project-management side of things frustrating. After a few years, I started to think about my next steps. It was around that time that we were commissioned to do the interiors of 5 Hertford Street, the private members' club in Mayfair.
"Towards the end of the job, we needed to come up with an idea for the finish of one of the three bars. I was hesitant about mentioning shells to Jane; I thought she'd never go for it. But then, amazingly, she devised a similar plan. I jumped at the chance to design and make a shell bar. It was crazy: we were fitting out the rooms all day, then I'd stay on-site late into the night, slowly sticking shells to the bar front. It was exhausting but it was exciting. I loved it.
"I was commissioned to make another shell bar for a private house off the back of that, by someone quite high-profile, which was a real coup. One thing led to another and soon I was able to set up my own business.
"Day to day, my commute is just to the bottom of my garden, which has always been my dream. Until the pandemic, my workshop was at my parents' house, on the coast in Kent. When my kids were little, I'd take them down for two weeks at a time and work on small projects there. Juggling babies and shellwork can be great, but the truth is that doing big projects, away from home, is difficult if you've got little children.
"Now that they're at school, I'm starting to take on bigger commissions again, like grottoes. There's nothing quite like knowing you've created a whole space; it gives you an enormous sense of satisfaction. So too does receiving a big delivery of shells; the thrill never wears off. It's the most exciting way to spend money, I think. I buy them by the 10kg sack and when they arrive, I feel like I've just discovered some deep-sea treasure.
"I'm always looking for inspiration. Grottoes, old and new, are a great source for me. Even when I'm making a mirror frame, I often have details from a grotto or shell house in mind. I think my training as an interior designer helps; it's the same skills really: schemes, colours, textures. I work to commission, so thinking like that can be really helpful when a client wants a mirror for a certain room, for instance. I love working to commission; it means each job is entirely different from the last and my clients give me a starting point for my designs. When I work on stock pieces without a brief the possibilities can feel overwhelming.
"I'm not an expert in shells at all – I don't know many Latin names – but I am in awe of them. I think that's quite human, in a way. Children collect shells instinctively – you don't need to teach them to pick them up and squirrel them in their pockets – and humans have been making grottoes for thousands of years, having learned that extraordinary things happen with colour and texture when you put shells together. We've always wanted to collect and make beautiful things out of them.
"At a glance, a pile of shells might seem homogenous, but the longer you look, the more you see how different they are from one another, each as perfect as the last. If you get closer, you'll realise that no designer could come up with patterns as beautiful as nature's. I love the idea that once they had a life inside them too – and now they have a new one, as an artwork. I always check where they've come from, though. Because shells are protected or restricted, they have to be ethically sourced. Most of the ones I use are very common and are a waste product of the food industry.
"I have a real fondness for bear conches. They're quite plain, but their texture is superb – and they overlap well, which is very useful. The left-handed whelk is a favourite too. Its shell swirls the opposite way to most other shells – I love it for being a bit rebellious.
"Some shells, from a distance, seem quite boring, but they come alive when you look closer, or cluster them together. Abalone shells are beloved of most shell artists, as they're easy to work with. They have one side which looks like weathered stone, while the other glints like silver. In fact, I quite like a bit of sparkle. Lots of my pieces incorporate crystals too – an inheritance from my dad, no doubt. I feel incredibly lucky to be playing with these beautiful things every day."
Further reading
Katherine on Instagram