A Private View: a framer's flat on the Thames foreshore is the picture of peacefulness
Woodcarver Borys Burrough has, with his fiancée, transformed a partitioned former council flat in Deptford into an airy open-plan haven. A former naval supplies store, it now provides sustenance of a more spiritual sort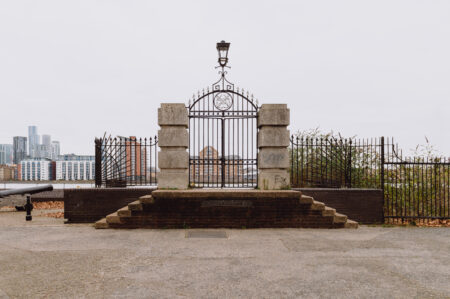 When it comes to the homes of artists and craftsmen, there are two camps. One comprises those that surround themselves with their own work, the maker and the made reflecting each other in perpetuity. The other, in which Borys Burrough sits, is quite the opposite. Look around the flat the frame-maker and woodcarver shares with his fiancée, Amelia, which is currently for sale with us, and you'll spot none of the glinting giltwood he spends his days coaxing into coruscating glory. "It's not a very carve-y place," he admits with a laugh. "Foreshore's more of an expression of Amelia's taste."
On seeing his work ­– the extravagance of the gold leaf, the intricacy of the craftsmanship – one can see what Borys means. To hang one of his own frames in his flat might be seen as, well, gilding the lily somewhat. Because Foreshore is itself is a beauty, a rare historic gem among the post-Blitz new-builds of Deptford. Built in the early 19th century on the banks of the Thames, it once served as part of the British Naval fleet's victualling yard, storing rum and other supplies for seabound sailors. Today, its peaceful rooms and views across the glinting river provide sustenance of a more spiritual flavour.
Frames or none, Borys has regardless played a part in his home's transformation from a partitioned and poky-feeling flat into the airy apartment it is today. It helps to have a "handy" artist dad, he says, who did some of the more manual jobs, but it's hardly as if Borys is lacking in the creativity department. Having trained as an artist, he now works as both a restorer for Rollo Whately, the St. James's framers widely regarded as one of London's finest (and the site of our portrait), and as a much-feted carver in his own right. And while Borys modestly claims the décor is down to Amelia's fair hand, one can't help feeling that its refined and considered air has something to do with Borys. After all, this is a man who recently won a commission to reframe a Rembrandt… With the flat now on the market, he told Inigo about his love for the local area and how he brought his artist's eye to bear on his beloved apartment.
"I grew up in the Greenwich area and have always lived in south-east London. I still work here, some of the time; my studio is in my mother's house. She's a painter, so it's full of her work, while I have a corner for carving. I've always loved Deptford, so moving here really appealed. Then we came across the building, which is just incredible: 19th-century, Grade II-listed, full of history. I love the idea of it being a depot filled with rum bottles.
"The area itself is so rich in history too, though of course not much of the built beauty remains, because it was bombed so badly. Whole swathes were just levelled and then, after the war, a lot of slums popped up here, followed by the erection of the big estates. Foreshore, which is in this little enclave behind the perimeter of the Royal Dockyards, is one of the few historical gems in this fantastic area, which makes it feel very special.
"When we bought the flat, six years ago, it needed a good facelift. It needed a whole new floor, new tiling, new surfaces, new paintwork. One of the most striking things about it now is that it's all very open-plan. When we moved in, there was a large double door that separated the bedroom from the living space, with lots of glass bricks providing a hard partition. It had been installed in the 1960s or 1970s, during its period as a council flat. One of the big changes we made was getting rid of that. Now we've a wonderful heavy curtain. It means we can still separate the space, if we want to, but it's less rigid.
"It was important to maximise the openness here because the ceilings are so high. Dividing the space up just felt wrong. It meant you couldn't appreciate the height. One thing I love is sitting on the sofa, at one end of the flat, and looking all the way to the extreme opposite end, with the marching beams overhead. I'm particularly fond of the beams here. Those, and the views of the Thames are, I think, my favourite things about this place. It doesn't get much better than sitting up in bed, looking out the window and seeing the river rushing by.
"I trained as an artist, like my parents, who have informed the way I see and design things. And while I still paint now and again, my focus really is on framing and carving. Rollo Whately took me on as an apprentice of sorts and from him I learned everything about restoration and gilding, the history of frames and how to distinguish an 18th-century French frame from a 17th-century Dutch one, for instance. I soon got a taste for carving too, which is something I now have an MA in, thanks to the Queen Elizabeth Scholarship Trust, which is an organisation that funds people through traditional craftsmanship courses. It's such a special skill.
"Foreshore's more of an expression of Amelia's taste. When I met her, my flat did have quite a few of my paintings in it, but slowly, they seem to have all come down! There's only one left now, above the bed. As for my frames, they just wouldn't work here. It's a different look, isn't it? This isn't really the place for heavy gilded picture parades, but that's fine by me.
"Amelia and I have been very happy in Foreshore. It's sad to be leaving, but an amazing opportunity for us has come up and we've just got to do it. We'll miss it here terribly. It's amazingly peaceful. And as I say, the river… I could never get tired of that."
Further reading
Borys Burrough on Instagram