A Lesson in Craft: the hypnotic world of paper marbling expert Jemma Lewis
Inigo pays a visit to the Wiltshire studio of an artist breathing new life into this centuries-old decorative technique.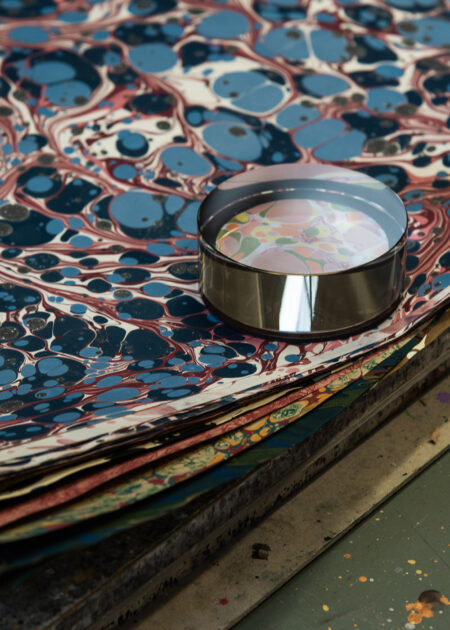 Sometimes an idea is so good that it barely needs changing, even while the world changes around it. Take, for example, the art of paper marbling. It has been practised, in some form or another, since the 12th century, when the process of suminagashi (literally "ink floating") was first carried out in Japan.
After being imported into western Europe from Turkey and Persia in the 1600s, marbling became quite the craze in England in the 18th and 19th centuries – a development that we can thank for all the beautifully embellished books with marbled endpapers which line the shelves of our historic libraries and antiquarian bookshops.
Marbling reached such popularity that, in 1761, novelist Laurence Sterne included a marbled page in the third volume of his Life and Opinions of Tristram Shandy, claiming that it acted as a "motley emblem" of his constantly shifting and inventive writing style.
"I often work with a more contemporary colour palette, making marbling more modern."
Today, the craft still remains an endless source of hypnotic fascination for artisans, designers and, admittedly, the team at Inigo, who thought the launch of our site would be the perfect opportunity to commission our own signature marbled patterns. For help in this regard, we turned to the marbling artist Jemma Lewis, whose studio in Wiltshire turns out a dazzling range of exotically marbled paper designs for use in books, interiors and graphic design. Jemma took what she describes as a "serendipitous" route into the marbling trade, studying textiles at Norwich School of Art and Design before she wound up with a job at a bookbinders, and fell in love with this time honoured-technique. Below, she takes us through the process of creating Inigo's own suite of unique marbled designs.
"Take a look at an image of an 18th century marbling studio and you will see it's not that different from my 21st century studio. The tools and equipment used have hardly changed and marbling remains very much a traditional craft. But although I still create historical patterns like 'Turkish Spot' and 'Spanish Ripple', I often work with a more contemporary colour palette, making marbling more modern.
"For the designs we created for Inigo I was keen to make sure that the designs had both a heritage and traditional look to them whilst still appearing to be fresh and contemporary. I wanted the marbling to have a strong definition, classic design and a palette inspired by Inigo's own colours."
"One of the things I love most about marbling is the almost unlimited amount of variety that can be achieved."
"One of our favourites of the designs we created was a traditional 'Turkish Spot' pattern common in the mid 15th century. This is one of the oldest marbled patterns, also called 'Stone' marble and forms the base for many other forms of marbled design. This one was produced on a fawn base paper to give it more subtlety, and we allowed for the colours to slightly wash off to give an aged appearance, which helps to convey a sense of history.
"One of the things I love most about marbling is the almost unlimited amount of variety that can be achieved with minimal materials. We work with Gouache paint and purchased a small number of colours; from that, we mix all of our colours by hand and by eye which really helps to make our designs and papers as unique as possible, and the colours vibrant and striking.
"While the historic marbled designs seen on antique books form a good basis for my marbling practice, I love to bring in elements from many other references and principles. I've created designs inspired by Art Deco, William Morris, vintage wallpapers and psychedelic colours and patterns. I'm looking forward to creating some new collections in 2021, including some designs inspired by The Bloomsbury Movement."
Further reading
See more of Jemma's paper designs at Jemma Lewis Marbling.
Explore the history of marbled paper online in the V&A's National Art Library.