A Private View: notes from Walnut Tree Farm
Taking on the writer Roger Deakin's house in Suffolk, Jasmin and Titus Rowlandson had their work cut out, not just in the form of its leaf-clogged swimming moat, but in trying to preserve the magic its former owner had conjured here – and the memory of this much-loved man. With the house now for sale, the couple explain the poetic pull of this beguiling place
Words

Grace McCloud

Production

Harry Cave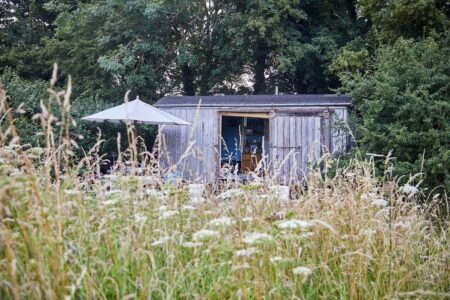 The question of how to make a place your own preoccupies most newly installed homeowners. But what do you do when the house you've moved into was really someone's? Walnut Tree Farm, in the Suffolk village of Mellis, is one such place – and Jasmin and Titus Rowlandson were faced with exactly that quandary when they moved in 17 years ago.
The Elizabethan farmhouse had belonged to Roger Deakin, the charismatic nature writer, author of Waterlog and something of a cult figure, generally considered the founding father of the wild-swimming movement. He was also their friend Rufus's dad and utterly beloved of them both. They had both visited Walnut Tree Farm since they were teenagers, "roaming free, larking around, building huts and the like," says Titus, a restorer of Alfa Romeos and author (with Rufus) of a book about the house. Its ragged hedgerows, sun-sparkled moat and off-grid sheds and wagons formed the tangled landscape of their wild and well-spent youth.
"The house and Rog were intertwined in many ways," says Jasmin, an artist. "It was his muse." He had bought it as a wreck in the early 1970s and, over the years, built it back up by hand, using any bits of salvage he could get his hands on, clearing the spring-fed moat for swimming, and writing ceaselessly. The farm is the locus of some of his most romantic pieces of prose – enchanting, enchanted, intense and mystical. "My house was once an acorn," he once wrote of this treasured timber-framed dwelling.
It seems Roger understood what his work at Walnut Tree Farm had meant to others. Before he died of a brain tumour in 2006, he had stipulated the house be left untouched for a year, so that his family and friends could "take a breath and say goodbye properly". After the mothballing period, Rufus, unwilling to put the house on the open market but feeling strongly that the house should be lived in and enjoyed by a new generation, found his solution in the form of Jasmin, Titus and their young children.
"Roger hadn't done much to it for a while," Titus says. Jasmin laughs, adding: "It was chaotic!" It took a long time, she says, to make their mark on the house without feeling like they were changing too much. "It's been a process of evolution," Titus continues, "and of shifting cycles." It's something that's reflected in the fabric of the house itself, Jasmin believes. "Pretty much everything here is made of something recycled. New things come here and are transformed; others are left to decay, in a beautiful way. Life moves on." Having put the house on the market, the couple admit they'll find leaving hard, but just as one cycle ends, another must begin. The house will endure, the next stage of its evolution will begin. "And that," says Jasmin, "is so exciting."
Jasmin: "We took this house on with the aim of maintaining Roger's spirit, so we did things slowly. We weren't exactly going to come in and rip things out, but at the same time, we did want the house to feel like ours. That said, there are many things here that date to Roger's tenure, which have stayed put because they work very well: the corner cabinet in the kitchen is one, the shepherd's hut, the piles of salvaged wood in the sheds. Those in particular have proved very useful over the years."
Titus: "A lot is the same, but a lot has changed. The house has sort of evolved. Roger took it on and turned it into something else, but I think there is an essence that's constant."
Jasmin: "There's always an echo of Rog in the back of your head. When I did the outside bathroom, I found an amazing stained-glass window that was in one of the sheds. It was beautiful, with a tree painted on it. And I just thought: 'Oh, thanks Rog.'"
Titus: "Pretty much everything I've made for the house has been constructed using his collected things. He couldn't drive past a skip without stopping. He'd find some discarded sash windows or old organ pipes, shove them in his Citroën and stick them in the sheds – or sometimes just in the hedge. It's been wonderful giving those things new life."
Jasmin: "Becoming the stewards of Walnut Tree Farm was quite unexpected. I don't think we really knew what we were getting ourselves into when we moved here. I remember, not long after we did, someone emailed me to ask what we'd done with the incredibly rare ancient-breed apple trees Roger had brought back from Kazakhstan, which were of great historical importance. Luckily I had planted them out rather than throwing them away, as they looked like they needed a bit of love. And they've since grown about 20ft high! Things like that make me feel we've done a good job of taking care of this place."
Titus: "With a bit of gentle coaxing, the land here, which has never been touched by a herbicide or pesticide, does take good care of itself. We have largely left it to its own devices and it's worked well. I've had to clear a few fields and sort out a few hedges and we mow the meadows once a year, but little else."
Jasmin: "This house is still a special place to so many. For a long time after he died, Roger's fans would make pilgrimages here and wanting to swim; Deakinites, we call them. Now, instead, people can book to stay in the railway wagon or the wood cabin through Airbnb. Doing that has been more joyous than we ever thought it could be. People have been so appreciative that we've opened up the house to them, allowing them to share a bit of Roger's life. There is a magic here that those that haven't even read his books seem to understand. And those that have often tell me it's exactly how they imagined it.
"The house has informed my own work completely. Everything I sculpt or paint begins in the sky or water here. I grew up in London and it still surprises me that I've spent 17 years living in the Suffolk countryside – that I could understand the clouds and the owls and the plants here the way I do. I know them so well and yet every day I see something new. It's so inspiring.
"Leaving Walnut Tree Farm is a massive thing. We could happily stay here for the rest of our lives. But we kind of feel it's now or never. I think we've really put a good stint in and done a lot – and it's time for someone else to come and do the next stage and put their stamp on it. It's going to be slightly different, because we've had such a long history with the house and we know it so well, but I think for the next people that come along, it's going to be a bit more of a blank canvas – and an adventure.
"If ever I feel a bit wobbly, I just think of one the bricks in a wall here that was inscribed by Roger's friend, which says: 'This house was built by my true friend, / His work stands up, his labours end. / By this place he will be known / To those who never know his face.' That idea that we're all just passing through these enduring places is so reassuring."
Titus: "What's wonderful is the story isn't finished. There's so much potential for this place – there are barns Roger planned to build but never did, you could turn some fields into agroforestry, you could build a straw-bale studio with solar panels – there's endless opportunity. Roger planted those seeds so that other people could nurture them."
Further reading
Life at Walnut Tree Farm, by Rufus Deakin and Titus Rowlandson, is published by Bloomsbury