A Home with a History: walking in the path of provenance in west London
Once the home and workshop of celebrated modernist textile designer Joyce Clissold, Deborah and John James' house needed a lot of work – and some heating – when they moved in. Following their creative noses and taking cues from its Edwardian architecture, they've since created a family home that pays quiet homage to its rich history
Words

Jacob Charles Wilson

Photography

Kristy Noble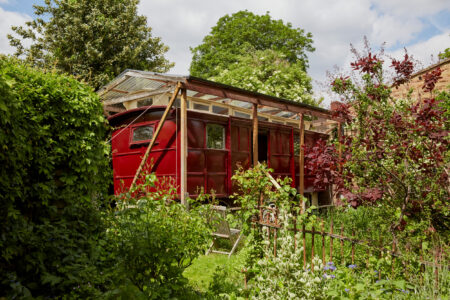 We are sitting under the pergola in the garden of a rambling Edwardian red-brick house in west London. It feels like we've been let in on a secret – and in a sense we have. Surrounded by high walls, you almost wouldn't know it was here from the street, though a few dedicated followers of fashion may recognise it from any number of Vogue photoshoots.
Deborah James is reeling off anecdotes of all the artists, models and photographers who have passed through her home of the past three decades. Deborah, now retired, started out as a bespoke shirtmaker in Swinging Sixties London and later became a lead designer for Laura Ashley. Her husband, John James, is a painter. When we arrive, we find him in his studio, busy working on a new commission.
The long and storied artistic history of this house begins with its former owner, the fabric designer Joyce Clissold. In 1929, Clissold joined Footprints Studio, a London firm that specialised in hand-block-printed fabrics, selling modern designs by artists including Paul Nash and Marion Dorn. In 1933, Clissold took over the firm, turning this house into her combined home and studio and giving the building its name.
Deborah and John discovered the house in 1983 after reading a two-line advertisement in the Observer. Clissold had died and her will reportedly stipulated that the house go to "artistic" people. As Deborah explains, it was in desperate need of creative attention. "It was pretty much derelict, to be honest," she says. John recognised the potential: "I thought it was marvellous – it was a crazy sort of place. I'd always been quite keen on old, preferably dilapidated houses; the rougher the better. My first impression was what a nightmare it was going to be."
"All the rooms were mad colours, which was kind of cool in its way, but difficult to live with," he continues. Clissold seemed to have used whatever paint she could find. "There were yellow doors, red window frames, blue ones… And when she ran out of blue, she'd move to green." On the plus side, Clissold's slender means meant the house had been barely touched, retaining almost all of its original features. "She hadn't done any improvements," says Deborah. "No modernisation had taken place since about 1933. She had applied to put central heating in in 1935 – but she'd never actually done it."
The renovation took three years. Besides installing some heating, Deborah and John shed the heavy Edwardian interiors in favour of light and air, replacing the corrugated-iron porch with one of wood and glass, and opening up the internal rooms (there's now a clear line of sight from their kitchen table all the way through to the garden). Upstairs, they painted their daughter's bedroom bright red and blue, reminiscent of Charleston, in a nod to the house's old colour scheme.
Nearly all the furniture is antique – bought, borrowed or donated by friends – meaning almost every object has a story behind in. The bookcases in the hallway, for instance, are bespoke, made by John's brother; the curtains were purchased for £10; a chair and footstool in the office came from Deborah's great-uncle's house and are said to have been originally owned by the artist Joseph Crawhall. The kitchen cabinets, meanwhile, with their warm mahogany surfaces, were custom-built by the late Alexis de La Falaise, a sheep farmer in rural Wales, later to become a celebrated carpenter and furniture designer.
John took care to preserve original features and, where he couldn't – as with some of the mouldings and door frames – he matched them. So precise are these facsimiles, it's easy to think they're original. In fact, Deborah recalls Clissold's former studio manager, by then in her 80s, dropping by the house one day. "She was almost in tears. And she said, 'I can't believe it. This has lost not a scrap of its atmosphere. It's exactly the same.'"
Deborah and John's extensive connections to art and fashion led to them, from the late 1990s onwards, to renting out the house for photo shoots. Flicking through a pile of magazine clippings, we spot a handful of stars: Axel Bernstorff, Erin O'Connor, Gisele Bündchen, Georgia May Jagger and Karen Elson, whom the photographer Tim Walker snapped on one of the brass-framed beds upstairs, holding a giant crocodile. Deborah recalls one memorable shoot involving the model and equestrian Edie Campbell, whose most pressing concern was where she could buy a copy of the Racing Post.
From John's studio, an open-plan space spanning the width of the house that was formerly the printing room of Footprints Studio, we walk through French doors on to the lawn. Looking back, a wisteria intertwined with a rose climbs the rear of the house; ahead of us is the garden. It may appear at first to be a tangle but, Deborah assures us, "This is what the Royal Horticultural Society now thinks everybody's gardens should be like – it's excellent for wildlife."
She points out the place that tulips sprout in the spring and mentions the 30 or so varieties of rose around the garden. We walk through meadow-like grass, following a brick-paved path to find Deborah's old showman's wagon, installed at the rear of the garden. Delightfully ramshackle and lovingly restored, it now serves as her writing retreat, complete with a desk, radio and day bed. Above our heads is a roundel with a Tiepolo sky, painted by John. "He actually broke the rules. It was meant to have a floral centre."
What is it about this house that has attracted so many creative people? Perhaps it's the sense that a surprise – from kitchen cabinets to caravans – might be found around every corner. We put the question to Deborah, who replies without a beat: "It's full of possibility."
Further reading