A Home with a History: a harmonious marriage of old and new at a Georgian pile in Yorkshire
Having moved into Thirsk Hall, Daisy and Bill Gerrish have been trying to work out how best to make their mark on the 18th-century house. They started by curating an array of contemporary art; now they're opening the grounds as an outdoor gallery, so that many more can enjoy Thirsk's cultural cachet
Words

Rosily Roberts

Photography

Lesley Lau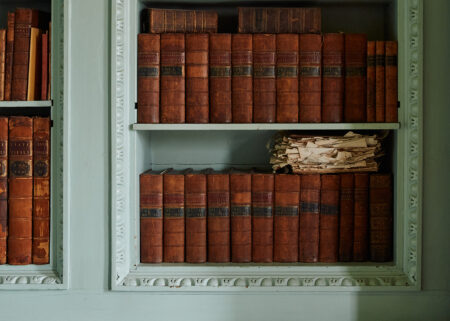 "The question really is: how do you make an old house relevant for modern life without erasing its history?" Daisy Gerrish and her husband, Bill, are sitting in the drawing room of Thirsk Hall, their Georgian house in the heart of the North Yorkshire village of the same name. "We want to keep the old feeling, but still make it our home."
Thirsk is steeped in history. Architecturally, it's an incredibly well-preserved example of mid-18th-century design. It boasts contributions from some of the most revered names in British built history, most notably John Carr of York, one of the finest architects working in northern England in the 18th century. Artistically, Thirsk's status is cemented too, thanks to a punchy collection of paintings, including an important and imposing portrait that presides over the dining room. However, there is also a deep personal history to this house. It has been in Daisy's family for just shy of 300 years and it's where she grew up. The woman in that formidable portrait is one of Daisy's ancestors; her watchful gaze is a reminder of the importance of remaining respectful of the past in this prominent country pile.
In March 2020, Daisy, Bill and their two young children, moved from London back to Thirsk Hall, where Daisy's father, John Bell, had been living. Daisy is an art advisor – one half of the firm Cramer & Bell – and Bill is a sculpture dealer (under his full name, Willoughby). To say they are knowledgeable about contemporary art is something of an understatement and, in the intervening two years, the couple have brought their experience to bear at Thirsk, undertaking its refinement and restoration. In the process they've breathed new life into the house, with their own tastes, styles and, above all, art. Now, they're looking at ways others can enjoy the gardens, grounds and some great art to boot.
Bill: "The dining room, which was added in 1771 and designed by John Carr, is one of the main rooms – and is the best example we have of Georgian decoration. In 1761, a woman named Ann Conyers married into the family; it was her money that paid for the extensions to the house, so it's very grand. She was the one who commissioned the portrait."
Daisy: "Carr is known for his Georgian plasterwork and carvings. He designed all of the intricate details around the fireplace and on the ceiling in the dining room. My favourite part of the whole space is where the plaster is starting to peel off. I never want to do that up!
"Because the house has been in the same family forever, no one has ever moved out – and so nothing has been thrown away. In the past we've opened drawers and found letters from the 1920s, or ancient newspapers. There is a visitors' book that dates back as far as 1881, filled with beautiful handwriting. The Queen Mother signed it in 1950s!
"My dad has been an art dealer for more 30 years and an avid collector of British surrealism, so when I was growing up here, the house was completely full of his stock. He has a huge collection of Norman Ackroyd prints and Anthony Earnshaw boxed assemblages. We're very lucky, as he has left lots of the key pieces here. Now Bill and I are building our own collection around them."
Bill: "We are trying to gradually declutter and then marry up our own contemporary pieces of sculpture with the historic art and architecture that's here. There are three groups of art really – the very old paintings that were commissioned for the house, Daisy's dad's things and then our own collection. We're going for a slightly offbeat feel – equine paintings mixed with abstract sculpture. Very niche!"
Daisy: "But we want it to feel like a lived-in home, not a museum. That's really important to us."
Bill: "The drawing room is one of the only rooms that we have really put our mark on. We repainted it when we moved here, to make it more modern. We wanted to have a room that felt a bit more us, that we could curate in our own way. I'm a sculpture dealer, so a lot of the abstract 20th-century sculpture in there is my stock. The modern contemporary art on the walls is mostly from mine Daisy's personal collection: Howard Hodgkin, Richard Long. I've also started collecting British ceramics.
"The range is quite broad. From an interior design point of view, the challenge has been fitting it all in without it looking completely mad."
Daisy: "The garden has been a huge focus for us. We currently have an exhibition of Jeff Lowe sculptures on the lawn, alongside other sculptures by Michael Lyons, who was instrumental in setting up Yorkshire Sculpture Park. We have just set up a gallery in one of the barns – we've a show of David Hockney prints this summer – and we're opening the grounds to the public, so that everyone can enjoy these monumental sculptures – not just us."
Bill: "The idea is to showcase museum-quality pieces."
Daisy: "Thirsk been a private house for 300 years, so the sculpture garden is finally giving people access to the house and the grounds that they've never had before. In 2022 we're going to keep the sculpture garden open year-round. We'll be running lots of events too, including a classical-music festival. We are trying to come up with creative ways to run the house, but always with a focus on art."
Bill: "We'd love to make it a destination for art in the north."
Daisy: "That's the long-term dream!"
Further reading
'David Hockney', in association with Willoughby Gerrish, is on display at Thirsk Hall 9 July-22 Oct
Thirsk Hall Festival runs 19-21 Aug
Thirsk Hall on Instagram