A Private View: bringing the outside in, at an interior designer's glorious South Gloucestershire house
Helen Ellery's home is a secluded haven, where garden and house commune cohesively. As it comes on the market, she looks back on a life well lived in the English countryside
Words

Mhairi Mann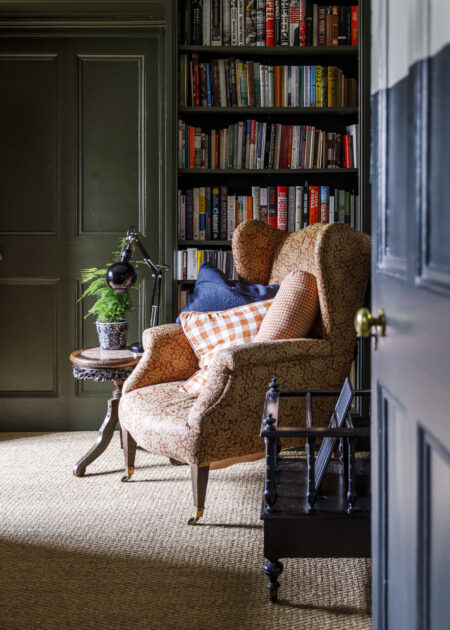 This story begins on the morning of Goodwood Festival of Speed in 2013. Helen Ellery, an interior designer living in Clerkenwell, was getting ready to leave home when her husband showed her a house that had recently come on the market. It was in South Gloucestershire, near the River Severn. "Fig trees, mulberries, Georgian-style architecture. I dropped everything and suggested we divert from Sussex to view it at once."
This 19th-century five-bedroom former parsonage has been her sanctuary for almost a decade. Through sensitive restoration, a confident colour scheme and the addition of an envy-inducing, prized pantry, she has brought it back to life.
Helen, who is of Welsh heritage, went to a comprehensive school in Bristol and worked in the music industry before retraining. First she studied graphic design at Central Saint Martins, followed by interior design at Chelsea College of Arts, before going on to found a company that combined the two: I Love Home. Through a love of the countryside, she pioneered an 'outside inside' approach in her schemes, which bring elements of nature into built environments, underpinned by a playful dash of wit and humour.
She moved to this house with a view to keeping her place in London. "The city gave me a brilliant time," she says. "It's a very social space – you go there to get the best of yourself in many ways, in terms of work and opportunities. But I found that when I got here, I just didn't want to leave South Gloucestershire." It soon became Helen and her husband's main home.
"When we're here, we're either in the garden or we're indoors reading or cooking," she says. "It's very basic home-making stuff." It may well be – but it happens to take place in a far from basic setting, set against a sublimely scented orchard, herb garden and wildflower meadow. Here, as her beloved home comes up for sale, Helen talks to Inigo about what makes it so special.
"This house was my personal project, which meant I could indulge my own ideas and ethos. I wanted to be sympathetic to the age and history of the house, but not in a fuddy-duddy way, instead through humour and colour. I always recommend that before you do anything to a house, decoratively or structurally, you have to live in it first, enjoy it and feel how it works for you.
"I wanted to use the house as an experiment for colour. Placing strong hues against dark foundations is exciting. I started with variations of grey, which was emerging as a popular choice 10 years ago, but it felt too cold and didn't suit the house. I decided to be more confident and chose a beautiful dark blue for the living room. I then went with an olive green for the study and a rich, rust shade in the kitchen, and this palette continues upstairs. When you walk around, you don't notice the intensity of the colours, it feels entirely natural and that's how it should be.
"The kitchen needed to feel like it had been here forever. I always aspired to have a Plain English kitchen, as I love their quality, simplicity and style. We have an Aga cooker, which is an absolute workhorse, though we have a back-up oven too. We also have a big fridge-freezer and plenty of storage, which is key. Having good equipment and fittings makes you feel like you have a team on your side when you're working in a kitchen.
"We built an extension several years later, as I wanted a utility space and a pantry, which was a dream come true. We had to move a window to make it work, but it looks like it's always been here.
"Living in Clerkenwell was like living in a beautiful little airing cupboard, compared to this place. We had a set of cutlery and five mugs. Now our kitchen is brimming with too much jam and too many spoons, but it is absolutely the heart of the home.
"The nook bedroom is a really special space, with a large single sash window that looks straight out on to the meadow garden below. The built-in double bed feels almost like a train carriage. It was carved out by our friend, Jodey Collorick of Kelmscott Studio, who is a master craftsman and designer. A lot of things in the house are bespoke, because I wanted them to fit perfectly and not be incongruous with the original building.
"In the garden, there was a dilapidated tennis court and a vineyard that was dying. We cleared it all and planted a wild meadow, adding raised vegetable beds, a greenhouse and fruit cage. The herb garden was created for us by Jekka McVicar. The stable door that leads to it from the kitchen is always open – it is absolutely joyous.
"It has never been a big party house. When we arrived from London, we were so used to living with people above and beside us, that we craved peaceful solitude. To that end, I will miss sitting on my front stone steps and looking out at the expanse of garden, which has an ethereal beauty. The sound and movement of the leaves in the trees are almost hypnotic. It is wonderfully wild, with owls, magpies, woodpeckers, blackbirds, robins, wrens and my favourite pipistrelle bats, all up to something.
"There has been a lot of joy in this house. I wanted to restore it to its former glory and make it proud again. In the beginning, I used to talk to the house and say: 'I will make you happy.' That dream has been fulfilled. It's time for somebody else to love and care for it now. I think if these walls could talk, they might say thank you. The little nook bedroom would definitely say thank you – and goodnight. Or, as the Welsh say, nos da."