A Home with a History: antique-textile dealer Molly Hogg on her richly woven home
At her house in south London, we meet with Molly to talk collecting, scuba diving and the joy to be found in even the smallest items
Words

Rosily Roberts

Photographer

Christopher Horwood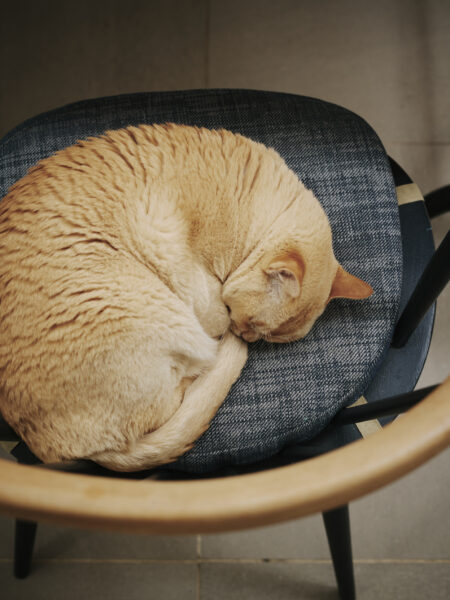 Molly Hogg's house is, unsurprisingly, full of fabric. "This is an Indonesian headdress that has been over-printed in gold," she says of a framed piece hanging in her hallway. Having studied knitted and woven constructed textile design at university, Molly went on to work for a fashion-forecasting company, before turning to dealing in antique fabrics from around the world. Her home in Stockwell, south London, where she lives with her husband, Henry, is a scrapbook of her travels, adorned with the things she has collected along the way.
There's the Moroccan curtain that frames the front window of the sitting room, the contemporary Korean embroidery that hangs above her kitchen table, and the block-printed and hand-painted Sri Lankan textiles on display in the sitting room. And that's before you even step foot in her study, where antique textiles are piled high in drawers and glass-fronted cabinets, waiting for their reprisal in new settings.
Between the textiles are ceramics, paintings and photographs that hail from all over the globe. Most notable among these are Molly's collection of antique sepia images of various sites in the Middle East, including Palmyra in Syria and the sphinx in Egypt before it was excavated. This is the home of an incorrigible collector. She amasses everything, even flowers; when we visit, bunches of dahlias adorn every surface. "I bought them at Covent Garden Market," Molly says. "They sell them by the bucket. They're so fun; I just couldn't resist!"
"I moved into this house about a decade ago with my two children and have spent the years since decorating it and filling it with my textiles, and we knocked the kitchen about a bit during lockdown. A lot of fittings and furniture here are pre-loved or upcycled, including the Aga, which we bought on eBay, and the units, which are ex-showroom. In fact, most of the things I buy are old, from my clothes to my furniture and the textiles I sell.
"I used to work for a fashion-forecasting company, designing the knitwear for brands like M&S, but I had an urge to travel. I went to Indonesia first and started collecting textiles, really just because I liked them. Then I went to India and bought more. When I came home, I started selling in Covent Garden market, though I kept returning to Indonesia, always to buy fabric and to scuba dive.
"All my adventures were informed by those interests; I only went to places where I could do both. Indonesia has been wonderful for that, as have Malaysia and Sri Lanka. I continued to sell the textiles I was finding in larger fairs, like the Art and Antiques Fair at Kensington Olympia or the Decorative Antiques and Textiles Fair, as well as at Portobello Market. Now, about 30 years later, most of my business is carried out online. I still go on sourcing trips though, often to Morocco, looking for carpets or textiles for specific clients.
"Sometimes, designers come and look at my collection for inspiration – reimagining antique textiles as new prints or weaves, for instance. It's fascinating to see these people translating the old into something new. Even after working in this business for so long, I still come across artefacts I've never seen before, or fabrics I know little about. Researching to solve the mystery of their origins never stops being exciting.
"This house is a mixture of antiques pieces that have caught my eye. The curtain in the sitting room, for instance, is 19th-century Moroccan. Its background fabric is actually French, which was then overstitched in beautiful floss silk in Rabat. It's especially lovely in the evening, when the shutters are closed and you can really see the detail in the embroidery. I have some contemporary textiles too, such the framed ikat by Ptolemy Mann that hangs in the hallway, which I swapped for an antique ikat.
"When it comes to furniture, I have always just bought things I liked the look of, either at antique fairs or while I'm travelling. I have a trunk from China, a chest from Zanzibar, and a little table with antelope hooves for feet from South Africa. I've also sourced pieces a little closer to home, from the antique shops on Lillie Road and, of course, eBay. I won a George Smith sofa the other day, which is fantastically comfortable.
"I sometimes create my own textiles too. I make needlework cushions and I knit – only ever for me or to give to friends. I also made the rug in the hallway when I first moved in, as I couldn't find one to buy that worked. I bought some kilims from Heal's, chopped them up and sewed the pieces back together. A friend of mine had some edging for espadrilles, which I used for the trim.
"Henry's father was also a collector – he couldn't ever pass an antique shop without stopping and peering in. He liked paintings, furniture and ceramics; he was a bit like me in that respect. We have some of his pieces around the house; the bureau in my office used to be his, as was a lot of the art. There's also an early English embroidery of his in a bedroom upstairs. It has the most fantastic detail – an almost three-dimensional quality.
"It's not easy to collect what you sell – because you're always tempted to sell it! So I collect more broadly just for my enjoyment, including basketwork and ceramics. You'll find a lot of baskets around this house, as well as antique Delftware and contemporary pottery; I love the work of ceramicist Michaela Gall.
"I'm always collecting. Henry and I were in Grenada, in Spain, recently and came across an antique shop down a lane, which was full of the most beautiful things. I bought a set of little Moroccan teacups, which have such an incredible depth of colour in the paintwork. I'll definitely be going back there."
Further reading
Molly Hogg on Instagram