A Home with a History: how Annie and Lachlan Stewart laced a storybook Scottish castle with modern verve
The founders of interiors label ANTA reflect on transforming a derelict castle in the Highlands into a home fit for contemporary living
Words

Mhairi Mann

Photography

Elliot Sheppard

Production

Harry Cave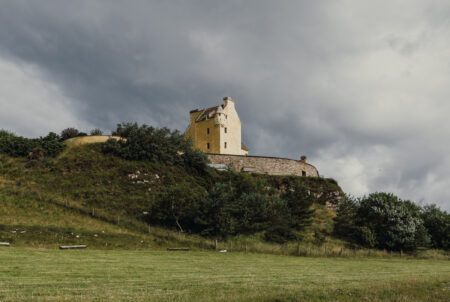 As a newly married couple in their early 30s, Annie and Lachlan Stewart had a relatively unusual ambition: to find a ruin in Scotland. They had a dream of living there, restoring it and raising a family. And so they began "academically" touring prospective castles across the country, armed with an Ordnance Survey map and a copy of The Castellated and Domestic Architecture of Scotland, published by David MacGibbon and Thomas Ross in 1887.
Their search led them to Ballone Castle, a 16th-century wreck on a rugged cliff edge near Tarbert, overlooking the Moray Firth. The butter-toned building punctuates the curving coastline, as waves crash and froth below. Inside, meanwhile, all is warm and characterful, having been meticulously restored over 10 years after Annie and Lachlan bought the place in 1999. With its limewash walls in shades of pale ochre, sage green and iron oxide, "it has an incredibly light and airy feeling," comments Annie. "We are closer to Oslo than Oxford here, so it felt natural to use a northern European palette." Flickers of the castle's medieval history are discernible in its vaulted ceilings, brickwork and roaring hearth (while underfloor heating and modern technology make things a little more comfortable for 21st-century living).
At the same time as buying the house, the couple launched ANTA, their family-run interiors business, which has a factory in nearby Fearn. Today, it's synonymous with its handcrafted home furnishings informed by Scotland's landscape, including textiles, stoneware and lighting. And Ballone is the ultimate ANTA showroom – albeit in a non-showy way – its stone and wood offset by hardy tweed fabrics and supremely soft merino cushions and throws. As you might imagine, the couple's histories with both Ballone and their work here seems inextricable. Here, Lachlan and Annie reflect on the creation of the home that made it all possible.
Lachlan: "It wasn't just about living in a castle for us; it was about the architecture more than the grandeur. From our days at Edinburgh College of Art, Annie and I had been keen on early Scottish medieval buildings from the 14th century through to the 17th, which are very recognisable and sculptural. When I was 17, I went for a walk with a school friend who lived in Nigg and I remember seeing Ballone Castle. I had it in the back of my mind when we began looking for somewhere to live, but I'd read it had been bought by an American who had turned it into a clan museum. When we visited and discovered it was still derelict, we convinced the farmer who owned it to sell, and the process began.
"The restoration took 10 years. Annie and I lived onsite in a little hut, which we built for £5,000 out of salvaged materials. I must say it was brilliant. Children came along and we all lived in one small room, before we built bedrooms for the kids as they got older. We learned a lot about designing for small spaces. It really is amazing what you can achieve at a low cost if you need to make a shelter."
Annie: "Normally, people think castles are dark, damp and miserable, with small windows. But Ballone is far from that. The proportions are quite sophisticated, with windows that have been positioned to allow the maximum amount of light to get in.
"The castle is a scheduled monument, which meant it took five years to get all the permissions we needed in place. That was then followed by five years of construction and restoration. We found a guy who wasn't actually a stonemason but had worked on both a building site and an oil rig, which meant he wasn't frightened of heights and was accustomed to dealing with bad weather. The amount of work he did under appalling conditions was extraordinary. We then worked with a stonemasonry team to restore the ashlar carvings, and a mathematician of a carpenter, who made all the windows.
"While it is a medieval house, the great hall – a big central space – suits modern open-plan living and we use in it in a very practical way. In fact, it's probably laid out in a very similar way to how it was originally designed. The only change we made was to move the kitchen from the basement to the first floor. That's the only room in the house that's white, which feels hygienic. Limewash itself is a disinfectant, so it is hygienic too. We redo it regularly to keep it fresh.
"When we moved to this part of the world, we found there was very little in the way of local design work, so we decided to create and manufacture our own and ANTA was born. Everybody thought we were mad! But people came round to the idea and we're now in the fortunate position where demand outstrips supply. We use local wool, harvested annually, for our carpets and tweeds, we make our own clay and we decorate everything by hand."
Lachlan: "William Morris and the Arts and Crafts movement were big influences when we launched ANTA. The vision of being able to make useful things beautifully continues to drive us forward. More and more people are starting to see the economic benefit of buying something made responsibly using local materials and built to last, even if it is a little more expensive. We believed in that right from the start."
"The Tarbert Peninsula sits between the firths of Moray and Dornoch. It's surprisingly fertile and a lot of barley is grown here, so you'll often see combine harvesters driving right up to the cliff edge. In terms of our more local landscape, we created a garden based on one of the 9th-century Pictish stones discovered at Tarbert; it's a geometric design with knot-garden maze."
Annie: "We planted a 50-hectare wood in 2005, with native pine and broadleaf trees, which has become a wonderful facility that everybody locally can use. When a storm rages at sea, the wood provides shelter for walking and it is a real asset for us and the community. We were recently given a copy of Norwegian Wood by Lars Mytting, which inspired us to construct some very nice log piles, which I hope will become next year's fuel.
"We have our own pigs and sheep and we grow a lot of vegetables too; we're always amazed at what can survive so close to the sea. Our middle son, Archie, is a keen fisherman, so when he's home, he's always on the hunt for mackerel. It's great to be able to host and feed people almost entirely from the land and water. We entertain a lot and it's enormously gratifying to know you've grown and gathered so much yourself.
"Ballone is always full of people, whether it's our family or people we're working with. It's how it should be in a house like this. I always said that the last thing I wanted was to live somewhere cold or uncomfortable – difficult to achieve when you buy a ruin! But we've managed it. It's beautiful here – and very fun place to call home."
Further reading
ANTA on Instagram