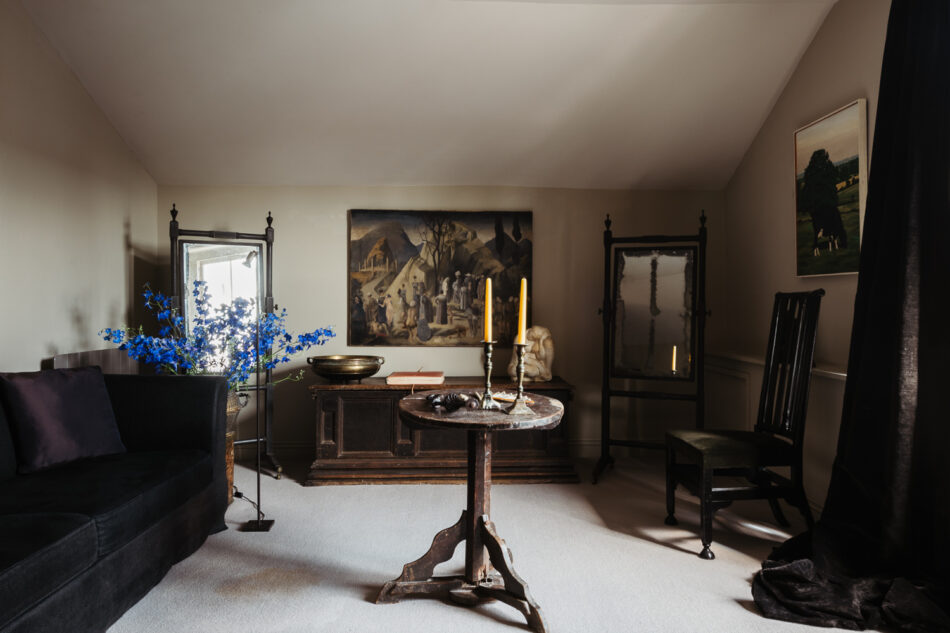 Debenham, Suffolk
£325,000 Freehold
The original 19th-century shop front overlooks the Grade I-listed 13th-century church St Mary Magdalene's and its market green
Constructed in the late 19th century, this versatile home with useful commercial space has previously served as a haberdashery, a bakery, and, most recently, a gallery while being sensitively transformed by its current owners. Located in Debenham, in East Suffolk, the village is known for its array of well-preserved and highly intact medieval and Tudor houses. Arranged over two storeys across approximately 1,400 sq ft, there is a commercial space downstairs, as well as a kitchen, and relaxed living areas upstairs. These spaces are easily adapted to various requirements making it the perfect retreat in an idyllic location with the potential to support a number of business ventures. The stunning Suffolk coast, as well as the historic cities of Cambridge and Norwich, can be reached within an hour, and London is around two hours away by car or train.
Setting the Scene
Nestled within the high street of Debenham, the house lies in the heart of a conservation area covering the entire historic centre of this East Suffolk village. The original 19th-century shop front overlooks the Grade I-listed 13th-century church St Mary Magdalene's and its market green. Views stretch over open fields and woodland beyond, with nature trails, footpaths and bridleways that still retain their medieval routes leading out across the tranquil countryside to neighbouring villages. Several examples of late medieval and Renaissance architecture, including several Tudor houses, can be found throughout the village, preserving its historic charm. For more information, please see the History section.
The Grand Tour
The house's lovely white-painted brick façade, clay pantile roof and expansive glazed shop front blend beautifully with the mixture of medieval timber-framed buildings along the high street, reflecting centuries of changing architectural styles. The building was constructed atop a medieval courtyard, with the original well retained beneath the floor. Flanked by buildings on both sides and at the rear, the house has a raised pavement high above the town street, extending the curtilage two metres in front of the building. The current owners have meticulously renovated the interiors, incorporating sustainable interventions such as a new double-glazed frontage, underfloor heating on the ground floor, wall insulation, and an energy-efficient lighting system.
Entry is immediately into an expansive open room, currently used as a private exhibition space with retail classification. Here, extended ceiling heights accommodate the current owner's collection of sculptures, furniture and an extensive library. Wide shop front glazing stretches across the ground-floor façade, framed by sill-level joinery below, allowing natural light to permeate the ground floor while framing views of the pretty high street.
A neat kitchen leads off this space, with clever built-in storage and utility areas tucked away behind pocket doors. It has extended ceiling heights, illuminated by large roof lights above. The polished resin floors are warmed by underfloor heating, which extends throughout this level. Walls on the whole of this floor are finished with gypsum plaster and painted in neutral, earthy tones by Edward Bulmer, with the gallery space a darker 'Flaxen' transitioning to 'French Grey' in the stairwell, adding warmth to the space and acting as a blank canvas to display art and artefacts.
Towards the rear of the ground floor, a wooden staircase ascends to the first floor, opening onto a landing lit here, again, by roof lights. From the landing, the wide plank flooring continues through a corridor with ample built-in storage and a sloped ceiling, leading into a spacious bathroom with an additional roof light. A cosy primary bedroom finished in smart dark green tones of 'Drab' by Edward Bulmer leads off the landing, with a window opening to the rear of the property. A large room at the front of the plan is currently used as an upstairs snug, its window overlooking the high street below and the countryside beyond. This room, finished in 'Clay' by Edward Bulmer, would make a lovely second bedroom or office space.
Out and About
The bustling high street that bisects the village offers an abundance of services all within a couple minutes' stroll, including a post office, butcher, pharmacy, bookshop, and newsagent, along with several thriving coffee shops, greengrocers, and a fish and chip shop. The Woolpack pub, an old-fashioned, licenced beer house, is located just across the street, and the Debenham Lion, a few steps away, is soon to reopen as a pub serving food. Local amenities include a leisure centre, recognised schools, and several campsites and nature reserves, such as The Hoppit Wood and Lake overlooking the River Deben, from which the village draws its name. Farmers' markets can be found in Framlingham, Eye, Diss and Aldeburgh, and vineyards in Monk Soham and Bruisyard.
The Station Hotel and Watson & Walpole are both popular restaurants in nearby Framlingham. Other notable spots include The Leaping Hare at the distinguished Wyken Vineyards in Bury Saint Edmunds; renowned butchers and smokehouse Emmett's in Peasenhall; and fishmonger and seafood restaurant Pinney's of Orford on the coast. Down the road, Ipswich and Norwich offer a further variety of cuisine, such as South Indian restaurant Chennai Dhosa in Ipswich and Italian eatery Benoli in Norwich.
Several heritage sites and attractions dating back to the early medieval period survive today in Debenham, such as the Grade I-listed 13th-century Norman church, St Mary Magdalene's, just across the market green. Likewise, Sutton Hoo, one of the most important archaeological discoveries of the 20th century and the subject of the recent film The Dig, is close.
The arts are similarly well-served in the area. Snape Maltings and Leiston Abbey both host internationally renowned musical concerts; there are theatres in Southwold, Ipswich, and Norwich. But Debenham itself has a historical association with drama, with the theatre photographer Angus McBean having lived nearby and the filmmaker Emeric Pressburger having lived for many years in the next parish (both still remembered by some villagers).
The abundance of waterways and woodlands makes the area a nature lover's paradise. The stunning Suffolk coast and its Area of Natural Beauty can be reached in less than an hour, with countless opportunities for outdoor activities among its vast tracts of reedbeds, heath and beach. Popular cycle routes cross through the village, with races occurring throughout the year.
The nearest train station is in Stowmarket, an easy 20-minute drive away, with services to London Liverpool Street in around an hour and a half. Ipswich can be reached in about 30 minutes by car or bus and provides frequent connections to London, as well as to Cambridge and Norwich.
Debenham has a primary school, Sir Robert Hitcham Primary School and Nursery, as well as an excellent secondary school, Debenham High School. Stradbroke High School is well regarded, as is Thomas Mills High School in Framlingham. Framlingham College offers co-ed independent education for children from ages 3 to 18.
Council Tax Band: Awaiting Council Assessment
Please note that all areas, measurements and distances given in these particulars are approximate and rounded. The text, photographs and floor plans are for general guidance only. Inigo has not tested any services, appliances or specific fittings — prospective purchasers are advised to inspect the property themselves. All fixtures, fittings and furniture not specifically itemised within these particulars are deemed removable by the vendor.
History
Debenham lies halfway between Framlingham and Stowmarket, in an area characterised by acres of arable farmland fed by the nearby River Deben, which flows just north of the village. Taking its name from the waterway, 'Debenham' is believed to derive from an Old English term meaning a settlement within a deep valley. The area has been continuously habited since Roman times, perhaps even earlier, with its fertile land supporting centuries of agricultural industry.
The Angles later inhabited the region and eventually developed into the kingdom of East Anglia before the Norman invasion. The evocatively named Blood Field, north of the town, is reputedly the site where Edmund, King of the East Angles (later Saint), was defeated and subsequently executed in a historic battle with the Danes around 870 AD.
Debenham is mentioned in the Domesday Book of 1086, known for its markets and fairs held several times a year. It was an important political and business hub during the East Anglian reign, and is home to several well-preserved moated medieval structures, including Kenton Hall, a Grade II-listed manor house from the late 1500s which occupies the site of a historic East Anglian stronghold, now an active farm, cookery school and event venue. Crows Hall, another Grade II*-listed moated medieval manor house nearby, features one of the largest Tudor long barns still in existence.
Debenham was a major dairy production centre but changed to mostly arable agriculture as the land was "entirely grubbed up and transformed into corn land," according to a 19th-century resident. A major fire in 1744 saw extensive damage to much of the earlier thatch and timber structure of the village. However, by 1814 it had procured a fire engine to ward against this threat. Debenham is now celebrated for its well-preserved vernacular and medieval architecture and has been described as "unspoiled without being a showcase."
The Old Haberdashers — Debenham, Suffolk
Interested? Let's talk