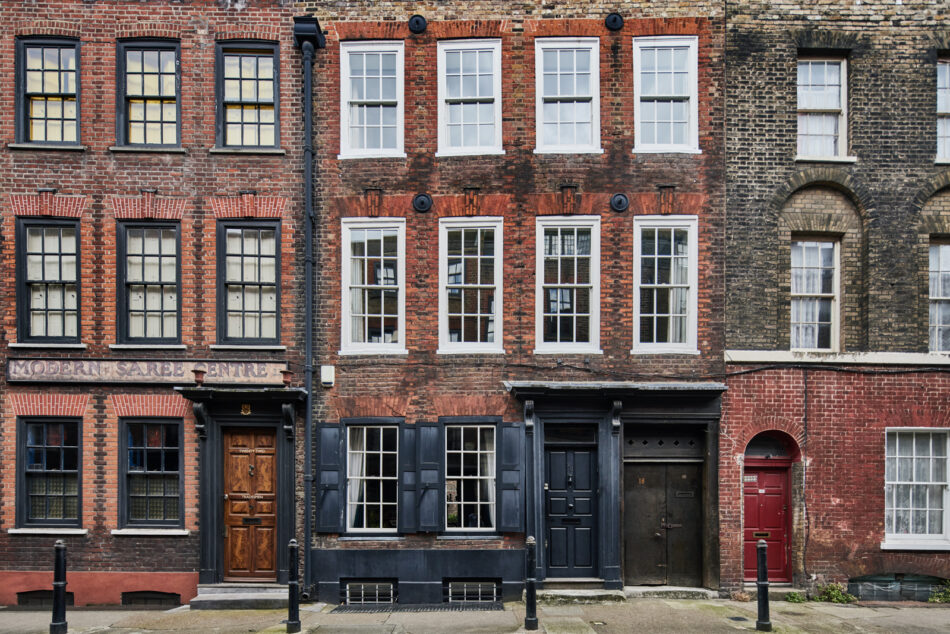 London E1
£3,250,000 Freehold
One of the most historically and architecturally important streets in Spitalfields, nestled within the parish of Nicholas Hawksmoor's masterpiece, Christ Church
This stately Grade II-listed early Georgian townhouse lies upon the coveted Princelet Street in east London's Spitalfields, within the Brick Lane and Fournier Street Conservation Area. The house and its countless original architectural features have been beautifully preserved and restored, with fine panelling, joinery, and chimneypieces throughout. Internal accommodation extends to over 2,600 sq ft, arranged over four light-filled storeys, with a further loft space and a wonderful south-facing courtyard garden to the rear. The house is moments from some of the most fashionable shops and restaurants in east London, and close to The City and Central London.
Setting the Scene
Princelet Street is one of the most historically and architecturally important streets in Spitalfields, and indeed east London, along with neighbouring Fournier Street and Wilkes Street; all are nestled within the parish of Nicholas Hawksmoor's English Baroque masterpiece, Christ Church Spitalfields.
Positioned on the south side of the street, this house was built by Samuel Worrall, a carpenter of Spitalfields, under a build lease of August 1721. Both this house and the neighbouring four houses were built by Worrall as a uniform range, all single-fronted and on a double-pile plan with a grand appearance from the street side. For more information, please see the History section below.
The Grand Tour
Four storeys high and three bays wide at ground level, the house is uniquely four bays wide at the upper storeys. A mansard roof sits above the parapet wall, home to a spacious loft with two dormer windows. Built from yellow brick with red brick dressings, the house has brick keys above the first-storey windows, and the six-over-six box sash windows are almost flush with the elevation, a defining characteristic of Georgian architecture. The street-level windows feature exterior shutters.
A stone step ascends to the doorcase with corbel brackets supporting a shallow hood; a six-panel front door with Banham locks and a transom light above is inset. This opens to the private hallway, where pitch pine floorboards extend underfoot and walls are fully panelled, with a dado rail and box cornice above. This fine panelling continues on all the principal floors, and cast iron radiators and flush unlacquered brass electric plates appear throughout.
A bipartite reception room spans the depth of the ground floor, with two large sash windows facing Princelet Street to the front, and French windows that open to the courtyard garden at the rear. Panelled walls are painted a chalky shade of china blue. The front section of the room is currently used as a formal dining area, featuring a Georgian hob grate set into a wood fire surround. The rear section has a wall of bespoke bookshelves and acts as an informal seating area looking out to the garden. To the rear of the ground floor, a spacious closet acts as the garden lobby, where there are two late 19th century inventions of imagined 16th century stained glass windows.
The lower-ground floor is home to the spacious kitchen, almost 30ft deep with very good ceiling heights. York flagstones run underfoot, and the original cast iron range is set into an open hearth in the dining area at the front. The kitchen is set to the rear; the space is comprised of simple panelled cabinetry with planes of oak acting as worksurfaces and providing expansive shelves above for glassware and china. A double butler's sink is positioned by the rear window and there is a Falcon steel range cooker. A cool pantry and a very spacious utility and laundry room are both set in what were once vaults.
Ascending to the first floor, the fine box staircase has a characteristic square-end handrail and alternating design balusters, with gently undulating treads testifying to 300 years of use. At the half landing to the rear is a WC, with the drawing room set off the main landing and featuring four large box sash windows looking out to the fine house opposite. The northern light is exquisite within this setting and has an almost Dutch quality. Panelled walls are painted arsenic green and a hob grate is inset within the wood surround. The room could also act as a further bedroom if required. To the rear of the floor, and with a door set into panelling connecting to the drawing room, is a charming bedroom closet, again fully panelled with a hob grate set in the corner. A spacious bathroom serves both these rooms, with a cast iron claw-foot bath thoughtfully set beside the window.
The remaining bedrooms are on the second storey. The current main bedroom is set to the front of the plan, with a wall of bespoke wardrobing along one wall. The rear room is currently used as a library and study, though could easily be used as a further bedroom. The rooms share a generous shower room set off the landing, where slim wooden stairs sequestered behind an old cupboard door ascend to the loft space above. This uppermost space has a pitched roof and two dormer windows that look out to Princelet Street, and a door that opens to the valley roof. Here, exceptional views of the Christ Church Spitalfields Tower and the contemporary glass towers of the City of London beyond can be enjoyed.
The Great Outdoors
The south-facing courtyard garden is accessed directly through French windows that open from the ground floor reception room. Laid with York stone paving, it is a haven of tranquility—the perfect spot for outdoor dining and relaxing. Raised plank wood beds surround the perimeter, filled with ferns, shrubs and an Acer tree.
Out and About
Princelet Street is one of the most sought-after locations in Spitalfields, within walking distance of the City and the shops, galleries and restaurants of Spitalfields Market, Shoreditch, Brick Lane and Columbia Road, all within easy reach.
Opportunities for dining, entertainment and shopping are boundless, with restaurants including Ottolenghi, Cecconi's and St. John Bread & Wine moments away. Spitalfields Market and the immediate surrounding streets now offer shopping opportunities comparable to the West End.
The stations of Liverpool Street (Circle, Metropolitan, Central, Elizabeth Lines and National Rail), Aldgate East (District and Hammersmith & City Lines) and Shoreditch High Street (Overground) are all a short walk away.
Council Tax Band: F
Please note that all areas, measurements and distances given in these particulars are approximate and rounded. The text, photographs and floor plans are for general guidance only. Inigo has not tested any services, appliances or specific fittings — prospective purchasers are advised to inspect the property themselves. All fixtures, fittings and furniture not specifically itemised within these particulars are deemed removable by the vendor.
History
The first houses on Princelet Street were built just after 1700 on land used for market gardening, after the priory and hospital of St Mary Spital were dissolved in 1539. Leonard Gurle moved to the area in the 1640s to create a nursery for fruit trees, jasmine, honeysuckle and lilacs, which was so successful that he was made the King's Gardener in 1677; Spitalfields was still horticultural when construction began on Princelet Street.
This plot was known as Joyce Gardens, part of an estate bought by Charles Wood and Simon Michell. These two gentlemen of Lincoln's Inn were also involved in the new business of sewage. They won the right to construct a local sewer system, along what is now Hanbury and Wilkes Street, ensuring they benefitted from all neighbourhood development. Spitalfields, to the west, was also home to a functioning market by this time; first licensed by King Charles I in 1638, it remains as Spitalfields Market to this day.
Shortly after Wood and Michell acquired the land, Parliament resolved urgent action to counter the spread of non-conformist Protestantism. Fifty new Anglican churches, financed by coal taxes, were planned to serve the 'godless thousands' outside the City. Spitalfields, where a thriving Huguenot community now lived alongside established dissenters, was an obvious early site for one of these new Queen Anne churches. Nicholas Hawksmoor was appointed surveyor and designed six of the twelve actually built. The land for Hawksmoor's masterpiece, Christ Church Spitalfields, was sold to the Church Commissioners by Wood and Michell and was linked to the sewer serving Princelet Street.
This home on Princelet Street was built by carpenter Samuel Worrall of Spitalfields under a build lease of August 1721 from Wood and Michell; the neighbouring four houses were built as a uniform range, all single-fronted on a double pile plan, and the first tenant moved in in 1722. Worrall was a significant figure in Georgian Spitalfields: carpenter at Christ Church, churchwarden of the parish, overseer of the poor and a trustee of the almshouses in Crispin Street. Worrall himself lived at 18 Princelet Street, using the backyard, which also had access from Fournier Street, as a timber yard.
Following the Edict of Fontainebleau in 1685, France suffered an exodus of Huguenots, many of them skilled craftsmen. A large number settled in London, especially Spitalfields, with its already burgeoning textile trade, and the area became synonymous with expertise in the weaving of silk. The Huguenot's towering looms required generous ceilings for which loft spaces were often used and adapted to maximise light and thus working hours, though this particular house did not have an adapted space despite its first tenant being a weaver himself.
Princelet Street and the surrounding streets went on to provide refuge to the Irish forced out by famine, Jews escaping pogroms and Bangladeshis remaking their lives after a war of independence over the following centuries. Demolition and redevelopment threatened the whole area in the 1970s and the militant campaign to protect and restore Spitalfields by a collective now known as the Spitalfields Buildings Trust was hard fought; nearly all of the houses since then have been lovingly restored back to their original glory.
Princelet Street — London E1
Interested? Let's talk