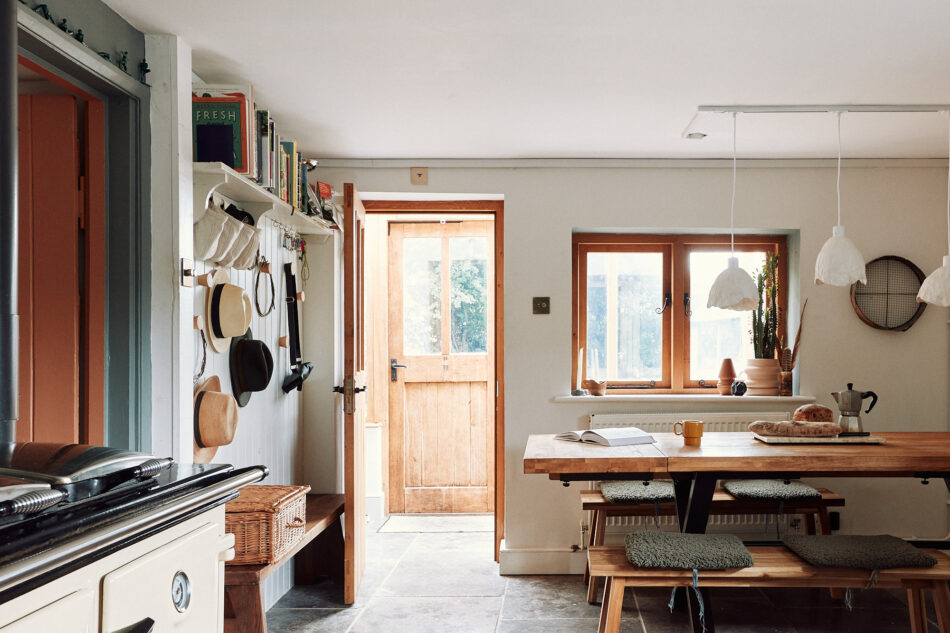 Under Offer
Glascwm, Powys
£475,000 Freehold
The landscape is typical of the rugged Welsh Marches, with its broad, open moorland, steep rocky ridges and soft rolling valleys
Nestled in the charming village of Glascwm, surrounded by the rolling beauty of the Cambrian Mountains in the Radnorshire countryside, this pretty 19th-century cottage has been cleverly updated with modern interventions. The lovely house has views from every angle, creating a serene and idyllic setting. Dating to around 1850, the house unfolds over approximately 1,500 sq ft of living space, thoughtfully arranged across two storeys and three bedrooms. A converted cart shed adds to its rustic appeal, while the well-tended gardens are filled with mature plantings that create year-round interest.
Setting the Scene
Glascwm finds its place within the ancient Welsh cantrefi of Elfael, a land steeped in history and tradition. The village is cocooned by vast stretches of open moorland, enveloped in a lush valley, where the gentle meandering of the Clas Brook leads towards the river Wye. A cluster of cottages and farmhouses are gathered around a junction and form the heart of the village. This spot is marked by a red phone box and a post box, standing proudly across from the old schoolhouse.
Clas Brook is set on the village's eastern edge before the road inclines steeply to pass between bracken-clad hills, connecting the head of the valley with Kington and beyond. The landscape is typical of the rugged Welsh Marches with its broad, open moorland, steep rocky ridges and soft rolling valleys. It is relatively unspoilt and ever-popular with walkers, horse riders and cyclists. For more information, please see the History section.
The Grand Tour
Meandering through the breathtaking countryside, this 19th century cottage is peacefully situated along a quiet country lane. The house is approached through a slate-topped stone wall, with the pathway lined by mature hedges and vibrant herbaceous perennials. An oak-framed porch, which doubles as a boot room, leads to the open-plan kitchen. Here, a Rayburn emanates a gentle warmth, and there are stunning views of the Welsh hills from the kitchen sink. A recently installed air-sourced heat pump economically maintains an ambient temperature in the entire house in all weather. Slate tiles line the floor, complemented by white metro tiles and tongue-in-groove panelling on the walls, contrasting beautifully with the muted tones of Strong White by Farrow & Ball and Plume by Atelier Ellis. The room has space for a large dining table, perfect for gatherings and shared meals.
Behind, the sitting room has a Charnwood wood burner that adds a cosy touch. Adjacent is another reception room, painted in a peaceful tone of Moss by Fenwick & Tilbrook. Currently used as an office by the current owners, this room has another wood burner set into the original oak-capped fire breast. Stone walls undulate under lime plaster, lending adding a rugged texture to the room. At the front of the house lies a garden room conservatory, a lovely addition with a WC and a shower—perfect for a post-ramble wash.
On the first floor are three bedrooms and a family bathroom arranged around a central hall. One particularly pretty bedroom has deep-set cottage windows and lovely views of the hills and is painted in a charming chalky pink, Setting Plaster by Farrow & Ball. Adjacent to this room lies the primary bedroom painted in French Grey Pale by Little Greene, next to the large family bathroom. Beyond the primary bedroom is a smaller bedroom, which could also be used as a dressing room.
The Bothy lies over the lane outside. Formerly a 19th-century cart shed, this space has been thoughtfully converted with bespoke greenwood joinery, creating a beautiful guest area. Velux windows above the sleeping platform allow for stargazing, making it an enchanting spot. Completing this lovely annexed space are a private parking area and log store.
The Great Outdoors
The gardens rise around the house, framed by hills, creating an Arcadian idyll. Mature trees tangle pleasingly with roses and clematis, and climbing shrubs and more roses arch over garden frames lining slate gravelled paths. A lawned area at the rear of the plan takes in the best views. A little plot to the side is rented from neighbours for a small fee and provides ample space for vegetable beds and chickens.
Out and About 
Clas Brook is the stream that tracks through Glascwm, a small village at the top of a sheltered and peaceful valley. This rural location has direct access to the surrounding moorland, where a day's uninterrupted walking across Red Hill to Aberedw traces the drovers' path along the ridges and moorland so typical of Radnorshire. These are hills rich with local landmarks, folklore, and legend, from the trader Twm Tobacco's grave to Llewelyn's cave. Virtually undetectable (until recently, the way was marked only by a bucket atop a gatepost), the cave provided shelter for Llewelyn ap Gruffydd, the last sovereign Prince of Wales, the night before his ambush and murder by the English. Its enduring importance as a pilgrimage site is evident in the 18th-century graffiti inside.  
The Clas Brook stream meets the river Edw at Cregrina as it runs along the northern edge of Aberedw rocks, where long summer days spent on its sheltered banks can be punctuated with dips into its bracing waters. More leisurely wild swimming can be found in the Wye as it makes its way through the picturesque fields and woodlands of Erwood and Boughrood, carving out broad slabs of stone perfect for a post-swim picnic.  
Expansive mountains and moorlands abound in this part of Wales; the Cambrian mountains and the Elan Valley lie 45 minutes drive west, and the Black Mountains and Bannau Brycheiniog National Park to the south. This seemingly boundless countryside is a veritable outdoor playground offering peerless cycle and walking routes, waterfalls, forests and lakes.  
There are local pubs in Aberedw, Painscastle, and Hundred House and a popular, if achingly steep, nine-hole golf course in Rhosgoch.  
Glascwm is around 20 minutes drive from Hay-on-Wye, known for its enduringly popular book festival. The lively town has a plethora of independent bookshops, pubs and cafes. At its centre is Hay Castle, the previous home of Richard Booth, recently renovated by MICA architects and transformed into a cultural and community space.  
Half an hour to the north is the small town of Presteigne, with a fantastic delicatessen, fishmonger, greengrocer, and butcher. There is also a good selection of bookshops, pubs, a library, a leisure centre, and an independent cinema. Kington, which lies even closer to the house, is a lovely town and home to the annual Kington Walking Festival.  
The closest train station is 25 miles away in Hereford, which offers services to London in approximately three hours and services to Bristol in around one hour and 40 minutes.
Council Tax Band: D 
Please note that all areas, measurements and distances given in these particulars are approximate and rounded. The text, photographs and floor plans are for general guidance only. Inigo has not tested any services, appliances or specific fittings — prospective purchasers are advised to inspect the property themselves. All fixtures, fittings and furniture not specifically itemised within these particulars are deemed removable by the vendor.
History
Glascwm is one of the historically captivating places in Radnorshire, revealing its past to those with discerning eyes and vivid imaginations. The hills were once home to Bronze Age communities, with Giants Grave—a large round barrow—remains accessible by a pleasant walk from Glascwm to Hundred House. Traces of earlier, possibly medieval, habitation and activities are widespread throughout the valley.
St. David's church, steeped in legend, is believed to have been founded in the 6th century by the patron saint, becoming a focal point for Celtic Christianity. The Clas site, where the present church was reconstructed in the 13th century, is encircled by ancient yew trees, hinting that it may have once been a prehistoric round barrow. The earliest written mention of Glascwm dates back to 1090 in St. David's biography, referred to as 'Glascun.' In Celtic times, a clas served as a prominent religious centre, where monks would minister to the broader community, and it is possible that this is the origin of the village's name, with "Clas" meaning mother church and "cwm" meaning valley.
Glascwm's location on a significant drover's route from Aberwystwyth to Hereford granted it historical importance, evidenced by four Drover's Arms and even a racecourse at one time. Amidst these transformations, the enduring heart of the settlement remains St. David's church and the Yat—a substantial Grade II-listed 17th-century house accompanied by its own Baptist burial ground. West of the church, the remains of Tygwyn Mill, an early 18th-century mill, can be found, now in ruin with some walls still visible and a largely intact mill pond.
The Victorian diarist Francis Kilvert provides a decidedly detailed account of this area, having visited Glascwm and its vicarage multiple times, while Bruce Chatwin's 'On the Black Hill' beautifully depicts Radnorshire and the realities of hill farming in the late 19th century.
The unique beauty of this valley finds its most eloquent portrayal in the verses of medieval poet Gwynfardd Frycheiniog (circa 1160-1230):
'and Glascwm with its church by the verdant mountains, a lofty clearing full of groves, where sanctuary never fails.'
Clas Brook — Glascwm, Powys
Interested? Let's talk