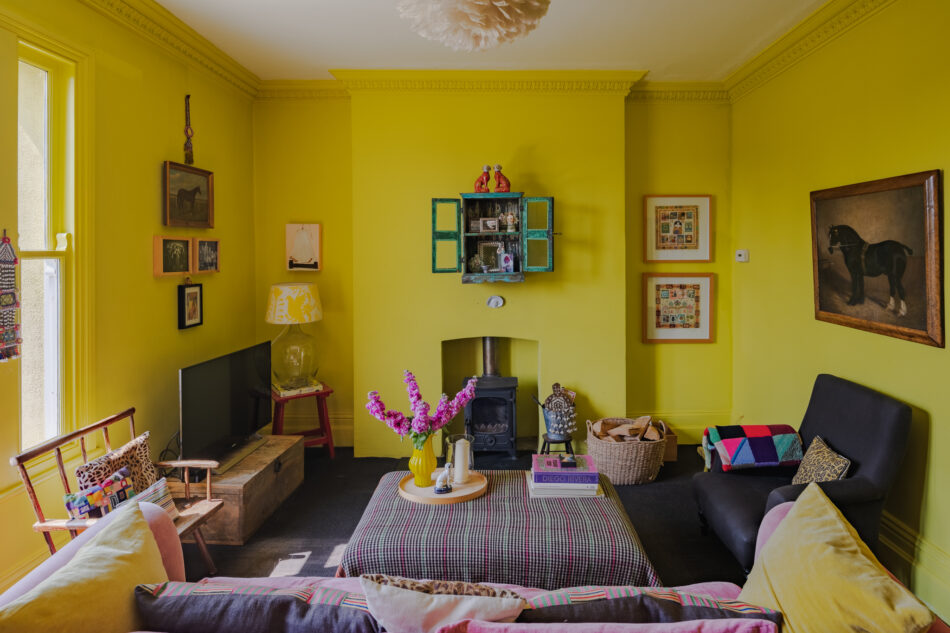 Sold
French doors open onto a decked terrace, creating a gallery-like space where the edges of inside and outside are softly blurred
Nestled in Montpelier, a coveted Bristol neighbourhood overlooking the harbour, River Avon and rolling hills in the distance, stands this remarkable 19th-century house. Resting on a south-facing slope, this four-bedroom house harmoniously blends with its historic surroundings. Meticulous attention has been devoted to preserving its traditional architectural details and materials, ensuring a seamless blend of old and new.
The house spans four floors, covering 2300 sq ft, with a kitchen that opens to a generous decked terrace. From here, views stretch across the rear garden below, brightly painted neighboring houses, and the sprawling cityscape and treeline beyond. Original features like timber shutters, ornate cornicing, and plaster ceiling roses have been immaculately maintained. The thoughtful use of colour further enhances the space, using a palette of serene, neutral hues in the shared areas and vibrant, bold shades in the more intimate spaces.
Setting the Scene
The Montpelier neighbourhood thrived in the 19th century due to its proximity to Bristol's city centre and south-facing slopes, attracting spacious family homes. Unlike parts affected by industrialisation and WWII bombings, Montpelier escaped destruction. Today, it is known as a 'bohemian' enclave, defined by its surviving late-Georgian and early-Victorian villas and varied architectural styles.
The houses on York Road maintain the area's original development pattern, benefitting from spacious front curtilages and expansive, south-facing gardens, allowing glimpses of lush greenery from neighbouring gardens over boundary walls. Front windows frame views of apple and cherry trees planted in a charming 'mini-park' nestled between houses on the opposite side of the road, while rear windows, high-set in the landscape, take in expansive views of the pretty neighbourhood and green hills and trees beyond. The relative lack of through traffic enhances the neighbourhood's charm, with vibrant streets adorned with street art, well-tended gardens, and community spaces like cafes, pubs, and parks. For more information, please see the History section.
The Grand Tour
The handsome façade of the house is crafted from warm, honey-toned Bath stone, complemented by low iron railings. Its location in the hills of Montpelier is accentuated by the vertical arrangement of large sash windows, with three windows centrally stacked, drawing the eye upward towards the wide barge boards painted in contrasting creamy tones beneath the striking gable front.
A four-panelled front door painted in deep, inky tones is set beneath a stone porch pediment and fanlight and opens into the main entrance on the ground floor. The bright hallway has white-painted original timber floorboards and anaglypta papering up to chair rail height. To the right is a room currently serving as a study/sewing room. A large timber-framed sash-and-case window with original shutters overlooks the street and front patio, providing ample natural light for work or study during the day.
The hallway leads to an airy reception room painted in vibrant shades of yellow Trumpet by Little Greene. This sunny colour accentuates the traditional elements of the space, including intricate detailing and craftsmanship, such as original crown moulding. A three-light sash window overlooks the garden below and expansive vistas over the city. In the original fireplace, a modern wood-burning stove has been installed to provide warmth during the winter months.
A central staircase elegantly connects the house's four floors, with a curving wooden banister leading upwards to a light-filled landing flooded with natural light from a roof light. Carved arched doorways lead off either side of the landing, their symmetry a gentle reminder of the home's late-Georgian heritage.
On the first floor, two bedrooms share a delightful bubblegum pink bathroom. The front bedroom, overlooking the quiet street, could also be used as an additional reception room or library due to its generous size. It has a feature wall finished in palm frond-patterned wallpaper. Wide timber floorboards flow seamlessly into the family bathroom and the second bedroom at the rear. This bedroom is painted in Canton Blue by Little Greene, creating a harmonious connection with the garden just outside the window.
On the top floor are two more bedrooms and a large family bathroom. Tucked into the eaves, both bedrooms have soft carpet underfoot and retain their original fireplaces with timber mantelpieces. The front bedroom is painted in a deep red hue hand mixed by the current owners, while the rear bedroom is a rich chocolate brown of Attic II by Little Greene. From the lofty heights of the rear bedroom, a peek through the window reveals bird's eye views of the garden, surrounding neighbourhood and countryside beyond.
On the lower ground floor is a spacious, open-plan kitchen. French doors open onto a wide, decked terrace, softly blurring the boundaries between indoors and outdoors. The kitchen itself is intentionally kept neutral, allowing the vibrant colours of the garden to take centre stage. Bespoke open shelving and cabinetry by Functional Kitchens of Bristol are finished with hand-painted handles, while neutral tones keep the space bright and airy. Upgraded lighting and electrical sockets highlight the deep, rich tones of the hardwood countertops and original timber floors. A cosy window seat occupies one corner overlooking the terrace. Additionally, this floor has a WC and a bright, full-sized utility room equipped with a sink and space for a washer/dryer, accessible via a separate entrance through the utility room.
The Great Outdoors
Wide French doors gracefully open onto an incredible decked terrace, positioned at an elevated, south-facing vantage point that promises plenty of sunshine for leisurely lounging. From here, the views are spectacular; breathtaking views of the mature garden sit in front of sweeping panoramas of the city and countryside beyond.
The garden itself is a haven of tranquillity, adorned with flourishing apple and pear trees entwined with fragrant wisteria and vibrant clematis, creating a perfect balance of shade and seclusion. When the doors are opened, the kitchen seamlessly merges with the terrace, creating the perfect spot for alfresco dining and entertaining.
Access to the garden below is via stairs descending from the terrace, leading to a lush lawn area enveloped by mature shrubs on three sides. A climbing white rose gracefully spills over, bursting with blooms during summer. The clever positioning of the garden, sloping down from the house while the neighbouring row of houses sits considerably lower, ensures a remarkable level of privacy despite its central Bristol location.
Out and About:
Bristol is one of the most exciting cities in the UK, thanks to its strong cultural scene, great shopping and dining opportunities, and the natural beauty of the surrounding areas. Montpelier was recently named Bristol's 'hippest' area by the Sunday Times, as it has grown to be a highly desirable neighbourhood in recent years. Its eclectic character is drawn not only from its mix of architectural styles but its diversity of restaurants, independent shops and retailers, and cultural attractions, including pop-up events and live music. The neighbourhood also has its own well-loved green spaces: Montpelier Park and Albany Green, both lovely family parks with sports areas, playgrounds and colourful murals.
Historic Picton Street, with its extensive range of eateries, is just off the doorstep. Here one can find Bianchi's, serving northern Italian cuisine; Indian eatery Thali Montpelier; and local favourite The Bristolian, all within a 5-minute walk of the house. The Cadbury, a 300-year-old timber-framed neighbourhood pub with a fantastic beer garden, is just around the corner, while The Old England – reputed to be the only pub in England whose garden has its own full-sized cricket nets – is located just off Montpelier Park. There is also a fantastic Italian supermarket, C. & T. Licata & Son, and Radford Mill Farm Shop, which has been operating for over 40 years. A few yards more and you find yourself in Bristol's Heart – Stokes Croft, home of Bristol's counter-culture – where numerous acclaimed restaurants can be found, including Café Kino, a popular option for vegan food.
Well-served for cultural activities and annual festivals, the city has a thriving art and music scene; Arnolfini and Spike Island lead a well-regarded annual programme of contemporary exhibitions and performances. The Watershed, a much-loved institution located along the harbourside, hosts talks and events alongside a programme of independent film screenings. Many of Bristol's industrial buildings have been converted into apartments, theatres, bars and venues. The most renowned is the Tobacco Factory, which houses a restaurant, theatre, brewery and other facilities.
There is a good selection of schools in the area, including the independent upper and lower Colston's, just five minutes' drive from the house with 30 acres of land for its pupils. Sefton Park Infant and Junior School is also nearby and currently has an Ofsted Outstanding rating.
The intercity rail service is easily accessed from Montpelier station (a 10-minute walk from the house), providing a direct route to Temple Meads, Clifton and Redland stations. Clifton is a lovely village on the perimeter of Bristol known for its outstanding selection of restaurants, cafes and shops, and of course, its iconic suspension bridge towering over the River Avon gorge. The UNESCO World Heritage city of Bath is a short 15-minute train journey from Temple Meads or about a 40-minute drive. Rail connections to London are excellent, with direct services from Temple Meads to Paddington in less than two hours. Bristol is also incredibly well-placed for easy access to the surrounding countryside and the Devon and Dorset coastlines. The city's busy International Airport is reachable by car or bus in around 40 minutes.
Council Tax Band: D
Please note that all areas, measurements and distances given in these particulars are approximate and rounded. The text, photographs and floor plans are for general guidance only. Inigo has not tested any services, appliances or specific fittings — prospective purchasers are advised to inspect the property themselves. All fixtures, fittings and furniture not specifically itemised within these particulars are deemed removable by the vendor.
History
Bristol has a rich history due to its coastal location on the Bristol Channel, which divides Wales from southwest England. Evidence suggests the area was first settled in the Iron Age and was later occupied by the Romans, as it sits just north of the significant Roman city of Bath. As maritime technology developed and global trade expanded, by the Middle Ages, Bristol was part of an extensive trading network with Wales, Ireland, Iceland, western France, Spain and Portugal, bringing valuable foreign goods and funds to the region.
In 1497, explorer John Cabot's departed from Bristol to find a new route to the Far East, only to discover North America. Bristol officially became a city in 1542 and continued growing as trade increased across the Atlantic. As a result, the city was heavily involved in the Transatlantic Slave Trade during the 18th and 19th centuries. Yet, it was also a key hub in the movement campaigning for the abolition of slavery, which in turn proved to be the beginning of movements for labour reform and women's suffrage. Social activism remains integral to Bristol's identity today.
Throughout the 19th and 20th centuries, Bristol experienced rapid industrialisation. Having a major aircraft manufacturer, BAE Systems, and a major port, the city was a major target of bombing during WWII, with its city centre suffering severe damage. In recent years, regeneration projects have brought new life to the historic harbour and industrial buildings, opening up new opportunities for locals and visitors alike.
Local lore tells that in 1764, local businessman Thomas Rennison took advantage of the high demand for Montpelier's bathing ponds and established Rennison's Grand Pleasure Baths on a site now occupied by the Montpelier NHS health centre. The site consisted of separate male and female baths, tea gardens and a tavern called The Old England – the same pub now famous for its cricket pitch. Falling outside of the city's boundaries and, therefore, jurisdiction at the time, Rennison's bawdy baths helped to earn Montpelier a reputation as a fiercely independent and 'bohemian' area of recreation and entertainment.
York Road — Montpelier, Bristol
Interested? Let's talk