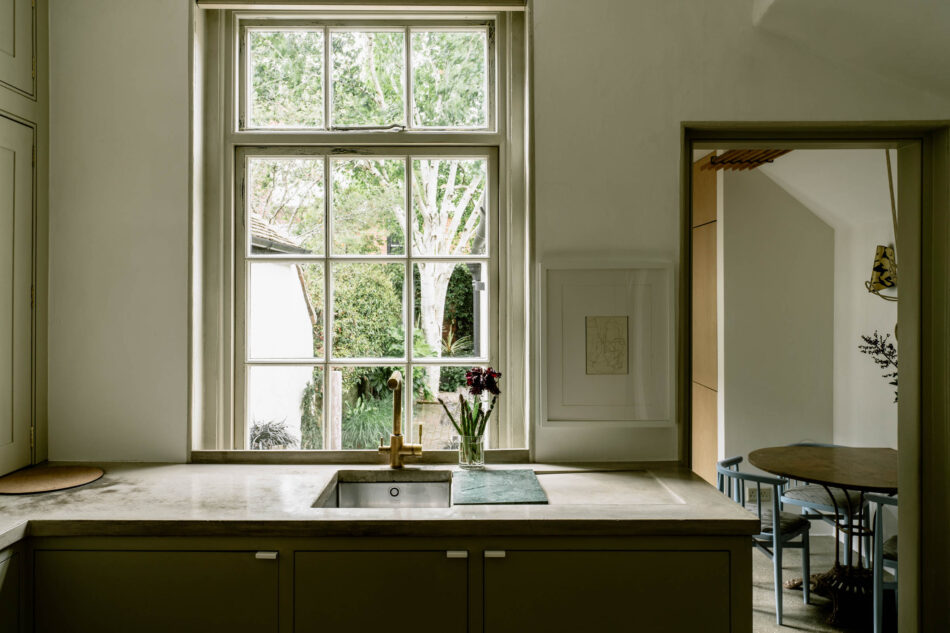 Sold
The mature Siberian silver birch sets the tone for the garden design: one that blends a Japanese aesthetic with elegant lighting design
Set down a charming street in the centre of historic Canterbury, this Grade II-listed four-bedroom house is a beautiful fusion of Georgian architecture and refined modernism. Reimagined by an interior designer, the interiors unfold over four floors and the spaces are dressed in an elegant colour palette. Exposed brickwork and plaster blend with marble detailing and thoughtful lighting, while the garden is inspired by the architecture of Carlo Scarpa. The house's location within Canterbury makes it ideally located for both the amenities of the city and for swift connections to London by High-Speed rail.
We've written about life here in more depth.
Setting the Scene 
Canterbury's heritage is not only rooted in its historical significance along pilgrimage routes to Europe but also shaped by the remarkable changes it underwent during the Georgian era, and this transformative period witnessed the implementation of several urban projects, resulting in the evolution of Canterbury's urban centre into a fine example of Georgian town planning.
During this era, rows of terraced houses were meticulously erected, predominantly using elegant red brickwork in the Flemish Bond style. These rows were often distinguished by their sophisticated iron railings and elevated porches, lending a refined aesthetic to the streetscape. The terrace on Castle Street, where this particular house is located, is a remarkable testament to Canterbury's Georgian Period and its grandeur. For more information, please see the History section.
The Grand Tour 
A smart, imposing front door, painted in 'Mouses Back' by Farrow and Ball, opens to a long corridor. On entry, the striking aesthetic that defines the home is immediately apparent, seen in the walls of the corridor, which are elegantly painted in a creamy hue, complemented by accent skirting in a subtle pale green tone. Underfoot, wide wooden floorboards add warmth and raw materiality.
On the left is the sitting room, where high ceilings are accented by simple cornicing. A 12-pane window, with folding shutters, allows light to pour in, while the original fireplace centres the room. A bespoke design, the kitchen units are carefully crafted to promote a streamlined and clutter-free environment. A large freestanding pantry has ample storage space, ensuring that surfaces remain neat and organised. Work surfaces are cut from elegant concrete and inset with a large butler's sink with brass metalwork. From the kitchen, a seamless transition leads to an extension currently used as the dining room. Its standout feature is a beautiful folding door with antique brass ironmongery, which opens onto the patio area.
The bedrooms of this house are spread across three floors, accessible via a winding staircase defined by a wall of exposed brickwork. On the first floor landing, the panelling has been painted a bespoke ivy green, while raffia adds texture underfoot. Along one wall, original Georgian cabinets stretch from floor to ceiling, offering ample storage. The fireplace in this room has been intentionally left exposed – a testament to the house's rich history and centuries of use.
Similarly, the desire to highlight the house's heritage is echoed in the second bedroom on this floor, which is currently used as a study. The walls are defined by their exposed plaster, as the current owner decided to strip back the layers and preserve the character rather than cover it up. Cabinetry, the mantlepiece and the window frame are painted in dark green creating a striking contrast and adding richness to the room.
The third and main bedroom of the house occupies the second floor, nestled into the eaves. It has a tranquil and intimate atmosphere, primarily due to its soothing peach plaster walls and low lighting. In one corner, a raised plinth has been installed and cast from a beautiful combination of peach and green marble, upon which a freestanding bath was installed. This strategic placement allows for a beautiful view across the garden's trees and the rooftops of Canterbury.
The fourth bedroom is located on the lower ground floor. An innovative design decision was made to adorn two walls with plywood, creating natural shelving while adding a sense of modernity and light. The other two walls are characterised by whitewashed brickwork, adding a touch of texture.
Throughout the house, various bathrooms are thoughtfully distributed. Notably, a spacious wet room on the ground floor has been finished with encaustic tiles, creating a visually striking and functional space.
The Great Outdoors 
A spacious garden is a relative rarity in central Canterbury, and this one has a verdant nature that belies its urban setting. The focal point is a majestic mature Siberian silver birch tree, which sets the tone for the garden as a whole, drawing inspiration from Japanese influences and blending a sense of tranquillity with elegant lighting design. A mixture of pebbles, patio areas, and grass has been meticulously laid out, paying homage to the architectural plans of Carlo Scarpa.
The area closest to the house features a lovely patio, perfect for outdoor dining and entertaining. This inviting space is the perfect spot for eating alfresco and soaking up the beauty of the garden surroundings.
Out and About
Canterbury is a thriving city that is brimming with history and culture. Just a few minutes walk from the house is Canterbury Cathedral, dating from 597AD. The Marlowe Theatre and Canterbury Castle are also both close by. Canterbury is also renowned for the canals that cut through them, where punting is a favoured pastime. The cobbled streets have many shops, restaurants, and pubs flanking both the High Street and the streets that lead off it. Highly regarded restaurants and eateries include Cafe Dez, and Ccork for English sparkling wine, while Posilipo is known for its authentic Italian cuisine. Just beyond the city walls, The Goods Shed has wide acclaim for its buzzy atmosphere, market fare, and locally sourced ingredients.
Canterbury West station is within walking distance, with a High-Speed link to St Pancras, which takes just under an hour. Canterbury East is also close by and serves the Coast and London. The city is well-connected by road; London is an hour and a half drive via the M2, and the A2 provides access to the Continent.
Council Tax Band: E
Please note that all areas, measurements and distances given in these particulars are approximate and rounded. The text, photographs and floor plans are for general guidance only. Inigo has not tested any services, appliances or specific fittings — prospective purchasers are advised to inspect the property themselves. All fixtures, fittings and furniture not specifically itemised within these particulars are deemed removable by the vendor.
History
Canterbury, with its rich history spanning over two millennia, has earned the esteemed designation of a UNESCO World Heritage Site. Its roots can be traced back to the Roman conquest of Britain, where it was known as Durovernum Cantiacorum. During this period, Canterbury thrived as a prosperous town enclosed by formidable walls, boasting amenities such as a theater, forum, and public baths.
Following the decline of Roman influence, Canterbury gradually fell into neglect. However, in 597, Pope Gregory the Great dispatched Augustine to England with the mission of converting the people to Christianity. Canterbury was chosen as the location for the Episcopal See in Kent, leading to the construction of an abbey and cathedral that solidified its religious significance.
The city's religious importance continued to grow after the murder of Thomas Beckett within the cathedral in 1170. This tragic event transformed Canterbury into a pilgrimage destination, attracting devout believers from far and wide. For centuries, Canterbury has remained a pivotal site of religious importance due to its position along the pilgrimage routes leading to both Rome and Santiago de Compostela. The city's enduring spiritual heritage has left an indelible mark on its cultural landscape.
Castle Street — Canterbury, Kent
Interested? Let's talk