Touching Base: Julianna Byrne on life and art on the Cornish coast
Despite desiring a fresh start out in the sticks of the south-west, the painter ended up falling in love with a cottage in a vibrant village she found through Inigo. Two years later, she reflects on how the place has infiltrated her dreamlike murals – and how the best relationships are often those that come as a surprise
Photography

Ellen Hancock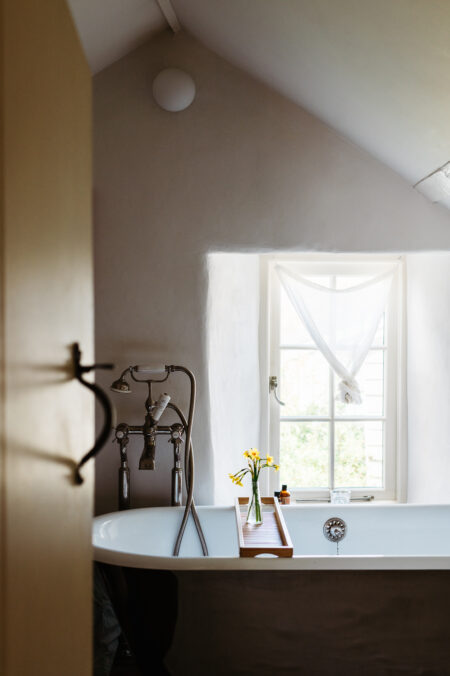 "You know that cycle," asks Julianna Byrne, "when you spend so long looking at houses on Rightmove that the dopamine wears off and – even if you desperately want to move – you just can't quite bring yourself to look at another listing? That was us." The artist, best known for her surreal watercolours and gentle, almost mystical murals, is sitting on a banquette in her kitchen. The bench is one of the only things she and husband Galli have added to their new home, along with the wall painting of gently unfurling frond-like foliage behind it. Implicit in all this is that, yes, Julianna and Galli did find a new place to live. "But it was through Instagram!" she says, clearly still astonished.
The couple, who in the summer of 2021 were looking to leave London having had a baby, were house hunting in Devon and Cornwall. A hitherto joyless search had led them to consider renting in the south-west while waiting for the right place. But then they came across what looked like the perfect house in a perfect square on Julianna's screen. The Georgian dwelling and former bakery in the village of Boscastle was for sale through Inigo and seeing it, Julianna says, was something of "a lightbulb moment". "It was funny," she continues, "as we'd always said we wanted somewhere in the middle of nowhere. And then we discovered this place, with its Cornish-slate frontage and primrose-coloured door and I just thought: 'This is it. This is what we need.'"
"It was a bit of a whirlwind. We'd gone to view the house and both Galli and I were smitten. In fact, Galli thought it might be a gem before he'd even read the whole listing! The day after we saw it in the flesh, it went to sealed bids. We didn't have time to overthink it, but what we did have was a gut feeling to go for it. Though I honestly didn't think we'd ever get it – that we did now feels rather romantic.
"At the time I thought I knew this area really well. Looking back I realise I had barely scratched the surface, but it did speak to me on an emotional level. My family are from the west coast of Ireland, the landscape of which feels similar – so in many ways it doesn't surprise me that I fell for a house in this part of the world. It chimed with me, somehow. And a house like this is rare in Cornwall – most of the cottages here tend to be quite tiny and dark – so to find something that appealed on so many levels was quite amazing.
"We moved in after about six months. At that time, the pandemic was still in full swing. Lots of people were leaving London with dreams of veg patches and, while we were part of the exodus, we weren't driven by the same things. Rudi was tiny – just eight months old – and our lives had changed almost unrecognisably since becoming parents. That was really what had made us crave the space.
"As a consequence, I've no buyer's remorse; I don't particularly miss London – in part because I get to go back a bit, in part because, by bringing up a child amid the peace of the countryside, I've somehow unravelled myself from the city – the me that lived there and the one that lives here almost feel like different people. Something that London does brilliantly is food; if Cornwall didn't also, I'd hanker after the restaurant scene – but I get more than my fix down here. There are some really exciting things going on here. I can still go for a delicious supper and eat the best fish in the country, I can still get a glass of natural wine if I want to. The food culture here is full of people with their fingers on the pulse.
"Of course the creative legacy of Cornwall is remarkable too. The history of Newlyn and Penzance – though they're the other side of the county to us – still feels very relevant here, I think. It's one of the few places in the UK that has its own elevated and very distinct creative community. I love feeling a part of that.
"Being here has definitely affected my work. I'm not a very conscious artist – by which I mean I'm led by my instincts and am interested in the mystical, the fantastical and the imagined – but I have noticed a change. Aesthetically, for instance, I've found a lot of blue creeping into my work and there are certainly more watery themes in what I'm making, which is nice to see.
"I moved here in the depths of maternity leave and learning to balance work with motherhood has been… interesting! But I'm getting there; it's a lesson in patience, that's for sure. I'm really looking forward to having a proper studio, though. Galli, whose carpentry firm, Alternus Space, specialises in cabin-building, is constructing an incredibly beautiful one on stilts at the bottom of the garden for him and me to both have some proper studio space. I can't wait to see what happens to my painting when I've got that.
"I never would have thought that I would move into a house that was already done, but this one was so perfect that we've hardly changed a thing. I did our place up in London by myself, which I really enjoyed, but this one was so well preserved, so inviting and comfortable, that we've left it virtually as it was. I've done a few murals, Galli made the bench… That's about it. It's amazing how much of our personality those small changes have brought, though.
"The paintings I've done here have all been quite carefully planned. The house is so serene and quite neutral, so something more decorative might not have worked here – not that my work is particularly full-on! I just didn't want to upset the balance. Normally, a mural takes me more time to execute than to plan – with these ones, it's been the other way around.
"Our next-door neighbour grew up in this house. He recently told us how great it was to see the house being loved. I found that really touching – even though we haven't changed much about it since we moved in, we have loved it and played in it. That was a special thing to hear."
Further reading
Julianna Byrne is represented by Partnership Editions, which stocks her prints.
Julianna on Instagram